Toronto Machine Learning Society (TMLS) : 2020 Annual Conference & Expo
Event Information
Refund policy
Refunds up to 30 days before event
Please register via https://bit.ly/TMLS2020Hopin
About this event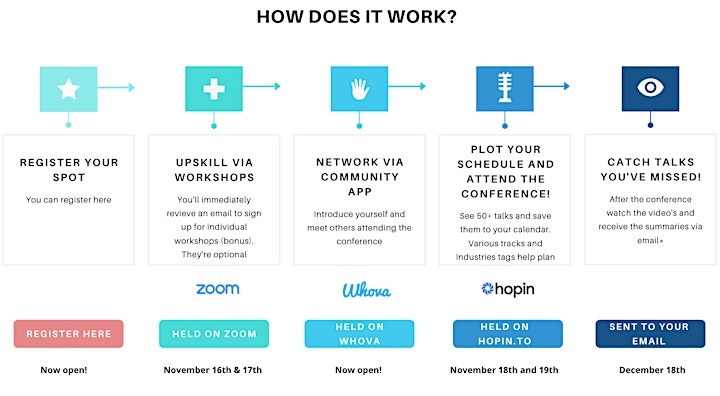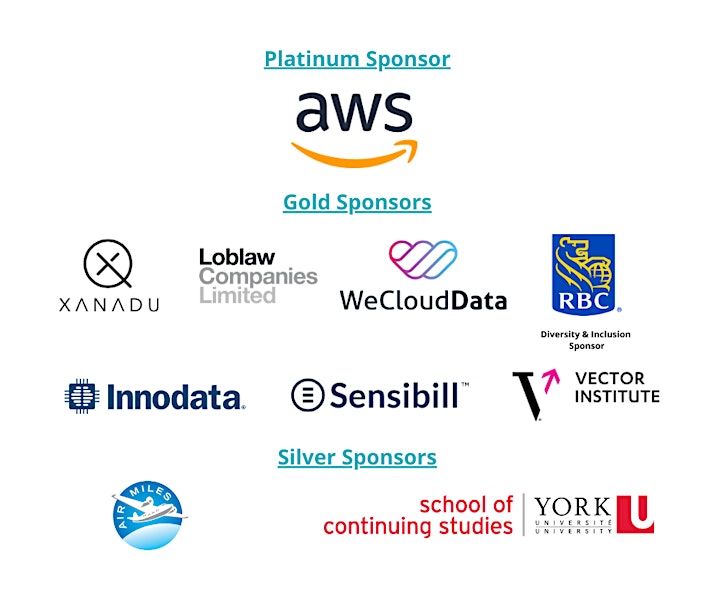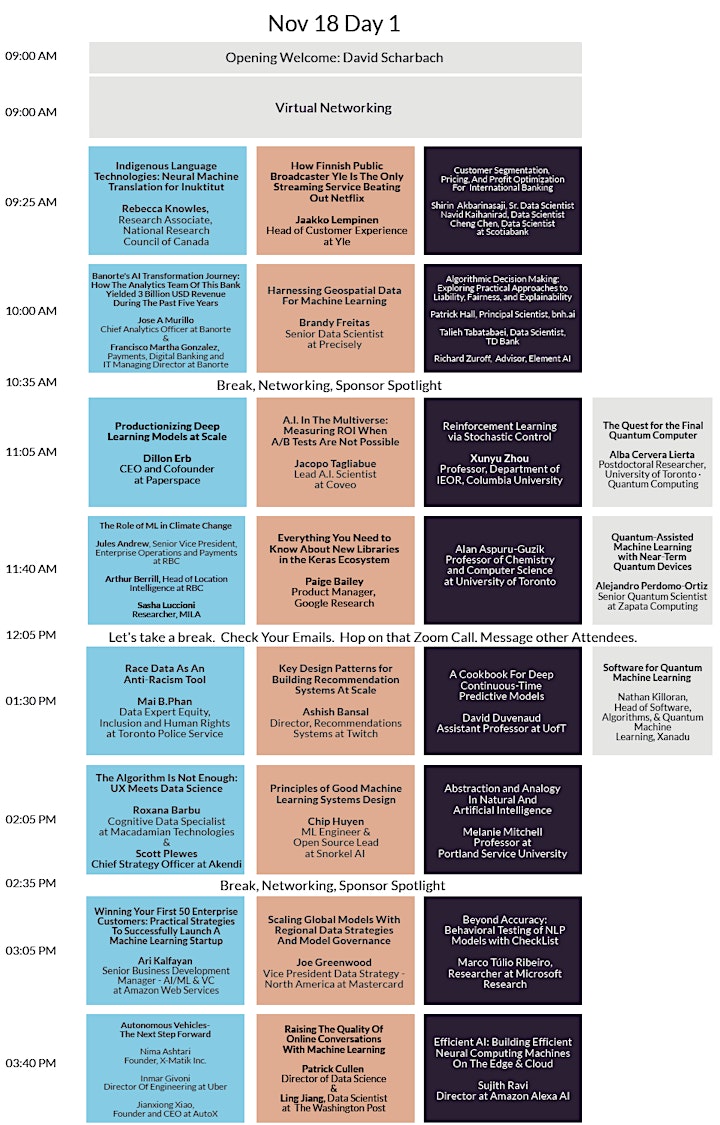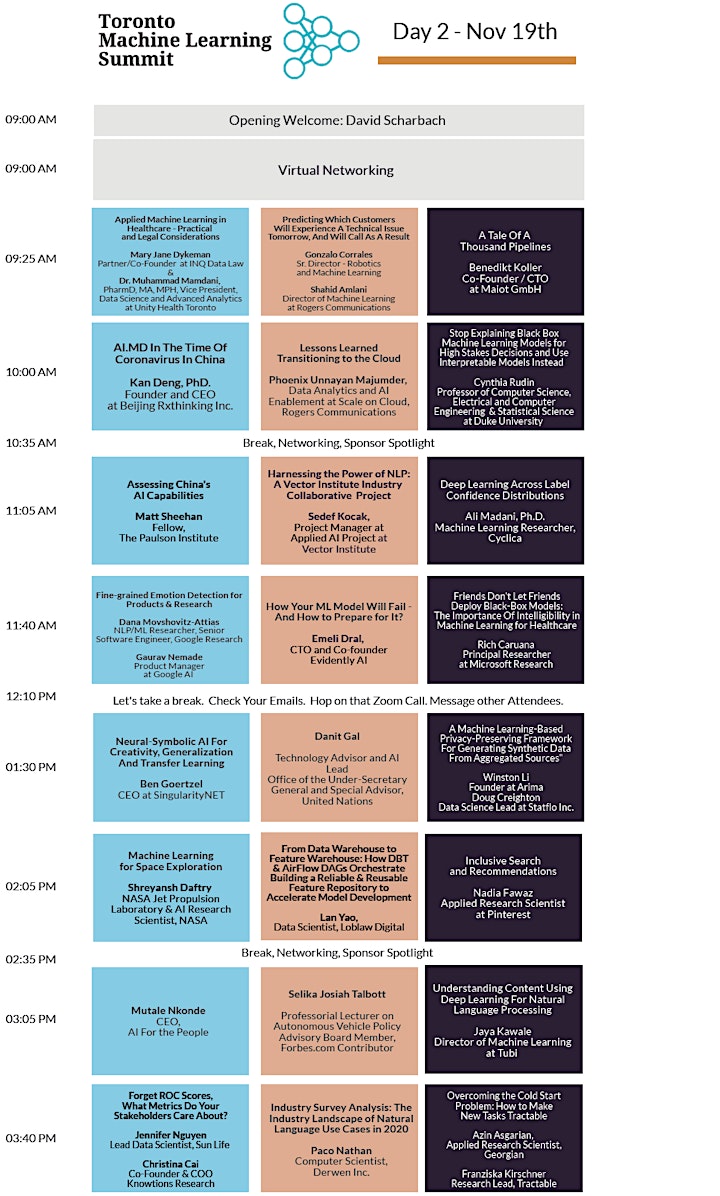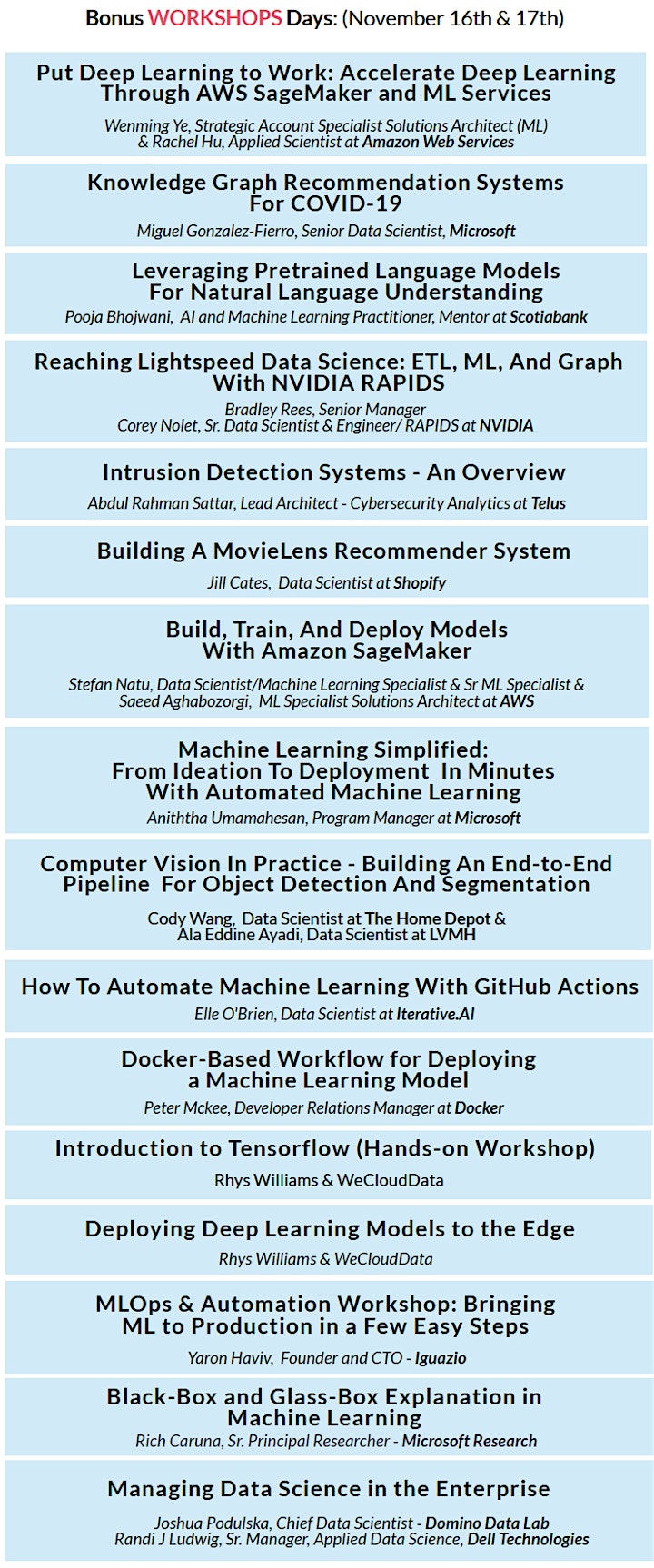 Please register via https://bit.ly/TMLS2020Hopin
We'd like to welcome you to join us in celebrating the top achievements in AI/ML from the perspective of research and applications and business strategy, across all industries. ( See abstract at the bottom)
Each ticket includes:
Access to 80+ hours of live-streamed content (incl. recordings)
Talks for beginners/intermediate & advanced
Network and connect through our event app
Q+A with speakers
Channels to share your work with the community
Run your chat groups and virtual gatherings!
Hands-on Workshops
PLEASE NOTE THAT BONUS WORKSHOPS ARE ON THE 16TH AND 17TH OF NOVEMBER.
CONFERENCE BREAKOUTS (ON HOPIN.TO PLATFORM) ARE 18TH AND 19TH.
Taken from the real-life experiences of our community, the Steering Committee has selected the top applications, achievements, and knowledge-areas to highlight.
Come and expand your network with machine learning experts and further your own personal & professional development in this exciting and rewarding field. 
We believe these events should be as accessible as possible and set our ticket passes accordingly.
The TMLS initiative is dedicated to helping promote the development of AI/ML effectively, and responsibly across all Industries. As well, to help data practitioners, researchers and students fast-track their learning process and develop rewarding careers in the field of ML and AI. 
What to expect at TMLS;
Business Leaders, including C-level executives and non-tech leaders, will explore immediate opportunities, and define clear next steps for building their business advantage around their data.
Practitioners will dissect technical approaches, case studies, tools, and techniques to explore challenges within Natural Language Processing, Neural Nets, Reinforcement Learning, Generative Adversarial Networks (GANs), Evolution Strategies, AutoML, and more.
Researchers will have the opportunity to share with their peer's cutting-edge advancements in the field.
Machine learning, deep learning, and AI are some of the fastest-growing and most exciting areas for knowledge workers - simultaneously, they are the key to untapped revenue sources and strategic insights for businesses. Firms are using AI to create unprecedented business advantages that are reshaping the global - but more specifically Canadian - economic landscape. Practitioners are leveraging and expanding their expertise to become high-impact global leaders.
Despite the vast opportunities that lie within our data, there are also explicit challenges to revealing their potential. Furthermore, transitioning to a career in practicing AL/ML, or managing ML and AI-driven businesses, are less than straightforward.
Why should I attend the Toronto Machine Learning Society (TMLS) 2020 Annual Conference & Expo:
Developments in the field are happening fast: For practitioners, it's important to stay on top of the latest advances; for business leaders, the implementation of new technology brings specific challenges.
The goal of TMLS is to empower data practitioners, academics, engineers, and business leaders with direct contact to the people that matter most, and the practical information to help advance your projects. For data practitioners, you'll hear how to cut through the noise and find innovative solutions to technical challenges, learning from workshops, case studies, and P2P interactions. Business leaders will learn from the experience of those who have successfully implemented ML/AI and actively manage data teams.
Seminar series content will be practical, non-sponsored, and tailored to our ML ecosystem. TMLS is not a sales pitch - it's a connection to a deep community that is committed to advancing ML/AI and to create and deliver value and exciting careers for Businesses and Individuals.
We're committed to helping you get the most out of the TMLS.
Joining together under one roof will be:
Machine Learning/deep learning PhDs and researchers
C-level business leaders
Industry experts
Data Engineers, Machine Learning Engineers
Enterprise innovation labs seeking to grow their teams
Community and university machine learning groups
Site: www.torontomachinelearning.com 
FAQs
Q: What are the technical requirements to be able to participate?
Laptop or personal computer, strong, reliable wifi connection. Google Chrome is recommended to run the Virtual Conference platform.
Q: Can I watch the live stream sessions on my phone or tablet computer?
Yes, the Virtual Conference is accessible via a smartphone or tablet.
Q: Which sessions are going to be recorded? When will the recordings be available and do I have access to them?
All sessions will be recorded during the event (provided speaker permissions) and will be made available to attendees approximately 2-4 weeks after the event and be available for 12 months after release.
Q: Are there ID or minimum age requirements to enter the event? There is not. Everyone is welcome.
Q: Can I get a training certificate?  Yes, we can provide this upon request.
Q: How can I contact the organizer with any questions? Please email info@torontomachinelearning.com
Q: What's the refund policy? Tickets are refundable up to 30 days before the event.
Q: Who will attend? The event will have three tracks: One for Business, one for Advanced Practitioners/Researchers, and one for applied use-cases (Focusing on various Industries). Business Executives, Ph.D. Researchers, Engineers, and Practitioners ranging from Beginner to Advanced. See Attendee Demographics and a list of the Attendee Titles from our past event here. 
Q: Will you focus on any industries in particular? Yes, we will have talks that cover Finance, Healthcare, Retail, Transportation, and other key industries where applied ML has made an impact. 
Q: Can I speak at the event? Yes, you can submit an abstract here. Deadline to submit a talk is Sept 15th, however, we will continue to review submissions. 
*Content is non-commercial and speaking spots cannot be purchased. 
Q: Will you give out the attendee list? No, we do our best to ensure attendees are not inundated with messages, We allow attendees to stay in contact through our slack channel and follow-up monthly socials.
Q: Can my company have a display? Yes, there will be spaces for company displays. You can inquire at faraz@torontomachinelearning.com.
2020 Breakout Talk Abstracts
Day 1 Talk Abstracts
Advanced Social AI Case Study Talk: Indigenous Language Technologies: Neural Machine Translation for Inuktitut Beating Out Netflix
Rebecca Knowles, Research Associate at National Research Council of Canada
Abstract: Recent advances in machine translation has resulted in systems of very high quality, but only for a very limited set of the world's more than 7000 languages. This talk provides a brief overview of Indigenous language technology projects at the National Research Council of Canada, before focusing on one project in particular: the development of neural machine translation systems to translate between Inuktitut and English. We will discuss challenges, applications of state of the art models, and future use cases.
What You Will Learn: Neural machine translation, applications of machine learning to Indigenous languages, challenges of domain adaptation in low-resource settings
Applied Business & Strategy Case Study Talk: How Finnish Public Broadcaster Yle is the Only Streaming Service Beating Out Netflix
Jaakko Lempinen, Head Of Customer Experience at Yle
Abstract: This talk covers how AI will shape the future of media experience and how Yle is shaping its operations around this change. The speaker will give few examples of how ideas are scaled into products across the whole organization and will also talk about how the culture changes within organizations as they start to benefit more from progressive data solutions – what are the future skills that every organization should have and how to get started with the change.
What You Will Learn: Case studies from the media sector, How to drive the change in your organization, and what do you actually need to make the change.
Applied Case Study Talk: Customer Segmentation, Pricing, and Profit Optimization for International Banking
Shirin Akbarinasaji, Senior Data Scientist; Navid Kaihanirad, Data Scientist; Cheng Chen, Data Scientist at Scotiabank
Abstract: Background: Pricing is a famous business issue in many companies and organizations. The approach behind pricing analytics can be formulated as customer segmentation and constrained optimization problems in order to increase sales and/or revenue.
Aim: The main objective is to design a pricing product that can help to :
1) Identify groups of elastic and inelastic customers,
2) Determine the optimal rate for each group of customers,
3) Agnostic pipeline that can be reusable for other pricing use cases.
Methodology: Scotiabank proposes to use model-based recursive partitioning (MOB) which uses product characteristics and customer attributes as input and customer willingness to pay as output to segment customers. For each customer segmentation, the company found the demand curve function and formulate the nonlinear optimization problem that maximizes the sale or revenue using PYOMO and IPOPT.
Results: This pricing product has been used in three different countries: Peru, Columbia, and Mexico in various products such as a mortgage, SPL, and term deposit with great feedback that has helped Scotiabank to capture international banking customer behavior and their price sensitivity more promptly.
Currently, this application is within the Bank's international banking (IB) footprint, however, solutions are reuseable and scalable for application within the Canadian marketplace.
What You Will Learn: This is about applying cutting edge machine learning domain in the banking domain. As pricing is very critical, mainly companies do not reveal their methodology so google search will not help that much.
Attendees will learn about the Bank's customer segmentation approach, highlighting the flexibility of the model's given data availability. Presenters will speak to optimization realized through the approach and provide insights into how the business was considered throughout the data and analytics journey.
Applied Business & Strategy Case Study Talk: Banorte's AI Transformation Journey: How the Analytics Team of this Bank Yielded 3 Billion USD Revenue During the Past Five Years
Jose Murillo, Chief Analytics Officer and Francisco Martha Gonzalez, Payments, Digital Banking and IT Managing Director at Banorte
Abstract: There are high expectations about AI initiatives across different industries in North America. However, too often results have been disappointingly producing some backlash against digital transformation efforts. The capacity to implement and demonstrate high ROI AI projects changes this dynamic. This talk will delve into Banorte's transformation journey into an AI-enhanced organization with data science projects yielding a net revenue that exceeds 3 billion USD during the past five years and avoiding transformational fatigue.
What You Will Learn: 
1. How to measure AI contribution to the bottom line
2. What are key prerequisites to focus yield high ROI on AI projects
3. Where to focus AI initiatives to have a large organizational impact: revenue or cost?
Advanced Case Study Talk: Harnessing Geospatial Data for Machine Learning
Brandy Freitas, Senior Data Scientist at Precisely
Abstract: Working with and analyzing geospatial data requires a different and often nuanced approach from most data types, especially to derive spatial predictions and detect patterns using machine learning applications. Many data scientists and analysts are not used to fully leveraging the power of geospatial data, and often don't know what business questions to ask, aren't aware of which algorithms are available to them to enrich their models, or resort to eliminating spatial variables entirely in order to use the data with common machine learning algorithms.
What You Will Learn: How to maximize the value of geospatial data using machine learning and artificial intelligence techniques, business problems that can be tackled in a variety of industries using this type of data, and how to utilize algorithms specific to spatial data.
ML in Production Talk: Productionizing Deep Learning Models at Scale
Dillon Erb, CEO and Cofounder at Paperspace
Abstract: The ecosystem for deploying SaaS applications includes countless tools for delivering an app to production, monitoring its performance, and deploying in real-time. By contrast, while we've seen explosive growth in the adoption of the machine and deep learning (ML/DL) across industries, putting ML/DL models into production isn't as well supported. During this talk, we'll discuss the emerging patterns, state-of-the-art methods, and best practices leading companies are using to productionize ML/DL models.
What You Will Learn: ML infrastructure and tool stacks are endlessly interesting and convoluted. Dillon has great clarity on macro trends within the infrastructure space while maintaining pragmatism about incorporating the latest open-source tools.
Advanced Case Study Talk: A.I. in the Multiverse: Measuring ROI when A/B Tests Are Not Possible
Jacopo Tagliabue, Lead A.I. Scientist at Coveo
Abstract: A.I. services are deployed to produce improvements to important business metrics, e.g. customer engagement, number of transactions, total profits. When evaluating the contribution of a new service, it is crucial to be able to answer the attribution question: how much of my target outcome would have been achieved even in the absence of the A.I. model? Causal assessments are usually done through A/B tests, which however are not always feasible. Who would switch off Amazon recommendations entirely to do such an assessment?
This talk will show how to use A.I. to assess its contributions to revenues in eCommerce. In particular, it will show how deep learning models can be used to assess how much revenue in a digital shop comes from interactions with search and recommendation APIs. The findings can be generalized to many other settings, to assess and monitor the performance of existing ML pipelines even in the absence of A/B testing.
What You Will Learn: Attribution models for site search engines are stuck at "last-action" and Google Analytics-style reporting: since A/B testing the search bar is impossible, it is really hard to make informed business decisions involving the search experience. What would you do if you knew causation, not correlation, in the search behavior of your shoppers?
Advanced Research Talk: Reinforcement Learning via Stochastic Control
Xunyu Zhou, Professor, Department of IEOR at Columbia University
Abstract: While most existing reinforcement learning (RL) research is in the framework of Markov Decision Processes (MDPs), it is important and indeed necessary, both theoretically and practically, to consider RL in continuous time with continuous feature and action spaces, for which stochastic control theory offers a natural underpinning. The related research is still in its infancy, and this talk reports some of the latest developments and suggests several directions for investigation.
What You Will Learn: Theoretical foundation and interpretation of some of the commonly used heuristics in reinforcement learning such as entropy regularization and Gibbs/Boltzmann/Gaussian exploration.
Quantum Talk: Reinforcement Learning via Stochastic Control
Alba Cervera-Lierta, Postdoctoral Researcher at the University of Toronto
Abstract: In this talk, I will overview the basic concepts of quantum computing and its applications. I will present what are the state-of-the-art quantum algorithms, its advantages, and limitations. Finally, I will explain the state of development of experimental quantum computers and future prospects.
What You Will Learn: The current state of quantum computation
Quantum Talk: Quantum-Assisted Machine Learning with Near-Term Quantum Devices
Alejandro Perdomo-Ortiz, Lead Quantum Applications at Zapata Computing Inc.
Abstract: With quantum computing technologies nearing the era of commercialization and quantum advantage, machine learning (ML) has been proposed as one of the promising killer applications. Despite significant effort, there has been a disconnect between most quantum ML proposals, the needs of ML practitioners, and the capabilities of near-term quantum devices towards a conclusive demonstration of meaningful quantum advantage in the near future. In this talk, we provide concrete examples of intractable ML tasks that could be enhanced with near-term devices. We argue that to reach this target, the focus should be on areas where ML researchers are struggling, such as generative models in unsupervised and semi-supervised learning, instead of the popular and more tractable supervised learning tasks. We will discuss recent experimental implementations of these quantum generative models, in both, superconducting-qubit and ion-trap quantum computers.
What You Will Learn: Exciting directions and opportunities for assisting machine learning with quantum computers.
Business & Strategy - Social AI Talk: Race Data as an Anti-Racism Tool
Mai Phan, Data Expert Equity, Inclusion and Human Rights at Toronto Police Service
Abstract: 'Race' is a concept, a tool, and a structure that defines a set of relationships between people. We will unpack the idea of race as relationships and race as data in its historical and current contexts. We will discuss what it means to build equity into data practices and what dismantling systemic racism can look like in technology (and the pitfalls to avoid).
What You Will Learn: You will learn about and better understand what systemic racism is, the historical legacy of race data, and how to challenge and question data practices for a more equitable society.
Applied Case Study Talk: Key Design Patterns for Building Recommendation Systems At Scale
Ashish Bansal, Director, Recommendations Systems at Twitch
Abstract: Building recommendation systems in production that can serve millions of customers goes way beyond just having a great algorithm. The scale of users, size of the catalog, speed of reaction to user actions are some of the factors that make such systems very challenging to build. A set of co-operating systems need to be built that can serve the needs of the users. This talk distills learnings from building recommendation systems servings millions of customers across multiple companies like Twitter, Twitch, Capital One into a set of commonly used design patterns that you can use right away.
What You Will Learn: Practical considerations in building real-life recommendation systems
Advanced Research Talk: A Cookbook for Deep Continuous-Time Predictive Models
David Duvenaud, Assistant Professor at the University of Toronto
Abstract: While most existing reinforcement learning (RL) research is in the framework of Markov Decision Processes (MDPs), it is important and indeed necessary, both theoretically and practically, to consider RL in continuous time with continuous feature and action spaces, for which stochastic control theory offers a natural underpinning. The related research is still in its infancy, and this talk reports some of the latest developments and suggests several directions for investigation.
What You Will Learn: You'll learn about the main existing approaches for building flexible time series models, and their strengths and weaknesses
Quantum Talk: Software for Quantum Machine Learning
Nathan Killoran, Head of Software & Algorithms at Xanadu Quantum Technologies
Abstract: One of the fundamental goals in the emerging field of quantum machine learning is to build trainable quantum computing algorithms. It turns out that we can, with very minimal changes, port many existing ideas, algorithms, and training strategies from deep learning over to the quantum domain. This allows us to train quantum computers in largely the same way as we do neural networks, even using familiar software tools like TensorFlow and PyTorch. In this talk, I will give a high-level overview of the key ideas that make this possible.
What You Will Learn: You'll learn how to use software tools like PennyLane, TensorFlow, and PyTorch to train quantum computers
Business & Strategy Talk: The Algorithm is Not Enough: UX Meets Data Science
Roxana Barbu, Cognitive Data Specialist at Macadamian Technologies and Scott Plewes, Chief Strategy Officer at Akendi
Abstract: We live in an age of data; so much data that it's overwhelming. We also live in the age of UX where user-centricity is no longer the exception or a market differentiator - it is now the norm. Many product companies have an established team of data science experts; many have an established team of UX experts. However, it's not very common to come across companies that have both. And if they do, each team often works in a vacuum, siloed from each other.
What You Will Learn: Cross-disciplinary artifacts and processes generally not applied in digital product development human-centered data science
ML in Production Talk: Principles of Good Machine Learning Systems Design
Chip Huyen, ML Engineer & Open Source Lead at Snorkel AI
Abstract: This talk covers what it means to operationalize ML models. It starts by analyzing the difference between ML in research vs. in production, ML systems vs. traditional software, as well as myths about ML production. It then goes over the principles of good ML systems design and introduces an iterative framework for ML systems design, from scoping the project, data management, model development, deployment, maintenance, to business analysis. It covers the differences between DataOps, ML Engineering, MLOps, and data science, and where each fits into the framework. It also discusses the main skills each stage requires, which can help companies in structuring their teams. The talk ends with a survey of the ML production ecosystem, the economics of open source, and open-core businesses.
What You Will Learn: This talk outlines the challenges and approaches to designing, developing, and deploying ML systems. It starts with the gap between ML in research and ML in production. It examines how ML applications differ from traditional software engineering applications, the scaling challenge, and the rise of MLOps.
Advanced Research Talk: Abstraction and Analogy in Natural and Artificial Intelligence
Melanie Mitchell, Professor at the Portland State University
Abstract: In 1955, John McCarthy and colleagues proposed an AI summer research project with the following aim: "An attempt will be made to find how to make machines use language, form abstractions and concepts, solve kinds of problems now reserved for humans, and improve themselves." More than six decades later, all of these research topics remain open and actively investigated in the AI community. While AI has made dramatic progress over the last decade in areas such as vision, natural language processing, and robotics, current AI systems still almost entirely lack the ability to form humanlike concepts and abstractions. Some cognitive scientists have proposed that analogy-making is a central mechanism for conceptual abstraction and understanding in humans. Douglas Hofstadter called analogy-making "the core of cognition", and Hofstadter and co-author Emmanuel Sander noted, "Without concepts, there can be no thought, and without analogies, there can be no concepts." In this talk, I will reflect on the role played by analogy-making at all levels of intelligence, and on how analogy-making abilities will be central in developing AI systems with human-like intelligence.
What You Will Learn: You'll learn how modern AI and ML are approaching the problem of conceptual abstraction and analogy-making, and how these approaches compare with human abilities in these areas.
Business & Strategy Talk: Winning Your First 50 Enterprise Customers: Practical Strategies to Successfully Launch a Machine Learning Startup
Ari Kalfayan, Senior Business Development Manager - AI/ML & VC at Amazon Web Services
Abstract: This talk is designed to help you land your first 50 enterprise machine learning customers. Whether you are developing your first machine learning application, creating an enterprise ML infrastructure startup, or creating new Machine/Deep Learning tools, this hands-on session is designed to share practical strategies, growth hacks, and specific techniques to use that will win you your first customers and scale.
This presentation will be broken up into three parts:
1. Landing your first customer (0-1 customer)
2. Validating your business model (1-10 customers)
3. Scaling your business (10-50 customers) This presentation is designed to leave you with practical tips to help you acquire new customers⁠, no matter your funding stage.
What You Will Learn: Practical advice and mistakes from having launched two top tier ML tools companies
Applied ML in Production Use Case: Scaling Global Models With Regional Data Strategies and Model Governance
Joe Greenwood, Vice President Data Strategy - North America at Mastercard
Abstract: AI-driven, including ML models, provide the capability to process a greater volume and variety of data to power new global platforms and products and to optimize global business operations. Given that the world and its data are ever more varied and dynamic, to take advantage of this power models need to be highly adaptable to represent the local diversity of events, people, markets, and operations. Models developed only with a global perspective can result in missing valuable insights, and potential harms from models that are biased in their results, or inadvertently exclude groups in society. This talk will outline the business imperative for robust and ethical model design and Mastercard's approach to leveraging a global data-strategy that sets the highest standards for the responsible use of data and AI though human-centered data-design while ensuring local compatibility and functionality through a regional approach to data sourcing and quality, model testing and governance, and internal data literacy. The benefits of scaling global models through regional data strategies will be illustrated with examples from fraud detection, credit decisioning, economic modeling, and understanding consumer preferences.
What You Will Learn: How to set out an enterprise approach to the responsible use of data and AI, how to translate that into global data strategy elements and frameworks, and then how to use regional or country-specific data and model building strategies
Advanced Research NLP Talk: Beyond Accuracy: Behavioral Testing of NLP Models with CheckList
Marco Túlio Ribeiro, Senior Researcher at Microsoft Research
Abstract: This talk will discuss CheckList, a task-agnostic methodology, and tool for testing NLP models inspired by principles of behavioral testing in software engineering, showing a lot of fun bugs that were discovered with CheckList, both in commercial models (Microsoft, Amazon, Google) and research models (BERT, RoBERTA for sentiment analysis, QQP, SQuAD). This will also present comparisons between CheckList and the status quo in a case study at Microsoft and a user study with researchers and engineers in which it will show that CheckList is a really helpful process and tool for testing and finding bugs in NLP models, both for practitioners and researchers.
What You Will Learn: How to test NLP models
Applied Business & Strategy Case Study Talk: Raising the Quality of Online Conversations with Machine Learning
Patrick Cullen, Director of Data Science and Ling Jiang, Senior Data Scientist at The Washington Post
Abstract: The quality of online comments is critical to the Washington Post. Learn how they built a machine learning system for automatically moderating comments from millions of readers. We will share the technical challenges with building the comment moderation platform and how we raised the quality of online conversations with machine learning.
What You Will Learn: How to build a system that utilizes both human and machine learning moderation to efficiently scale to millions of reader comments.
Advanced Case Study Talk: Efficient AI: Building Efficient Neural Computing Machines on the Edge & Cloud
Sujith Ravi, Director at Amazon Alexa AI
Abstract: Deep learning has changed the computing paradigm. Today, AI researchers & practitioners increasingly use deep neural networks for many applications across different modalities and areas such as NLP, Vision, Speech, Conversational, and Multimodal AI. However, much of the Deep Learning revolution has been limited to the Cloud and highly specialized hardware. Recently the AI community has witnessed an increasing trend for training larger and larger neural models (e.g., GPT-3, T5, BERT) that achieve state-of-the-art results but require enormous computation, memory, and energy resources on the Cloud. In order to enable AI experiences in real-time across all users and devices, ML models have to run efficiently on the Cloud and personal devices on the Edge (e.g., mobile phones, wearables, IoT) which have limited computing capabilities. This talk will introduce our work on Neural Projection computing, an efficient AI paradigm, and a family of efficient Projection Neural Network architectures that yield fast (e.g., quadratic speedup for transformer networks) and tiny models that shrink memory requirements by up to 10000x while achieving near state-of-the-art performance powering vision and NLP applications on billions of mobile devices. The widespread increase in the availability of connected "smart" appliances (e.g., conversational assistants) means that there is an ever-expanding surface area for mobile intelligence and ambient devices in homes. Our approach enables efficient ML to solve complex prediction tasks for such applications both on-device and on Cloud, keeping model size, compute, and power usage low while simultaneously optimizing for accuracy.
What You Will Learn: Cutting-edge technology & practical applications for efficient Deep Learning on the Edge & Cloud
Day 2 Talk Abstracts
Applied Business & Strategy Case Study Talk: Applied Machine Learning in Healthcare - Practical and Legal Considerations
Mary Jane Dykeman, Partner and Co-Founder at INQ Data Law and Muhammad Mamdani, Vice President, Data Science and Advanced Analytics at Unity Health Toronto
Abstract: Applied machine learning has the potential to transform healthcare, particularly in the areas of automation, prediction, and optimization. However, numerous challenges to the acquisition, storage, and utilization of data as well as the development of practical machine learning algorithms and change management principles need to be considered. This talk will provide an overview of the process of applying ML into healthcare and the legal and ethical considerations needed for data access and application.
What You Will Learn: Attendees will gain an understanding of the principles of knowledge translation in applied machine learning in healthcare and understand issues related to privacy and ethics as well as legal considerations.
Applied ML Case Study Talk: Predicting Which Customers Will Experience A Technical Issue Tomorrow, And Will Call As A Result
Gonzalo Corrales, Sr. Director - Robotics and Machine Learning and Shahid Amlani, Director of Machine Learning at Rogers Communications
Abstract: Large telecom providers (and many other industries) spend tens of millions of dollars each year reacting to customer issues.  This generally takes the form of large call center and repair technician workforces that are waiting for an issue to happen, in order to help solve it.
Utilizing machine learning and the power of robotic process automation (RPA), we have set out to determine a way to predict which customers are going to reach out with an issue before they actually do – empowering us to take immediate action, to correct the issue, before a customer notices and before they have to spend their valuable time contacting us.
This talk will focus on our journey to build this model, and how we are able to operationalize the findings quickly using RPA. 
Specific items covered will include:
- The modeling process, identifying, using, and cleaning data from many sources
- The planning and operationalizing of findings in a quick efficient manner
- Key decision points faced (cost of being wrong, false positives, etc.)
What You Will Learn: 
- Applications of ML
- How we aim to operationalize model findings quickly in an environment with legacy systems
Advanced ML in Production Talk: A Tale of a Thousand Pipelines
Benedikt Koller, CTO at maiot GmbH
Abstract: This talk tackles the process of building scalable deep learning pipelines for hundreds of model training on giant time-series datasets and on how it helped saved 80% of the cost along the way.
What You Will Learn: Real-world learnings from putting deep learning models rapidly from research to production through solid Ops and orchestration.
Applied Case Study Talk: AI.MD in the Time of Coronavirus in China
Kan Deng, Ph.D., Founder and CEO at Beijing Rxthinking Inc.
Abstract: This talk will discuss the practice of applied machine learning technology in healthcare, particularly covering its relevance with the ongoing coronavirus pandemic.
What You Will Learn: The challenges, the solutions, the effectiveness, and the remaining issues, including technology progress and institutional reform.
Advanced Research Talk: Stop Explaining Black-Box Machine Learning Models for High Stakes Decisions and Use Interpretable Models Instead
Cynthia Rudin, Professor of Computer Science, Electrical and Computer Engineering and Statistical Science at Duke University
Abstract: With the widespread use of machine learning, there have been serious societal consequences from using black-box models for high-stakes decisions, including flawed bail and parole decisions in criminal justice. Explanations for black-box models are not reliable and can be misleading. If we use interpretable machine learning models, they come with their own explanations, which are faithful to what the model actually computes.
What You Will Learn: You will learn that there is a chasm between explaining black-box models and using inherently interpretable models. You may also find my experience helpful, which is that we have never needed a black box model for a high stakes decision because we have always been able to construct an interpretable model that is at the same level of predictive performance as the best black box we could find.
Business & Strategy Talk: Assessing China's AI Capabilities
Matt Sheehan, Fellow at The Paulson Institute
Abstract: The talk will give an overview of China's AI/ML ecosystem, and a deep dive into its capabilities when it comes to leading-edge research in neural networks.
What You Will Learn: You'll learn about China's role in the global flows of AI research talent, and what implications this has for government policy in the US, Canada, and Europe.
Applied Case Study Talk: Harnessing the Power of NLP: A Vector Institute Industry Collaborative  Project
Sedef Akinli Kocak, Project Manager at Applied AI Project, Vector Institute
Abstract: The Vector Institute's project, Recreation of Large Scale Pre-Trained Language Models (the NLP Project), is an industry-academia collaboration that explores how state-of-the-art natural language processing (NLP) models could be applied in business and industry settings at scale. Developing and employing NLP models in the industry has become progressively more challenging as model complexity increases, data sets grow in size, and computational requirements rise. These hurdles limit the accessibility many organizations have to NLP capabilities, putting the significant benefits advanced NLP can provide out of reach. The NLP Project addressed these challenges by familiarizing industry participants with advanced NLP techniques and the workflows for developing new methods that could achieve high performance while using relatively small data sets and widely accessible computing resources. The project involved 60 participants: 23 Vector researchers and staff with expertise in machine learning and NLP along with 37 industry technical professionals from 16 Vector sponsor companies. The participants established 11 working groups, each of which developed and performed experiments relevant to existing industry needs. In this talk, I will provide an overview of the NLP project and share how industry participants gained practical knowledge through pre-training large scale language models, learned theoretical concepts from leading NLP practitioners, and broadened their professional network through collaborations with participating sponsors. I will share some of the technical challenges that we encountered throughout the project and how we overcome them. Finally, I will offer best practices to guide future industry collaborative projects.
What You Will Learn: How Vector Institute's industry collaborations help sponsors in the adoption of AI advances, specifically in the NLP domain.
Advanced Research Talk: Deep Learning Across Label Confidence Distribution via Transfer Learning
Ali Madani, Leader of Machine Learning at Cyclica Incorporation
Abstract: The performance of neural network models relies on the availability of large datasets with minimal levels of uncertainty. However, in aggregated data environments, confidence in the individual data points varies in a quantifiable manner by primary data source or measurement type. Differences in label confidence make model building challenging, as the optimization cannot be done while amalgamating all the data points in the training process. In this work, we apply a transfer learning approach to improve predictive power in noisy data systems with large variable confidence datasets. We propose a deep neural network approach called Filtered Transfer Learning (FTL) that defines multiple tiers of data confidence as separate tasks in a transfer learning setting. The deep neural network is fine-tuned in a hierarchical process by iteratively removing (filtering) data points with lower label confidence and retraining. In this report, we use FTL for predicting the interaction of drugs and proteins. We demonstrate that using FTL to learn stepwise, across the label confidence distribution, results in higher performance compared to deep neural network models trained on a single confidence range. The challenge of mixed confidence training data is not restricted to the domain of protein and drug interaction; in practice, data labeling is done based on either computational algorithms or human experts (or even non-experts), and neither approach is perfect. Other examples with differences in data point label confidence include radiological or histopathological images or image segment labels, and measured resistance to cancer drugs. We anticipate that FTL will enable the machine learning community to benefit from large datasets with uncertain labels in fields such as biology and medicine.
What You Will Learn: How to deal with data points with different levels of confidence in a deep learning setting
Applied NLP Research Case Study Talk: GoEmotions: Text-based Emotion Dataset for Products & Research
Gaurav Nemade, Product Manager at Google AI and Dana Movshovitz-Attias, Software Engineer at Google Research
Abstract: Understanding emotion expressed in language has a wide range of applications, from building empathetic chatbots to detecting harmful online behavior. In this talk, we will present our work at Google AI Research towards building GoEmotion, a large-scale dataset containing 58K social media comments labeled with a fine-grained emotion taxonomy, which is adaptable to multiple downstream tasks. We will share results demonstrating generalizability towards existing emotion benchmarks from other domains. Lastly, we will share how organizations could use this dataset to train custom models for their use cases.
What You Will Learn: 
1. How emotions can be detected from textual content for business use cases & research purposes
2. Details about data for training own models
ML in Production Talk: How Your ML Model Will Fail - And How to Prepare For It?
Emeli Dral, CTO and Co-founder at Evidently AI
Abstract: The data scientist's job does not finish when the model is shipped. Models degrade and break in production. The failure modes of machine learning systems are also different from those of traditional software applications. They require purpose-built monitoring and debugging. However, this aspect is often overlooked in practice.
In this talk, we will explore:
- How and why the machine learning models break;
- How to analyze production model performance, data drift and monitor data quality;
- How to set up your monitoring strategy in a pragmatic way.
What You Will Learn: How to set up your model monitoring from scratch, and how to prioritize different metrics
Advanced Healthcare Research Talk: Friends Don't Let Friends Deploy Black-Box Models: The Importance of Intelligibility in Machine Learning for Healthcare
Rich Caruana, Principal Researcher at Microsoft Research
Abstract: In machine learning, often a tradeoff must be made between accuracy and intelligibility: the most accurate models usually are not very intelligible, and the most intelligible models usually are less accurate. This often limits the accuracy of models that can safely be deployed in mission-critical applications such as healthcare where being able to understand, validate, edit, and ultimately trust a model is important. At Microsoft Research, a learning method has been developed that is as accurate as full complexity models such as boosted trees and random forests, but even more intelligible than linear models.  This makes it easy to understand what a model has learned and to edit the model when it learns inappropriate things, making it possible for medical experts to understand and repair a model as most clinical data have unexpected problems that is quite critical.  This talk will present a number of healthcare case studies where these high-accuracy GAMs discover surprising patterns in the data that would have made deploying a black-box model risky, and also allow us to learn important new insights from our healthcare data.
What You Will Learn: 
1) The risk of using machine learning in healthcare when you can't understand what the model is learned.
2) How new methods in intelligible machine learning can help mitigate this risk. 3) The amazing things we can learn about healthcare by using this kind of model on medical data.
Advanced Research Talk: Neural-Symbolic AI for Creativity, Generalization and Transfer Learning
Ben Goertzel, CEO at SingularityNET
Abstract: Neural-Symbolic methods, combining neural ML tools with symbolic logical reasoning methods, have greater capability than current purely subsymbolic ML methods for transfer learning, generalization beyond the training space, and creative hypothesis and invention. This talk will give examples of neural-symbolic AI implemented using the OpenCog AI framework, including semantics-preserving hypergraph embeddings and probabilistic logic-based explanations of ML-identified data patterns. Practical applications will be discussed, including personalized medicine, humanoid robotics, and grammar learning. 
What You Will Learn: How to think about, and build, neural-symbolic AI systems that generalize, transfer knowledge, and perform creative hypothesis generation.
Advanced Technical Talk: A Machine Learning-Based Privacy-Preserving Framework for Generating Synthetic Data from Aggregated Sources
Winston Li, Founder at Arima and Doug Creighton, Data Science Lead at Statflo Inc.
Abstract: A synthetic dataset is a data object that is generated programmatically, and it is often necessary for situations where data privacy is a concern, or when collecting data is difficult or costly. Although it is a fundamental step for many data science tasks, an efficient and standard framework is absent. In this presentation, we study a specific synthetic data generation task called downscaling, a procedure to infer high-resolution information (e.g., individual-level records) from low-resolution variables (e.g., an average of many individual records), and propose a multi-stage framework.
Specifically, this talk will discuss the following:
1) How synthetic data is generated from aggregated sources like census,
2) Why is this important from an application perspective, and
3) Two real-world use cases demonstrating why using synthetic data generation can significantly improve model performances. 
What You Will Learn: In this talk, the speaker will present a novel method for generating synthetic datasets (which has not yet been published) as well as 2 real-world case studies of Arima's partners on how synthetic data has improved their model performances.
Advanced Case Study Talk: Machine Learning for Space Exploration
Shreyansh Daftry, AI Research Scientist at NASA Jet Propulsion Laboratory
Abstract: Artificial Intelligence is playing an increasing role in the space industry, where AI-related technologies such as machine learning have the potential to revolutionize almost every aspect of space exploration. In this talk, the evolution of autonomous robots for space exploration and planetary science will be discussed as well as getting a glimpse at some examples of machine learning technologies that NASA is developing for autonomous robotic applications on Earth, Mars, and beyond, and describe some of the grand challenges in AI for such safety-critical systems. This will also cover some lessons learned from the space industry that can be applied to industrial applications here on Earth.
What You Will Learn: How AI/ML is being used by NASA to enable the next frontier in robotics space exploration; Challenges in deploying AI/ML for safety-critical systems
Applied Business & Strategy Case Study - Social AI Talk: Inclusive Search and Recommendations
Nadia Fawaz, Applied Research Scientist at Pinterest
Abstract: Machine learning powers many advanced search and recommendation systems, and user experience strongly depends on how well ML systems perform across all data segments. This performance can be impacted by biases, which can lead to a subpar experience for subsets of users, content providers, applications, or use cases. Biases may arise at different stages in machine learning systems, from existing societal biases in the data to biases introduced by the data collection or modeling processes. These biases may impact the performance of various components of ML systems, from offline training to evaluation and online serving in production systems. Specific techniques have been developed to help reduce bias at each stage of an ML system.
This talk will describe sources of bias in ML technology, why addressing bias matters, and techniques to mitigate bias, with examples from the speaker's work on inclusive AI at Pinterest. Mitigating bias in machine learning systems is crucial to successfully achieve the company's mission to "bring everyone the inspiration to create a life they love".
What You Will Learn: We will describe sources of bias in ML technology, why addressing bias matters, and techniques to mitigate bias, with examples from our work on inclusive AI at Pinterest.
Applied Case Study Talk: Understanding Content Using Deep Learning for Natural Language Processing
Jaya Kawale, Director of Machine Learning at Tubi
Abstract: Tubi is an advertiser based video-on-demand service that allows its users to watch content online. For a lot of the content, there is a large amount of textual data in the form of user reviews, synopsis, title plots, and even Wikipedia. Furthermore, there is a large amount of metadata in the form of actors, ratings, year of release, studio, etc. In this talk, I will present some of the challenges in understanding the data and present our platform for content understanding.
What You Will Learn: We will describe sources of bias in ML technology, why addressing bias matters, and techniques to mitigate bias, with examples from our work on inclusive AI at Pinterest.
Applied Business & Strategy Case Study Talk: Forget ROC Scores, What Metrics Do Your Stakeholders Care About?
Christina Cai, Co-Founder & COO at Knowtions Research and Jennifer Nguyen, Lead Data Scientist at Sun Life
Abstract: How do you get buy-in from leadership to sponsor your ML project? How do you convince your stakeholders to put your ML models into production? And finally, how do you communicate the ROI of the project once it's been deployed? While these are questions universal to any industry, they are particularly challenging to answer in the insurance industry because of its highly regulated and risk-averse nature. As such, more creative thinking is needed to convince stakeholders that your ML solutions can be trusted and bring value.
What You Will Learn: In this talk, we will share lessons we learned in answering three questions and the metrics stakeholders care about. The talk is designed so that those managing projects (e.g., data science directors/managers) and those executing the work (e.g., data scientists/analysts) can walk away with tips to help their ML projects start and close off successfully.
Applied Business & Strategy Case Study Talk: Industry Survey Analysis: The Industry Landscape of Natural Language Use Cases in 2020
Paco Nathan, Computer Scientist at Derwen Inc.
Abstract: We recently conducted an industry survey of firms that have natural language systems in production. This includes an organization that has a history of leveraging NLP systems as well as those which are just beginning to plan their approach. A "dramatic shift" would be an understatement: since 2018, the field of natural language has undergone a sea change. Breakthroughs in the usage of deep learning, as well as the availability of more sophisticated hardware and cloud resources, led to sudden advances in natural language. The results are pervasive across technology subcategories within the field of natural language: parsing, natural language understanding, sentiment detection, entity linking, speech recognition, abstractive summarization, and so on. While the tech unicorns and their proxies have conducted almost an "arms race" since early 2018, sometimes publishing papers twice monthly to outdo their competitors' most recently published benchmarks -- how are these advances diffusing into practical use cases, and becoming adopted by mainstream businesses for their needs? Our survey results explore both the contours of the evolving landscape as well as the industry adoption and business trends for NLP.
What You Will Learn: The 2020 industry landscape for NLP use cases in production; the relative "market share" for the popular open-source libraries/frameworks; and analysis of cloud service usage and failure cases; plus industry drivers for accuracy vs. cost in new NLP advances
Applied Case Study Talk: Overcoming the Cold Start Problem: How to Make New Tasks Tractable
Azin Asgarian, Applied Research Scientist at Georgian and Franziska Kirschner, Research Lead at Tractable
Abstract: In recent years, fuelled by the advances in supervised machine learning, we have seen astonishing leaps in the application of deep neural networks. Despite the remarkable results, these models are data-hungry and their performance relies heavily on the quality and size of the training data. In real-world scenarios, this can increase the time to value add significantly for businesses as collecting huge amounts of labelled data is usually very time and cost consuming. This phenomenon—known as the cold start problem—is a pain point for almost any AI company that wants to scale. In this talk, we demonstrate how this problem can be addressed by aggregating data across sources and leveraging previously trained models.
What You Will Learn: In this talk, you will see real examples of the cold start problem and how it can prevent businesses from effectively and efficiently growing. You will learn about various machine learning methods that can be used to address this problem.
Date and time
Location
Refund policy
Refunds up to 30 days before event
Organizer of Toronto Machine Learning Society (TMLS) : 2020 Annual Conference & Expo