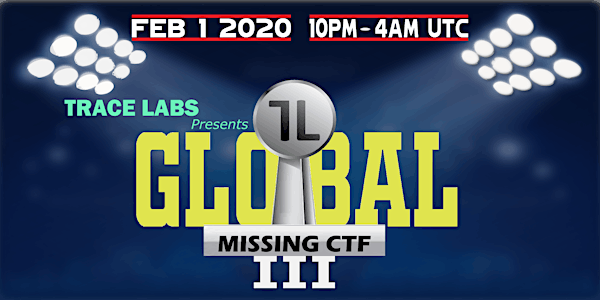 Trace Labs Global Missing CTF III: An OSINT CTF for Missing Persons
Join us for our 3rd edition of our 100% Virtual Global Missing CTF! Contestants of all skill levels are encouraged to participate!
About this event
Trace Labs is a Not-For-Profit organization whose mission is to crowdsource the collection of Open Source Intelligence (OSINT) to generate new leads on active missing persons investigations.
The missing persons issue is getting worse and requires modern and scalable solutions at various levels to help mitigate risk to society. Trace Labs leverages a CTF platform to enable the collection of OSINT to power these crowdsourced community CTF events. These CTF events allow missing persons to receive the attention that is needed early in the search process.
All proceeds from this event will go towards supporting Trace Labs infrastructure and operating costs to enable us to continue crowdsourcing OSINT to assist in locating missing persons.
This CTF is 100% virtual, so contestants from any geographic location are encouraged to participate! We will be working on global missing persons cases for this event.
To accommodate as many time zones as possible, we have scheduled this event on Saturday February 1st 10PM UTC - 4AM UTC.
For this CTF, contestants can participate as either a Solo Team or a Team of up to 4.
NOTE: You will be able to form teams within the CTF platform starting Monday January 27th at 9AM EDT.
Getting on the Platform & Forming a Team:
1. Starting January 27th 9AM EDT Visit https://ctf.tracelabs.org/register
2. Enter in your full Eventbrite order number in the text box (Eg. 982036635)
3. Enter a valid e-mail address, username, and password that meets the requirements shown on screen
4. Once you have successfully created your account, you will be able to log in to https://ctf.tracelabs.org with the e-mail address and password you just set
5. When logging in for the first time, you will have the option to create a new team, or join an existing team
6. Create a Team - When creating a team you will choose a Team Name, and then be provided with a "Team Code" on the top left of your screen that you can give out to up to 3 additional team members
7. Join a Team - When joining an existing team, you will need to enter in the "Team Code" provided to you by an existing member of that team
How does the CTF work?
For this CTF, several missing persons cases will be selected from around the world for contestants to collect OSINT on to generate new leads.
This isn't a typical "Theoretical CTF" where the flags are already known. All flags found by contestants are treated as new intelligence that can serve as a potential lead for an active missing persons investigation.
At the start of the event, contestants will be able to view the missing persons case details by logging into the CTF platform at https://ctf.tracelabs.org with the credentials you set up on the https://ctf.tracelabs.org/register page.
OSINT Flags from this list that are submitted to the platform will be validated by a group of volunteer Judges to ensure relevance, accuracy, and to score points.
Please also review our CTF rules here for first time contestants.
Prizes:
At the end of the CTF, the top three teams on the scoreboard will claim the following prizes:
1st Place
1. Access to the "Penetration With Kali" (PWK) online course for up to 3 team members from Offensive-Security! This comes with 30 days lab access and one attempt at the OSCP exam!
2. Up to 4 Hunchly 1 Year Licenses courtesy of Hunchly!
2nd Place
1. Up to 4 SpiderFoot HX Standard 1 Year Licenses courtesy of SpiderFoot!
2. Up to 4 online training vouchers for the Udemy OSINT Based to Advanced Course courtesy of the course author Dean O'Neill!
3rd Place
1. Up to 4 online training vouchers for the Udemy OSINT Based to Advanced Course courtesy of the course author Dean O'Neill!
1. Review Trace Labs training video(s)
2. Recommended to check out the following to get up to speed on OSINT tools and techniques
3. Have a personal laptop ready to use
Note: it is highly recommended to not use a work laptop
3. Get on boarded to the CTF platform
Refer to "Getting on the Platform & Forming a Team" section above
4. Join our Trace Labs slack group here
All event communications will take place in our #global-ctf-3 channel in our slack group so please do sign up prior!
5. Follow us on Twitter and Linkedin to stay up to date with other event related communications
6. Prepare Your "Work Environment" ahead of time to help you stay anonymous when gathering OSINT on the missing persons at the event
Buscador is a Linux distribution built specifically for OSINT investigations that comes with several pre-installed OSINT tools (Please note that it takes some time to set this up so it's recommended to look through it prior to the CTF to get up to speed with all the tools.)
An installation guide for Buscador can be found here
Kali is an open source project that is maintained and funded by Offensive Security and comes pre built with a number of recon related tools
Windows and MacOS operating systems will work as well - Use the OS that you are most comfortable with
Setup your browsers and plugins such as EXIF Viewer plugins.
Use a VPN or use TOR. You likely want to hide your trail.
Setup sock puppet social media accounts (Facebook, LinkedIn, Instagram, Twitter, Google +, etc.) - Jake Creps has a great blog on how to get started here
NOTE: We strongly advise against being logged into your own personal social media account when viewing profiles of missing persons
If you have any questions, please reach out to us at info@tracelabs.org
Check out our swag shop to pick up your very own Trace Labs "Intelligence Operator" Shirt or Hoodie!