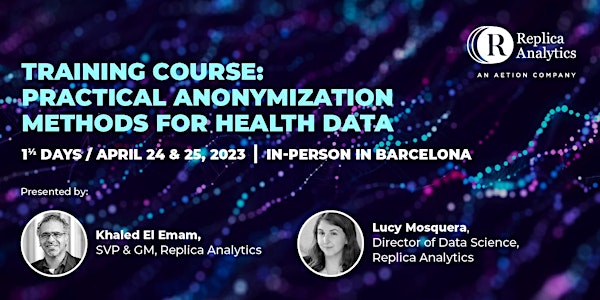 Training Course: Practical Anonymization Methods for Health Data
When: April 24 (8:30am-5pm) & April 25 (8:30 am-1pm), 2023 Where: Barcelona, Spain
Date and time
April 24 · 8:30am - April 25 · 1pm CEST
Location
Aetion office in Barcelona Calle Corsega 381 - 4a Planta 08037 Barcelona Spain
Refund Policy
Contact the organizer to request a refund.
Eventbrite's fee is nonrefundable.
About this event
Join Replica Analytics for 'Practical Anonymization Methods for Health Data' Training Course
To innovate, organizations need to leverage their data, but they face many challenges obtaining access to realistic datasets while at the same time preserving privacy in a manner consistent with contemporary regulations, for example, the GDPR and HIPAA Expert Determination method.
Join Replica Analytics, an Aetion company, in Barcelona for an in-person, interactive training course April 24 and 25, 2023, to increase your skills and knowledge of modern methods for anonymization. What we'll cover:
Structured data, including clinical trial datasets and real-world datasets
Multiple practical data transformation techniques, such as risk-based methods and synthetic data generation
Data risk measurement and management methods and exercises
Much more
This in-person training course will be led by Dr. Khaled El Emam, Replica's Senior Vice President and General Manager, and a world-renowned expert in anonymization and de-identification with two decades of experience developing privacy enhancing technologies. The co-instructor is Lucy Mosquera, Replica's Director of Data Science.
This course is intended for a general audience and does not require specific statistical or software background. There will be some technical content covered in the description of the methodology, but that will be relatively light. There will be quite detailed reference materials provided for those wishing to dive into the technical/mathematical background. Participants will get hands-on practice in assessing re-identification risk for sample datasets.
It is suitable for:
privacy officers / professionals
analysts and analytics leaders who will be performing anonymization / de-identification
chief data officers responsible for a data business in their organizations
professionals working in health, life sciences and other sectors, as the concepts are highly applicable beyond the health sector
Setting
As a small cohort, you will have a highly interactive session with the instructor, sharing multiple decades of experience with developing and applying anonymization methods. This will be a hands-on tutorial with multiple exercises to assess re-identification risk and de-identify datasets.
Learning Objectives
Learn the principles of anonymization and what makes for a defensible method
Understand how to measure the risk of re-identification, and use multiple techniques to anonymize a dataset
Be able to evaluate anonymization methods that are in practical use
Modules
Introductory Concepts
Classifying Variables
Measuring and Interpreting Re-identification Risk
Transforming Data
Documenting the Results
Practical Exercises
What participants have said about this Training Course:
"An excellent 1.5 day course with skilled instructors who have published extensively on the topic. The best part was being able to apply what we learned using sample datasets in various exercises. Highly recommend!"
"This course presents not only the concepts and methods relevant to healthcare data de-identification, but also includes multiple hands-on exercises to help the attendees to gain better understanding of the subject. The instructor Professor El Emam is very knowledgeable and presents the materials clearly and effectively."
"It's effortless to follow whatever the instructor Khaled El Emam explains, even for someone less familiar with this field. The practical, real-world examples woven into each explanation make it plain that he has years of experience. I got a lot out of the course!"
Participants will receive course materials onsite, lunch provided both days, an invitation to a Replica-hosted dinner the evening of Monday, April 24, and a certificate of completion.
Tickets prices are in $ US.
Are you a member of the International Association of Privacy Professionals (IAPP)? This course qualifies for 9.5 CPE credits. If you are an IAPP member, email us below for your comp code for $50 off before registering.
Contact us: info@replica-analytics.com