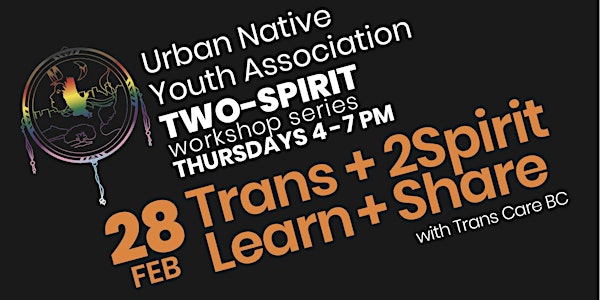 Trans + Two-Spirit Learn + Share
When and where
Location
Urban Native Youth Association 1618 East Hastings Street Vancouver, BC V5L 1S6 Canada
Description
Urban Native Youth Association
's Two-Spirit Collective has launching a Two-Spirit Workshop Series, with events running on Thursday evenings from February through April 2019.
We want to hear from you about what's important to you to feel supported. To do this, our Two-Spirit Collective is teaming up with
Trans Care BC
for two Learn + Share sessions. This event is for Trans, Two-Spirit, or gender diverse Indigenous youth aged 11 to 30 in Metro Vancouver.
You'll be able to share what's important for you to feel supported, with UNYA's Two-Spirit Youth Care Counsellor and Trans Care BC. This information will help both Trans Care BC and UNYA know how we can better support you and make sure that you feel comfortable accessing this support.
You'll also have a chance to learn more about what Trans Care BC does. Trans Care BC will talk about the resources and support they offer, and answer any questions you might have.
Food and bus tickets will be available, and honoraria will be offered to participants at both sessions.
Snacks and bus tickets provided.
About UNYA's Two-Spirit Collective
UNYA's Two-Spirit Collective provides support, resources, and programming for Indigenous youth, ages 15 to 30, who identify as 2-Spirit or LGBTQ+ (lesbian, gay, bisexual, transgender, queer, gender non-conforming, along with many other identities), and for those who are questioning their sexual or gender identities.
For more information about UNYA's Two-Spirit Collective, visit the program page
here
.