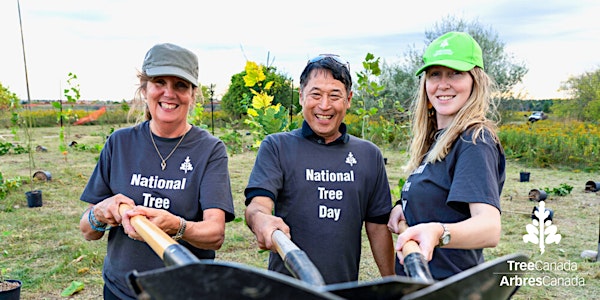 Tree Canada's 10th Anniversary National Tree Day Celebration - Saskatoon
Location
Diefenbaker Park
Diefenbaker Park
Saskatoon, SK S7J 0S6
Canada
Tree Canada is excited to be celebrating National Tree Day's 10th anniversary! Come out and celebrate with us by planting trees!
About this event
Tree Canada invites you to commemorate the 10th anniversary of National Tree Day! More then ever before, the pandemic has shown our need for trees and green spaces. So, let's come together (finally!) and celebrate the great benefits that trees provide us – clean air, wildlife habitat, reducing energy demand and connecting with nature.
This year National Tree Day is on Wednesday, September 22, 2021, and we will be celebrating from coast to coast in cities like St. John's, Montreal, Ottawa, Markham, Winnipeg, and North Vancouver.
Our Saskatoon celebration will happen at Diefenbaker Park to plant trees and celebrate our nation's trees and all the benefits that they provide us.
Exact Meeting Location:
Please park in the adjacent parking lot to the Ball Diamond and meet at the west end of the Ball Diamond in Diefenbaker Park.
What to Wear and Bring:
We will be providing you with the necessary tools to plant the trees (i.e., shovels and gloves), however please wear sturdy, closed-toe shoes with long pants. Also, please dress appropriately for the weather. The event will still happen if there are a few showers in the forecast.
As a token of our appreciation, each volunteer will get to keep their planting gloves and will also be able to take home a tree seed kit. As well, light refreshments will be provided, however we encourage you to bring your own water.
Provincial health regulations will be strictly followed to prevent the spread of COVID-19.
Hand sanitization will be offered on-site.
Due to public health requirements, please RSVP by September 19, so attendance numbers can be carefully monitored.
Looking forward to celebrating with you!