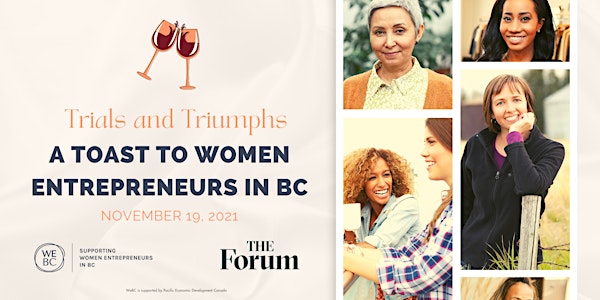 Trials and Triumphs: A Toast to Women Entrepreneurs in BC
Join us to celebrate Women's Entrepreneurship Day
About this event
From launching dream businesses to creating communities and finding new ways to do business during a pandemic, women entrepreneurs have so much to be proud of!
Women's Entrepreneurship Day is celebrated in 144 countries around the world, and we invite you to join WeBC (formerly Women's Enterprise Centre) and The Forum on November 19 to mark the day for BC women entrepreneurs.
We are extremely excited to share the news that for the first time ever, November 19th will officially be proclaimed as Women's Entrepreneurship Day in British Columbia!
Together, we'll toast to their milestones and inspire our community to keep pushing forward with stories of women from around BC!
We're excited to welcome special guests for an interactive panel discussion focusing on the future and equipping you with bite-sized learning to turn obstacles into open doors.
Everyone is welcome to join this festive day.
AGENDA
1:00pm to 1:30pm | Women's Entrepreneurship Day celebration
Hosted by Jill Earthy, CEO of WeBC, and Paulina Cameron, CEO of The Forum
1:30pm to 2:15pm | Panel discussion
Facilitator: Dawn McCooey, Entrepreneur in Residence, WeBC
Panelists:
2:15pm to 2:30pm | Virtual networking
Connect with women around BC and win prizes!