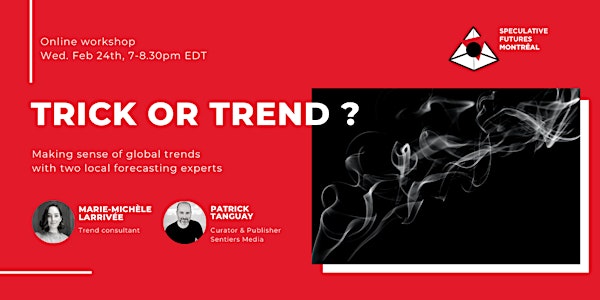 Trick or Trend ? Making sense of global trends from a local perspective
Looking back at what has been announced for 2021, join us for a critical discussion on upcoming trends with two local forecasting experts.
About this event
👋We are back and invite you to take a critical look at the major trends that have been announced for 2021!
Every year, hundreds of trend reports are released. But how can we make sense of them? We'll take a sample of these and critically discuss how they are relevant at the individual and regional levels.
Join us to decipher global cultural, technological and social trends with two local forecasting experts, Marie-Michèle Larivée and Patrick Tanguay.
During this digital workshop, we will share tips on trendspotting and facilitate speculative discussions to assess how upcoming trends might apply to you and to Québec - or not.
Marie-Michèle Larivée is a Trend, Strategy and Foresight consultant. She helps organizations navigate the future with sustainable eyewear. Her mission is to avoid filling shelves with unwanted products by consciously creating products, services, strategies tailored to intrinsic needs in tomorrow's society.
🔗https://www.mariemichelelarivee.ca/
Patrick Tanguay is a generalist, a synthesist, a thought partner and the curator of Sentiers, an eclectic weekly newsletter exploring technology in society, signals of changes, and prospective futures.
🔗https://sentiers.media/