Learn about cultivation of Mediterranean truffles, native truffles, and truffle harvesting with trained dogs
About this event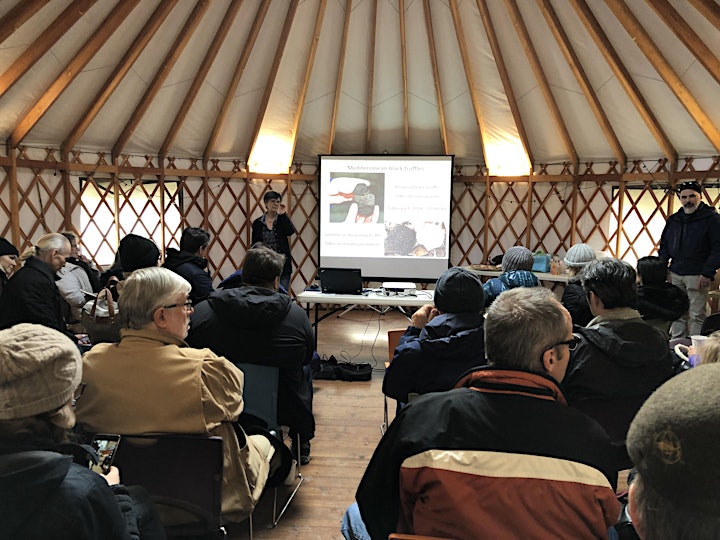 Truffles: Cultivation and Harvest with Trained Dogs
TABC Truffle Festival 2022 by Truffle Association of BC
DATE Sunday, February 20, 2022
LOCATION UBC Farm – 3461 Ross Drive, Vancouver BC (in the yurt - limited parking)
AGENDA
1:30 – 3:00 PM Presentations & Tasting (truffles permitting)
From a slate of knowledgeable speakers learn about the wonderful culinary truffles that are native to BC, the Mediterranean truffles that are being cultivated here, the basics of truffle cultivation, how to find truffles with your trained truffle dog, some tips on using truffles in the kitchen, and the latest news from the world of truffle cultivation
See, smell and taste some of the truffles available in BC (subject to availability)
3:00 – 4:30 PM In the Truffle Orchard
Truffle dog teams John Kelly & Macchi (Lagotto Romagnolo), Brooke Page & Denver (Puggle), and Launie Fairbairn & Fancy (short-coated Lagotto) will demonstrate how they forage for truffles.
Discussion of truffle cultivation and the TABC-UBCO truffle irrigation project
TICKET PRICE
$50.00 CAD plus applicable Eventbrite fees
All proceeds go to support the demonstration truffle orchard at UBC Farm
SAFETY MEASURES
The continued health and safety of all participants is of the utmost importance. We strictly abide by all guidance and protocols set out by the Province of British Columbia which may result in cancellation or postponement of this event on short notice (see Refund Policy below). In addition, all participants must present scannable proof of full vaccination with personal identification at the time of event check-in and remain masked except when consuming food or beverages. Public Health requirements also currently direct that participants are to remain seated while indoors.
It is the personal responsibility of any participant feeling unwell, manifesting COVID-19 symptoms, or having been told to self-isolate by Public Health (or any other medical practitioner) to not attend this event.
REFUND POLICY
Full refunds will be issued including any Eventbrite fees should it become necessary to cancel this event due to changing COVID guidance or protocols.
Since we have no control over Mother Nature we reserve the right to cancel or postpone this event up to 09:00 AM on the day of the event should we in our sole discretion deem the prevailing weather or the conditions for harvesting be either unsafe and/or unfavourable (absence of harvestable truffles). Full refunds will be issued including any Eventbrite fees if we cancel the event. If we postpone and you are unable to attend on the new date of the event, you will be entitled to a full refund including any Eventbrite fees. Lastly, Public Health may mandate reduced venue capacities and in such case we will endeavour to hold a repeat event so participants can be accommodated appropriately.
Given that food and beverage preparation and the number of people we will need to have on hand are predicated on the number of tickets sold, no refunds will be paid if you cancel on the day of the event. Should you cancel for any reason prior to then, you will be entitled to receive a full refund except for any Eventbrite fees paid.
Organizer of Truffles: Cultivation and Harvesting with Truffle Dogs