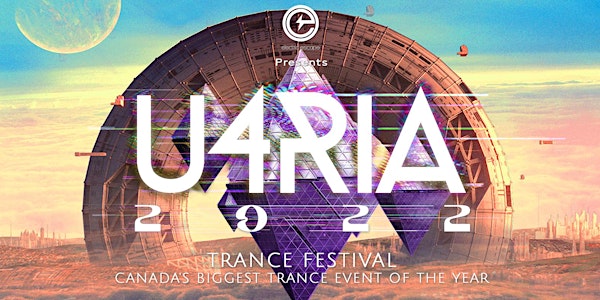 U4RIA TRANCE FESTIVAL
U4RIA TRANCE FESTIVAL 2022
When and where
Location
MFG Complex 10801 McCowan Road Markham, ON L3P 3J3 Canada
Refund Policy
Contact the organizer to request a refund.
About this event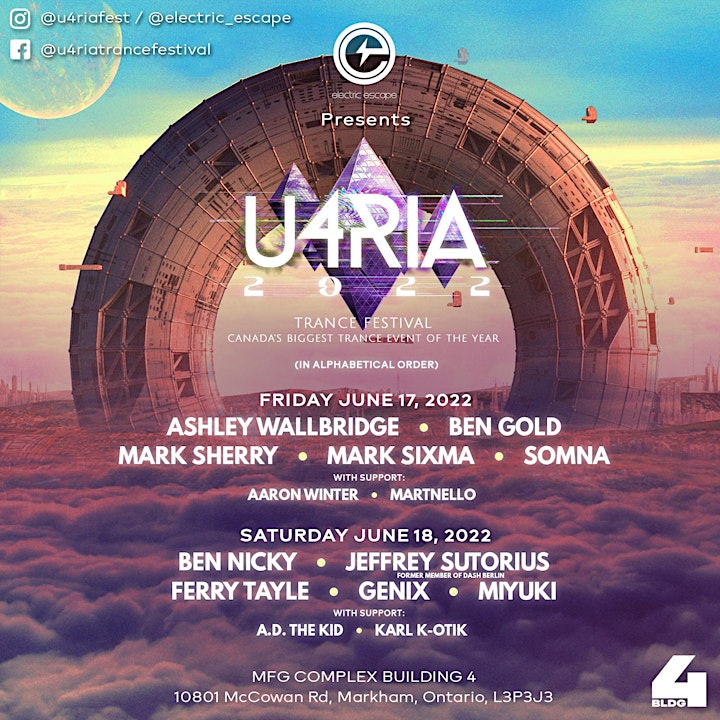 ELECTRIC ESCAPE presents,
U4RIA
TRANCE FESTIVAL 2022
Friday, June 17 & Saturday, June 18
MFG COMPLEX - BUILDING 4
10801 McCowan Rd, Markham, Ontario, Canada
FRIDAY: 08:00PM to 03:00AM EST
SATURDAY: 08:00PM to 03:00 AM EST
Back in March 2018, we announced U4RIA, the first-ever, 2-day all-trance festival in Toronto, Canada at the Toronto Event Centre and it was a great success. In 2019, we worked with Insomniac to bring over their amazing Dreamstate 2-day all-trance event to Vancouver with hopes of bringing it to Toronto in 2020. We even had a poll where we asked our EE family which festival they'd like to see in Toronto next: U4RIA or Dreamstate and the majority of you voted U4RIA mainly because it was created by us, for us.
We are all part of U4RIA.
After an ongoing bout with the pandemic over the past couple of years, its been impossible for us to host a follow-up U4RIA event up until now.
We are absolutely stoked to announce the return of Canada's biggest 2-day all-trance festival in Toronto featuring today's hottest international trance artists plus local support.
With the weather being unpredictable; we will be confirming this event at the MFG Complex Building 4 for both dates of June 17th & 18th. With this being announced; this event will sell out as we close near towards the show. In the past, U4RIA has done numbers of over 2500+ and we do not expect anything less once again. As a reminder; MFG Complex Building 4 has a limited capacity of approximately 1000. 🤪 Supply vs Demand. 🤪
We highly recommend everyone to grab their tickets asap as this will be the first massive trance show in Toronto.
FEATURING:
(in alphabetical order)
Ashley Wallbridge
Ben Gold
Ben Nicky
Ferry Tayle
Genix
Jeffrey Sutorius (Former Member of Dash Berlin)
Mark Sherry
Mark Sixma
Miyuki
Somna
with support
A.D. THE KID
MARTNELLO
AARON WINTER
KARL K-OTIK
TICKETS AVAILABLE AT:
www.u4riafest.com
NOTE: All former Ben Nicky event holders; please contact us via email at info(at)electricescape.ca
-----------------------
SET TIME:
-----------------------
DAY #1
FRIDAY JUNE 17, 2022
02:00 - 03:00 MARK SIXMA
01:00 - 02:00 BEN GOLD
12:00 - 01:00 ASHLEY WALLBRIDGE
11:00 - 12:00 MARK SHERRY
10:00 - 11:00 SOMNA
AARON WINTER | MARTNELLO
DAY #2
SATURDAY JUNE 18, 2022
02:00 - 03:00 JEFFREY SUTORIUS
01:00 - 02:00 BEN NICKY
12:00 - 01:00 GENIX
11:00 - 12:00 FERRY TAYLE
10:00 - 11:00 MIYUKI
A.D. THE KID | KARL K-OTIK