Dr. Marchetti will illustrate experimental models of the vascular system in the context of vascular disease using stem cell research.
About this event
ARPICO, the Consulate General of Italy in Vancouver, and DR. VALENTINA MARCHETTI present...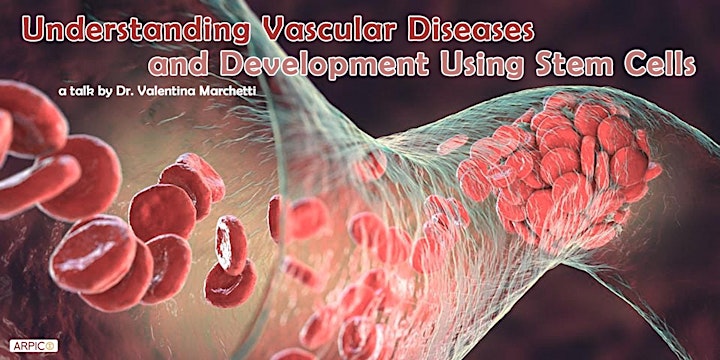 Understanding Vascular Diseases and Development Using Stem Cells
The vascular system is one of the first to develop during embryo development and is essential for the maintenance and function of all organs and tissues in our body. A complex network of arteries, veins, and capillaries is formed early on and further organized to supply tissues and organs with oxygen, nutrients, and other essential molecules.
The inner lining of all blood vessels is composed of so-called endothelial cells, a single-layered cobblestone-like sheet of cells that play an important function as precise sensors of molecules and shear stress in blood. In response they regulate vessel tone, coagulation, cell differentiation, organ development and regeneration, among other things.
As such, endothelial cells are part of an important pathway for therapeutic intervention in multiple diseases including diabetes, atherosclerosis and cancer.
Experimental models of blood vessels can therefore contribute significantly to better understand the various human diseases and drug development. Stem cells (for our purposes, short for "human induced pluripotent stem cells") are a prime tool to create better experimental in vitro models of the vasculature and can be used in specialized devices to mimic the human physiological environment.
Dr. Marchetti will illustrate experimental models of the vascular system including the usage of primary endothelial cells and the novel blood vessel organoid technology, among other things, in the context of vascular disease.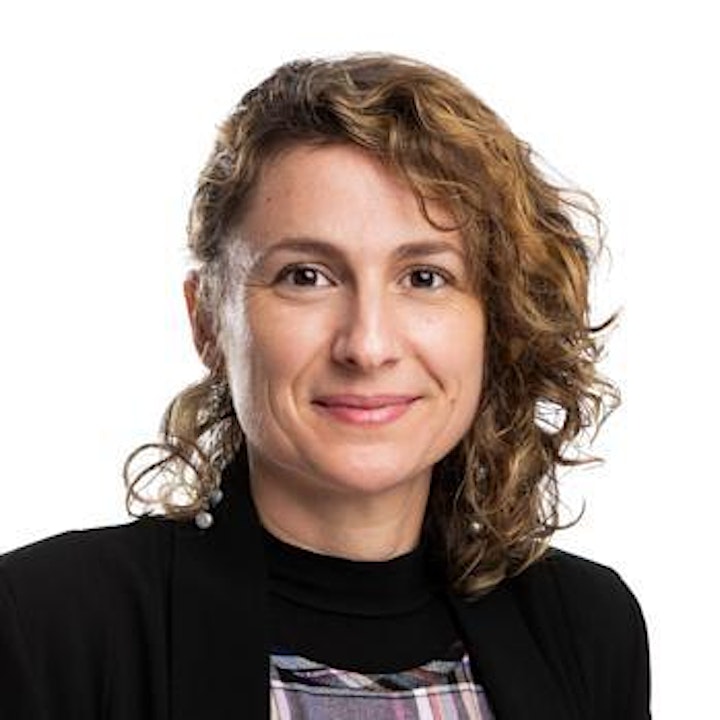 Valentina Marchetti obtained her PhD in experimental physiopathology at the University of Rome (Tor Vergata) Italy. She subsequently moved to the USA where she spent 5 years as post-doctoral fellow at The Scripps Research Institute, studying the usage of stem cells and myeloid cells for treating diabetic retinopathies and neurodegenerative diseases of the eye.
In the last 8 years she has been working in an industry environment, at STEMCELL Technologies, Vancouver, Canada, where she is responsible for establishing, validating and developing products for supporting endothelial stem cell biology research. In the last year she has also been extensively collaborating with several laboratories and has been an active part of an international group investigating the new SARS-COV-2 role in vascular diseases.
She has recently been appointed Adjunct Professor, in the Department of Molecular Biology and Biochemistry at Simon Fraser University. She is the author of numerous publications on key regulators of insulin resistance, vascular inflammation and microvascular complications related to cardiovascular diseases, as well as the roles of stem cells in diabetic retinopathies and cell therapy applications.
Italian Research in the World Day
This event is organized in collaboration with the Consulate General of Italy in Vancouver to celebrate the Italian Research in the World Day, instituted starting in 2018 as part of the Piano Straordinario "Vivere all'Italiana" - Giornata della ricerca Italiana nel mondo.
The establishment of an Italian Research Day in the World was announced by the Italian Minister of Education, University and Research, Valeria Fedeli, during a visit to the CERN Laboratories in Geneva. The celebration day was chosen by government decree to be every year on April 15 on the anniversary of the birth of Leonardo da Vinci.
The main objective of the Italian Research Day in the World is to value the quality and competencies of Italian researchers abroad, but also to promote concrete actions and investments to allow Italian researchers to continue pursuing their careers in their homeland. Italy wishes to enable Italian talents to return from abroad as well as to become an attractive environment for foreign researchers.
Speaking Event Starts Online at 7:00 pm.
Q&A follows the speaker segment.
At any time during the event, participants will be able to post comments or questions for the speaker via the "chat" button visible by hovering over the BlueJeans browser window (please, refer to Technical Instructions below for details). The moderator will read them for the speaker by way of a Q&A session at the end of the lecture.
Tickets are required, but FREE
Tickets are FREE, but all wishing to attend are requested to obtain "free-admission" tickets on EventBrite (green "Register" button on this page), so that you may receive the online event link via email.
Please, donate, if you can
All ARPICO events are 100% staffed by volunteer organizers and helpers and all costs are underwritten by members of ARPICO. To help defray costs of operations of this and future events, may we encourage audience participants to donate to teh best of their ability onlien when signing up with EventBrite. Thank you very much.
Technical Instruction
The event will be managed via the videoconferencing platform BlueJeans Meetings, by clicking on the link that will be emailed to each registered individual (to the email address provided).
Please, note that the event will not be active until 6:45 pm on the day of the event, at which time, clicking on the link will automatically let you join the event via your web browser (Chrome, Firefox, Safari, Opera should all work smoothly).
You are NOT required to download or install anything to your computer. The entire video stream will occur inside your web browser window just like any other website you might visit.
There is no security risk or risk to your personal information. You can always join the event late, as this will not interfere with the presentation.
When you open the link you will be prompted to input a guest name. Please use your name, as that will allow us to identify you, and continue. On the following screen you may be prompted by your browser (depending on your settings) to allow access to use your computer's microphone and camera. You do not need to approve these if you do not plan to talk or be seen at any time during the Q&A segment.
Upon joining you should see a screen similar to the sample image seen below where the various icons superimposed on the pictures of participants will show when you hover the mouse pointer over the BlueJeans browser window.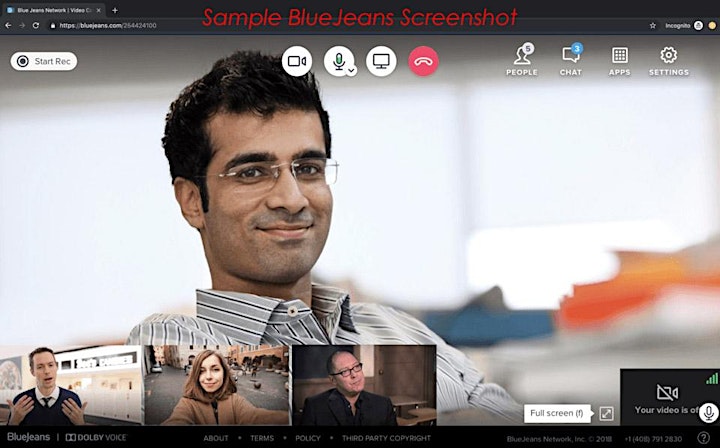 By default, your system's camera will be turned on and your microphone will be turned off. If you do not wish to show your face, you can of course do that by clicking on the camera icon like the one on the bottom right of the sample screenshot provided. We ask that you keep your microphone muted, since any background sounds and noises from your environment will be audible and may interfere with the speaker's voice.
As we have done for the in-person events, we will be recording our virtual ones for future reference.
Feedback
In the days following the event we will be sending all participants a succinct feedback form, which we encourage you to fill in and send back to us.