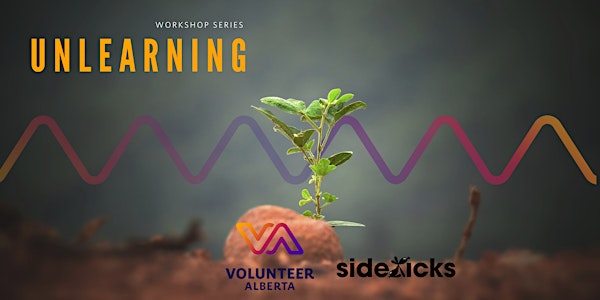 Multiple dates
Unlearning Workshop Series: An Introduction to Unlearning
Come along with VA and Sidekicks as we learn how to unlearn. Over 3 months we will explore unlearning Thinking, Doing, and Being.
Date and time
Wed, Apr 26, 2023 8:00 AM - Wed, Jun 21, 2023 9:30 AM PDT
Refund Policy
Contact the organizer to request a refund.
About this event
UNLEARNING:THINKING
April 26, 2023 - COMPLETED!
We'll start with unlearning how we think and begin the process of developing a practice of unlearning that will help you for the rest of your life. In this interactive session, participants will learn about mental models, explore how our own thinking creates limiting beliefs, and discover how these limiting beliefs keep the very problems we're trying to solve firmly stuck in place. We will explore how we can develop skills to overcome limiting mindsets and expand our potential.
UNLEARNING: DOING
May 31, 2023, 9 - COMPLETED!
The way we work is antiquated, literally having been designed for manufacturing, not for the majority of jobs people hold in the 21st century within the social impact / non-profit sector. Our way of "doing" is steeped in characteristics of a white supremacy culture that we often can't identify as such because they are the established norms and standards of our workplaces. During this workshop we will examine new ways of "doing" to shift our mindset and explore new norms and standards that make our organizations more equitable places for all.
UNLEARNING: BEING
June 21, 2023, 9 - 10:30 a.m. MST
We'll close the series with a focus on our being fully human in every aspect of our lives. This session will be split into two parts: a) internal - our personal sphere and b) external - the environment we create for others. We will explore new rituals, routines and repertoires that nourish places and spaces rooted in love and justice.
Volunteer Alberta members can access an exclusive Discount Code - if you are a member, contact us at info@volunteeralberta.ab.ca to get your code today!
About the organizer
Volunteer Alberta is a provincial capacity building organization focused on engaging and empowering Alberta's communities and nonprofit/voluntary organizations.
We are committed to serving the interests and priorities of Alberta's communities through innovative programs and services, advocacy, strategic connections, and knowledge exchange.
We are focused on building strong, engaged and connected communities through social innovation and cross-sector collaboration.
We focus on:
network stewardship by delivering informative communications, advocacy support, and fostering leadership for the nonprofit sector.
nonprofit workforce development (paid and unpaid roles) through learning, capacity and skill development programs.
 
Find out more at www.volunteeralberta.ab.ca.