Unmasking the Reality of Lung Cancer New Orleans Style Gala
Sales Have Ended
Ticket sales have ended
Thank you for your purchase, your ticket goes toward Lung Cancer research.
Sales Have Ended
Ticket sales have ended
Thank you for your purchase, your ticket goes toward Lung Cancer research.
New Orleans Mardi Gras comes to Calgary at the 2nd annual Unmasking the Reality of Lung Cancer Gala.
About this event
Thank you for all of your support! We are now sold out. However, you can still make a donation to the University of Calgary's translational lung cancer research team right here: https://netcommunity.ucalgary.ca/Unmasking
Most Under-Funded Cancer merits support
"22,000 people died in 2019 directly because of lung cancer and since this kills more people than breast, colon and colorectal cancer combined, there is a paramount need for research funding" says Diane Colton, one of the 19% of survivors who live beyond the 5-year mark. "Most will die within a year of being diagnosed."
To raise funds and awareness, Colton and volunteers on the Unmasking the Reality of Lung Cancer committee invite Calgarians to a New Orleans style Mardi Gras Fundraising Gala!
"Best wishes Diane to you and your committee for a successful gala. This event is another step forward in building public awareness about the real facts related to lung cancer. Not many people know it is the leading cause of cancer related deaths for men and women... more than breast, colorectal, and prostate combined. As we both know, it's not just a smoker's deadly disease as I frequently tell anyone interested -if you have lungs you can get lung cancer. Thank you for undertaking this gallant Initiative....perhaps in the near future we can finally garner the much needed focus and support to address this too often fatal disease."
Regards
Mavis Clark (Founder the Lung Cancer Initiatives at the UofC )
A Cajun themed dinner by Calgary's "Great Events Catering" .
Entertainment and dancing to the music of the Kimberlites will be included.
There will be a Dando Dance ballroom demonstration and attendees will learn to Mambo!
Meet with lead researchers from the University of Calgary and doctors who will be there alongside lung cancer survivors and their families.
Research funding and action can find answers to the root causes and earlier diagnosis – which may extend both quality and length of life.
Special thanks to:
Sue Deyell, Morning Show Host at 770 CHQR, who will be MC for the evening.
Special guests:
former Stampeder Keon Raymond,
Dr. Don Morris,
Dr. Gwyn Bebb,
Aaron Goodarzi
and Dr. Alain Tremblay from the University of Calgary.
Help support lung cancer research and awareness by attending Calgary's
Unmasking the Reality of Lung Cancer Mardi Gras Fundraising Gala
100% of funds raised will go to support research and the people affected.
For more information contact Diane Colton at
unmaskinglungcancercalgary@gmail.com
or call 403 801 5000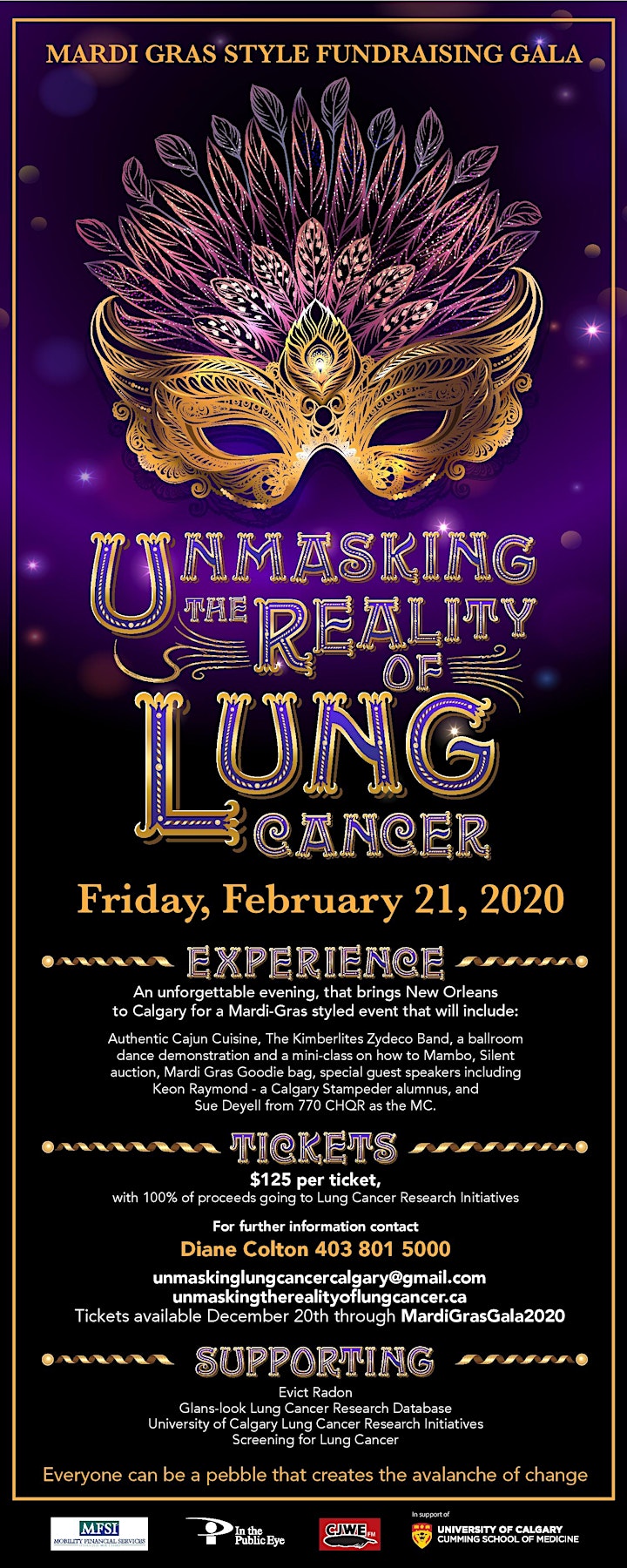 Organizer of Unmasking the Reality of Lung Cancer New Orleans Style Gala
What we do
• Education: We live in a world where "fake news" reigns, but lung cancer has lived in that world for many years. Attached stigma, misinformation, and myths are killing people, not just a few but thousands every year….. In Canada alone someone will die from lung cancer every 25 minutes. Lung cancer is increasing in the never smoking population with 20 plus percent of those diagnosed being never smokers and diagnosed mostly at late stage 4 when their fighting chance has been diminished. They and their doctor cannot believe the diagnosis…. aren't they safe because they do not smoke? Smoking is a catalyst of lung cancer just like Radon, asbestos, silicon, diesel to name a few. It did not create lung cancer. It has been around since 1,500 BC. People need to know what the reality of lung cancer is so they do not have to go through the suffering that others have gone through. We need to alleviate the actions that do lead to lung cancer. 85% is preventable, but if you do not know what you are dealing with or even understanding the plight of those currently and will be diagnosed how can you have empathy and want to help. As a prime example lung cancer is the #1 cancer that kills women; twice as many as breast with over 10,000 every year! And the burden for women is heavy, as they are also the primary caregivers for men diagnosed with lung cancer.
• Advocating: Lung cancer has too few advocates. The aforementioned information is one of the reasons; it is difficult enough to be fighting for every breath you take and normalcy in your life but add to it, the stigma associated, how does a person find the fortitude to champion their cause! Also, wilh the sad statistics we live with, a 19% 5 plus year survival rate (but know that number is starting to change, and survival is better than it was even 5 years ago). So URLC is here to advocate on behalf of those people. We also have the fortitude and breath to do it. Helping people see the real picture of what lung cancer is and does, is gratifying! Lung cancer is such a complex cancer with well over 50 mutations associated with it.
• Many of the immunotherapies treating other cancers have lung cancer to thank for the pioneering of this new and exciting treatment protocol.
Working with the researchers and projects to help them raise funds to make lung cancer a nuisance not a deallth sentence in the future for those diagnosed.
• Supporting other Advocates both locally and nationally: Slowly, inch by inch there are more patients and caregivers willing to step out to speak about lung cancer, raise awareness and funds. We want to be there to support them with some seed money, information, and resources. Working to create a seamless national presence across Canada falls into this.
• Fundraising: URLC has been working for several years to raise funds for the University of Calgary's lung cancer research initiatives and are looking forward to continuing along this path. It is even more exciting this year as "The Calgary Cancer Centre (CCC) will be an internationally recognized, state-of-the-art facility that will provide cancer treatment services and serve as a hub for cutting edge cancer research."