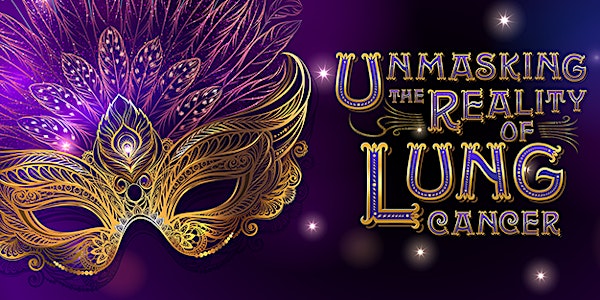 Unmasking the Reality of Lung Cancer New Orleans Style Gala
New Orleans Mardi Gras comes to Calgary at the 2nd annual Unmasking the Reality of Lung Cancer Gala.
When and where
Location
Hellenic Community Centre 1 Tamarac Crescent SW Calgary, AB T3C 3B7 Canada
About this event
Thank you for all of your support! We are now sold out. However, you can still make a donation to the University of Calgary's translational lung cancer research team right here: https://netcommunity.ucalgary.ca/Unmasking
Most Under-Funded Cancer merits support
"22,000 people died in 2019 directly because of lung cancer and since this kills more people than breast, colon and colorectal cancer combined, there is a paramount need for research funding" says Diane Colton, one of the 19% of survivors who live beyond the 5-year mark. "Most will die within a year of being diagnosed."
To raise funds and awareness, Colton and volunteers on the Unmasking the Reality of Lung Cancer committee invite Calgarians to a New Orleans style Mardi Gras Fundraising Gala!
"Best wishes Diane to you and your committee for a successful gala. This event is another step forward in building public awareness about the real facts related to lung cancer. Not many people know it is the leading cause of cancer related deaths for men and women... more than breast, colorectal, and prostate combined. As we both know, it's not just a smoker's deadly disease as I frequently tell anyone interested -if you have lungs you can get lung cancer. Thank you for undertaking this gallant Initiative....perhaps in the near future we can finally garner the much needed focus and support to address this too often fatal disease."
Regards
Mavis Clark (Founder the Lung Cancer Initiatives at the UofC )
A Cajun themed dinner by Calgary's "Great Events Catering" .
Entertainment and dancing to the music of the Kimberlites will be included.
There will be a Dando Dance ballroom demonstration and attendees will learn to Mambo!
Meet with lead researchers from the University of Calgary and doctors who will be there alongside lung cancer survivors and their families.
Research funding and action can find answers to the root causes and earlier diagnosis – which may extend both quality and length of life.
Special thanks to:
Sue Deyell, Morning Show Host at 770 CHQR, who will be MC for the evening.
Special guests:
former Stampeder Keon Raymond,
Dr. Don Morris,
Dr. Gwyn Bebb,
Aaron Goodarzi
and Dr. Alain Tremblay from the University of Calgary.
Help support lung cancer research and awareness by attending Calgary's
Unmasking the Reality of Lung Cancer Mardi Gras Fundraising Gala
100% of funds raised will go to support research and the people affected.
For more information contact Diane Colton at
unmaskinglungcancercalgary@gmail.com
or call 403 801 5000