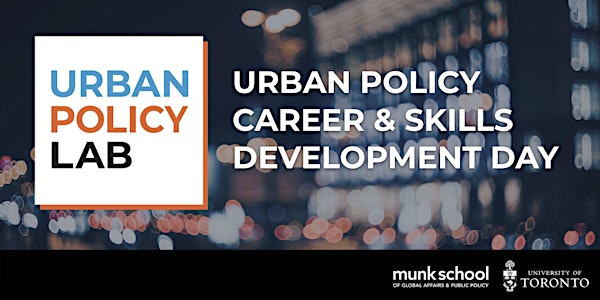 Urban Policy Career & Skills Development Day
When and where
Location
Multiple locations Master of Public Policy Program Munk School of Global Affairs & Public Policy, University of Toronto Toronto, ON M5S 3K9 Canada
Description
As part of the Munk School's MPP Professional Development week, the Urban Policy Lab has organized multiple interactive panels and small-group workshops to help MPP students gain specialized skills and knowledge relevant for a career in urban policy at all three levels of government.
Sessions tailored for first-year students will highlight career opportunities in urban policy and prepare students for internship opportunities related to the municipal sector. For second-year students, workshops will focus on specialized topics, delivered by urban policy practitioners working at all levels of government, many of whom are MPP alumni (noted in parentheses).
** All sessions are restricted to Master of Public Policy students at the Munk School. MPP1 sessions are restricted to first-year students; MPP2 sessions to second-year students. Please register for the session in the appropriate track. Note also that some MPP2 sessions are offered concurrently; be sure to select only one session per time slot. **
MPP1 Track:
9:00am-12:00pm: Urban Policy Career Paths (max 40 students)
Vasiliki (Vass) Bednar, Senior Policy Associate, Airbnb (MPP '10)
Anna Hodgins, Executive Assistant, Assistant Deputy Minister's Office, Ministry of Municipal Affairs (MPP '14)
Jessica Stanley, Senior Policy & Research Officer, Municipal Licensing and Standards, City of Toronto (MPP '15)
Selena Zhang, Manager, Strategic Initiatives, United Way Greater Toronto (MPP '14)
Location: Canadiana Gallery, Room 160
This session will expose Y1 students to careers in urban policy through a roundtable exercise. Students will choose to sit at one of four tables, each representing a different sector (municipal, OPS, NFP, and private sector). Each table will have an alumni leader who will facilitate discussion. Students will be encouraged to brainstorm ideas on the paper tablecloth. The paper will be split into four sections, each will have a topic encouraging discussion: 1) policy issues you will encounter in this sector 2) possible policy solutions 3) how to land the job 4) skills you need to succeed. There can be 2-3 rotations where students can move to a different table and will add to what the previous group brainstormed. The session is designed to get students thinking about possible career paths and get them excited about careers in urban policy. Students will be encouraged to make connections and develop mentorship opportunities.
12:00pm-2:00pm (includes lunch): Preparing for Municipal Internships (max 40 students)
MPP2 panel of municipal interns moderated by UPL Grad Fellows Sam Jerez and Breanne Bateman
Location: Canadiana Gallery, Room 160

Stressing over securing an internship? Looking to consider other options? You got an internship in local government, now what? Say no more! The Urban Policy Lab is here to help. This session will provide you with everything you need to know for a successful internship at the local order of government. Moreover, this session will mark the release of the Urban Policy Lab's Municipal Handbook, a guide filled with information about how city government works, along with tips on how to have a meaningful internship experience (provided to all students free of charge).
2:00pm-5:00pm: Urban Planning for Policy Students (max 20 students)
Carolyn Kim, Director of City Building, Pembina Institute (MPP '14)
Location: Canadiana Gallery, Room 160

Urban planning practices underpin many of today's most pressing policy issues, such as housing, transit, equity and inclusion, and health. This session, led by MPP alumnus Carolyn Kim ('14), a registered professional planner and Director of City Building at the Pembina Institute, will provide students with an overview of the legislative and policy basis under which urban planning decisions are made. Topics covered include: What is urban planning? How does urban planning intersect with public policy and administration? How do policy practitioners work with planners to advance city-building initiatives and solutions that make cities more sustainable, liveable and prosperous?
MPP2 Track (concurrent sessions in UC-314, Munk 108N and 208N):
9:30am-12:00pm: Municipal Budgeting (max 20 students)
Lauren Birch, Financial Planning Analyst, City of Toronto (MPP '17)
Location: 1 Devonshire Pl., Room 108N

Using case studies and interactive activities, this session will demystify the municipal budgeting process. Topics and practical skills covered include: how to read financial reports; how financial analysis differs from policy analysis; how budget approvals at the municipal level differ from provincial/federal governments; and how to report budget variances.
9:00am-12:00pm: Regional Growth Management (max 20 students)
Aidan Grove-White, Manager, Partnerships and Consultation Branch, Ontario Growth Secretariat and team
Location: 1 Devonshire Pl., Room 208N

How do we create good regional land use policies that will stick? In this session, students will learn about provincial policies and risk management strategies intended to manage urban growth through a hands-on policy "wind tunnelling" activity. The workshop will explore a variety of municipal policies and incentives that hinder policy implementation. In particular, the focus will be on overcoming barriers to regional coordination on important growth related policy issues.
12:00pm-2:00pm (includes lunch): Federal Perspectives on Urban Policy (max 40 students)
Via videoconference:
Gerard Peets, Assistant Deputy Minister, Policy and Results Branch, Infrastructure Canada
Ashley Thorvaldson, Senior Policy Analyst, Sectoral Policy, Infrastructure Canada
Jessica Alén, Senior Policy Analyst, Sectoral Policy, Infrastructure Canada
*Moderated by Junior Policy Analysts Kayla Ishkanian (MPP '18), Scott Surphlis (MPP '18), and Brett Donnelly (MPP '18)
Location: 1 Devonshire Pl., Room 108N

Urban policy decisions are made at all levels of government. In this interactive videoconference session, organized and moderated by MPP alumni working in Ottawa, policy leaders and practitioners at Infrastructure Canada will reflect on the urban policy challenges the federal government is grappling with, advise students on federal job opportunities that focus on cities, and the skills necessary to take advantage of these opportunities.

2:00pm-4:00pm: Infrastructure Planning and Costing (max 20 students)
Drew Fagan, Professor, Munk School, and former Deputy Minister of Infrastructure, Government of Ontario
Location: 1 Devonshire Pl., Room 108N
This session will begin with Professor Drew Fagan sharing his experiences as Deputy Minister of Infrastructure from 2010-2014 and his role in the production of Ontario's first Long-term Infrastructure Plan (LTIP). The rest of the session will take the form of a group exercise where students will take on the role of policy lead in the office of Infrastructure Minister Monte McNaughton. With guidance from Professor Fagan, students will be tasked with providing their best advice on what the new LTIP should look like in terms of policy approaches, delivery approaches and project selection.
2:00pm-5:00pm: Project Management Skills (max 20 students)
Indro Bhattacharyya, Planner, Peel Region
Location: University College, Room 314

Management skills and certification are increasingly becoming a prerequisite to many public-sector jobs, especially in the Municipal order of government. This session will take a seminar approach with an on-going, group-based, in-session assignment, where participants will work collaboratively to apply project management knowledge and tools to real-life policy issues common in the public sector.