Event Information
Location
Mi'kmaw Native Friendship Centre
2158 Gottingen St
Halifax, NS B3K 3B4
Canada
Description
US AND THEM TRAILER: https://vimeo.com/175460546
The much buzzed about film, Us and Them, is having its Halifax premiere! Filmmaker Krista Loughton will be in attendance at the Mi'kmaw Native Friendship Centre on Friday, May 5. This show is proudly sponsored in part by the United Way Halifax.

Us and Them chronicles Loughton's personal experience befriending four chronically homeless people. Using the First Nations Medicine Wheel, she sets out to help them but they end up helping her. The story digs deep into the root causes of homelessness and addiction.
Loughton will be in Halifax to screen and present at the Canadian Housing and Renewal Association's Annual Congress May 2-4. Following this event in Halifax, she will be in attendance at showings in Charlottetown (May 9) and Moncton (May 11). Us and Them will screen on Parliment Hill in June. The Ministry of Families, Children, and Social Development will be hosting the event in Ottawa.

Us and Them was written and directed by Loughton and award-winning filmmaker Jennifer Abbott who joined the project in 2013. Abbott is the co-director and editor of the widely acclaimed film The Corporation, one of Canada's most successful documentaries.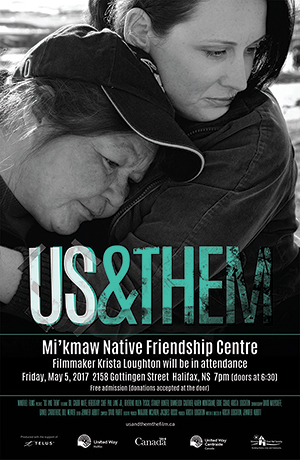 Us and Them Synopsis
Filmed over a decade, Us and Them is a deeply visceral film about transformation through human connection. It all begins when filmmaker Krista Loughton is questioned by addiction expert Dr. Gabor Maté about her need to relieve pain in the world. This takes her back in time when she befriended four chronically homeless people in an effort to help them heal their lives.

Under the mentorship of Hereditary Chief Phil Lane Jr., Krista decides to teach her friends how to balance on the First Nations Medicine Wheel. In the beginning, there is connection and hope, but unfortunately, none are able to conquer their addictions or significantly change their lives. And then tragically, one dies. Out of her league, Krista seeks out the counsel of Dr. Maté, who forces her to confront her own motivations. Krista confesses her own emotional struggles with her remaining street friends. They display an extraordinary empathy and wisdom no one could have anticipated.


Date and time
Location
Mi'kmaw Native Friendship Centre
2158 Gottingen St
Halifax, NS B3K 3B4
Canada