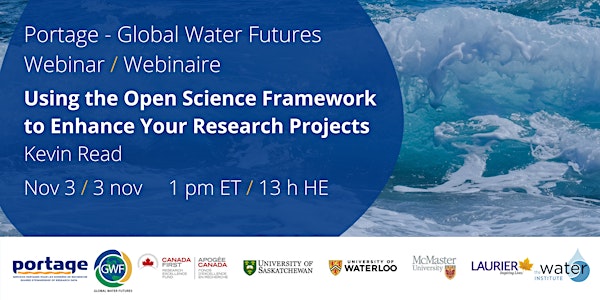 Using the Open Science Framework to Enhance Your Research Projects
Keeping data and research materials organized across all phases of the research process is always a challenging process.
About this event
Keeping data and research materials organized across all phases of the research process is always a challenging process. To help the research community address these challenges, the Center for Open Science developed the Open Science Framework (OSF), a research tool that supports collaboration, data management, and transparency throughout the research lifecycle. The OSF provides avenues for researchers to design a study; collect, analyze, and store data; manage collaborators; and publish research materials. In this webinar, attendees will learn about the many features of the OSF and develop strategies for using the tool within the context of their own research projects. The discussion will be framed around how to best utilize the OSF while also implementing data management and open science best practices.
Speakers
Kevin Read, MLIS, MAS is a health sciences librarian at the University of Saskatchewan. He has been providing data services in health sciences libraries for the past 8 years in both Canada and the U.S. He is the current Chair of the Portage Network's Data Discovery Expert Group, and is in the process of conducting research on how Canadian-funded researchers describe and share their data.
This webinar will be presented in English and recorded. Engagement during the webinar in both official languages is welcomed. Previous webinar recordings are available on the CARL YouTube Channel. Links to the recordings and slides can also be found on Portage Training Resources.
//
L'organisation des données et des documents de recherche durant toutes les étapes du processus de recherche pose toujours des défis. Pour aider les chercheurs et leur entourage à surmonter ces défis, le Center for Open Science a créé un cadre de science ouverte (Open Science Framework – OSF) — un outil de recherche qui favorise la collaboration, la gestion des données et la transparence tout au long du cycle de vie de la recherche. L'OSF offre aux chercheurs des avenues pour la conception d'étude, la collecte, l'analyse et le stockage des données, la gestion des collaborateurs et la publication de documents de recherche. Ce webinaire permettra aux participants de se familiariser avec les nombreuses caractéristiques de l'OSF et de créer des stratégies pour utiliser de l'outil dans le cadre de leurs projets de recherche. La discussion portera sur l'utilisation optimale de l'OSF tout en mettant en œuvre des pratiques exemplaires de gestion des données et de science ouverte.
Conférenciers
Kevin Read, MBSI, DESS, est bibliothécaire en sciences de la santé à l'University of Saskatchewan. Il offre des services de gestion de données dans les bibliothèques de science de la santé depuis huit ans au Canada et aux États-Unis. Il est le titulaire actuel de la chaire du Groupe d'experts sur la découverte des données du Réseau Portage et mène présentement une recherche sur la façon dont les chercheurs canadiens décrivent et partagent leurs données
Ce webinaire sera présenté en anglais et il sera enregistré. Les interventions durant le webinaire dans les deux langues officielles sont les bienvenues. Les enregistrements des webinaires précédents sont disponibles sur la chaîne YouTube de l'ABRC. Les liens des enregistrements et des présentations sont aussi affichés sur la page de ressources de formation par Portage.