Vancouver: Digital Skills for Beginners Part-Time Program - October 11th to...
Location
Unbounce
401 West Georgia Street
Vancouver, BC V6B 5A1
Canada
Description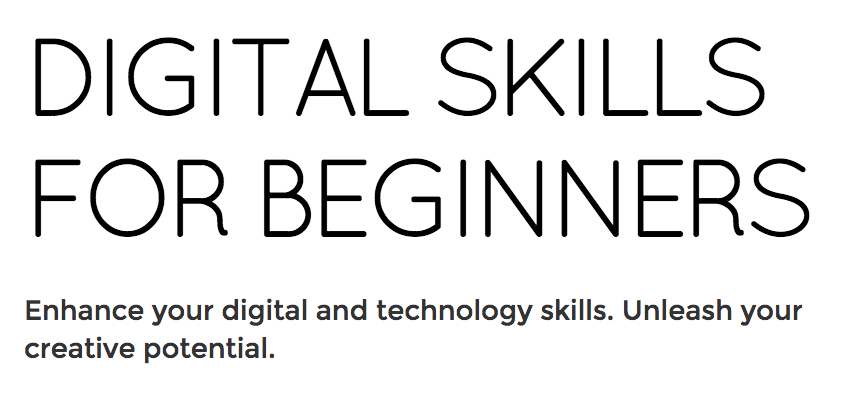 What is Ladies Learning Code?
We're a Canada wide not-for-profit organization providing women, *men and youth the opportunity to learn beginner-friendly technical skills in a social and collaborative way. We're all about showing people that learning to code can be fun!
*Men are welcome to attend (and they do!), but we encourage you to bring an additional female learner where possible
What is the Digital Skills Part-Time Program?
With the hands-on, social and collaborative learning approach we're known and loved for, this part-time 7 week program will give you the opportunity to learn directly from industry leading designers and developers and upgrade your skills, explore your desire to make a career switch or start your own business or just learn something new! Scroll down to see the full curriculum!
What can I expect?
Classes run twice a week on Tuesdays and Thursdays from 6:30pm - 9pm at Unbounce, with optional Sunday drop-in sessions scattered throughout the program.
This program is designed for beginners, especially those working full-time. We allocate time in class to work on projects so there's no homework- unless you want to keep learning outside of class (and we think you will).
We approach each class with our hands-on, social and collaborative learning approach so you'll learn from industry leading experts (at a 8:1 ratio of learners to mentors) and have a time to practice your new knowledge with exercises and projects each class.
Who is this program for?

This program is perfect for:
Adding technical skills to your current career path.

Exploring the web development path.

Gaining an understanding of various technologies used to create digital products.

Anyone with a passion to learn!
But it's especially relevant if you're a:
Designer

Entrepreneur

Student

Future coding bootcamp student

Marketer

Communications professional

Product manager

Blogger
This program is designed to give beginners essential 21st century skills you can start using in your personal life and/or professional life right away. By the end of 7 weeks, you'll have learned important skills to help you read, write and participate on the Web. You'll understand what things like HTML & CSS, jQuery, SEO, SEM mean, how to use them and you will have created your very own website.

If you've attended one of our popular workshops and enjoyed it then you'll love this program! Designed with the same approach in mind, this part-time program is a social and collaborative hands-on learning experience designed for complete beginners! We've capped the class size to 20 and for every 8 students we'll have 1 mentor helping you learn along the way.
Meet your Lead Instructor, Rose Cass!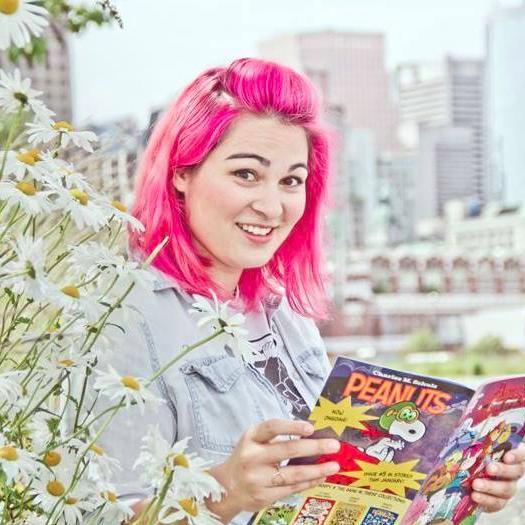 If you've attended one of our Vancouver workshops, you might have had the good fortune to come across Rose Cass, a dedicated mentor and instructor in the Ladies Learning Code community!
Rose is a globe-trotting web developer and self-proclalimed internet wizard who is really passionate about coding and good design. She is dedicated to sharing her knowledge with others in an effort to demistify tech and bringing others into the industry.
We are thrilled to have Rose as our Lead Instructor for this session of Digital Skills and we know you'll have a great time learning from her!
Program Cost & Application Process
Applications are now open! Deadline is September 16th, 2016. Applications are to be completed through the Eventbrite page.
TOTAL PROGRAM COST: $875 +GST
Please note that a $500 deposit is required to submit an application. Your deposit will be credited towards your payment for the course. The remaining balance is due upon the first day of class. Should your application not be accepted your entire $500 deposit will be refunded to you. Payment plans are available by contacting vancouver@ladieslearningcode.com.

Require financial assistance? Some scholarships are available (and can be applied to the deposit if necessary) please click here to apply.
What will I learn?
Module 0: Install Party + Meet 'n' Greet | October 6th (optional)
Join us to meet the other learners embarking on this 7 week journey and get ready for your first day of class! Think of it as a crash course in computer shortcuts, text editors, computer tricks and more to get you ready for day one.
Module 1: The language of the web
We'll start from the beginning with the basics of HTML & CSS - what it means, what it is and you'll start writing your very own HTML & CSS starting on day one.
Creating HTML page structures

Writing semantic & standards compliant HTML5 (We're only teaching the newest HTML5 & CSS3)

Getting started with CSS
Module 2: All about design
Students will learn about the design process, how user interactions factor into good design and some simple tools you can use and apply right away in your own projects, personally or professionally.
Elements of good design

Fonts & typography

Designing logos and page layouts

Use design software: Pixlr

Form design

How to use colour & graphics
Module 3 + 4: Code, code, code
In weeks 3 and 4, we'll take a deeper dive into HTML & CSS, learn about the elusive and all important 'search engine optimization', add contact forms to our sites and learn how to create websites that are responsive, or mobile friendly, and look good on all device types and sizes.
HTML/CSS fundamentals (box model, positioning, CSS3, best practices, tips & tricks)

Creating flexible & responsive web pages

SEO/SEM

HTML Forms, Google Forms & data manipulation with Sheets
Module 5: Adding that little sumthin' sumthin' to the web
Students will be introduced to programming basics and how to add interactivity to their web projects using the popular JavaScript library, jQuery. By the end of week 5, your web pages will no longer just sit there and look pretty, they'll be full of fun interactions and 'web tricks'.
JavaScript vs jQuery

Using jQuery effects & plugins - think photo sliders, smooth scroll, sticky navs and more!
Module 6: CMS, what?
In week 6, you will learn what content management systems are all about. We'll explore different options for using the popular and powerful WordPress platform and tips for creating and styling content in WordPress.
What is a CMS?

WordPress.com vs WordPress.org

Intro to Blogging
Module 7: Ready, set, launch!
This week we'll spend some time adding finishing touches to our projects and cover different options for getting your projects up and live for the world to see!
Domains & hosting

How to use FTP software

Students' Choice - we're letting you pick and vote on what you want to review or anything else you'd like to learn.
What's Included:

What you'll need:

Questions?
Email us at info [at] ladieslearningcode.com
You can also find us here: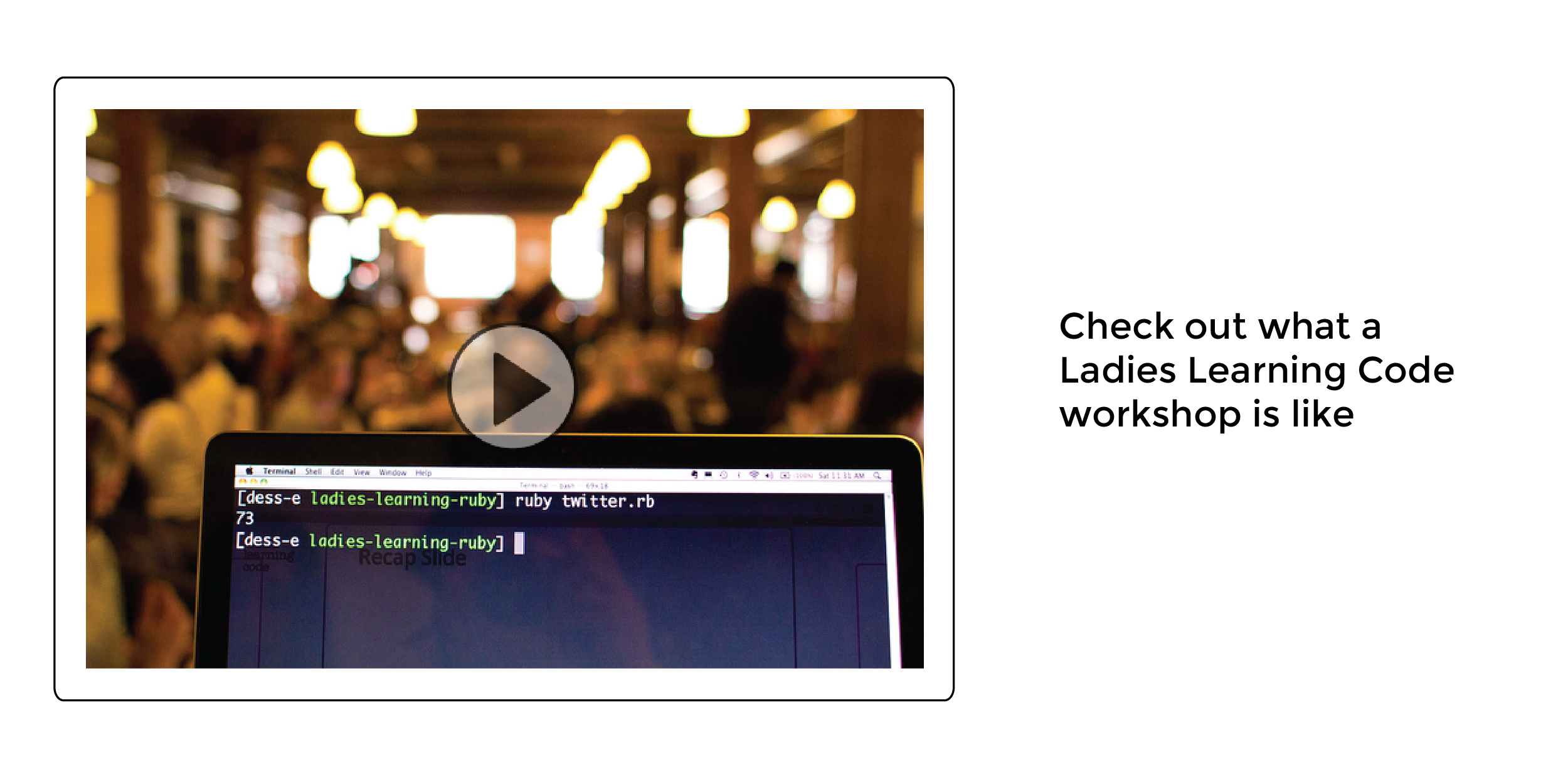 What participants say about our programs:
"Honestly, the set up of one instructor - four students is brilliant."
"I'm super impressed with the organizers and participants, and I think it's a really valuable initiative"
"[The best part of the workshop was] the positivity, helpfulness and eagerness to learn/teach of every person in the room."
"After years of teaching myself to code, I wasn't sure how I'd find the collaborative experience of an LLC workshop- but it completely exceed my expectations. The lead instructor was clear and throrough, and the volunteer instructors were always ready to throw new challenges at us the moment they saw we'd completed the current task. Solving a coding problem has always been exciting for me, but havin a group of people equally excited about it was amazing!"
Hope to see you soon!
If for some reason you can't make it check out our REFUND POLICY.