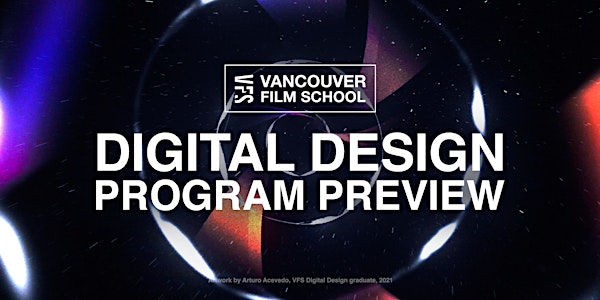 VFS Digital Design Program Preview
Discover how VFS can get you hired & working as a designer in 12 months.
Date and time
Wed, Mar 29, 2023 4:00 PM - 5:00 PM PDT
About this event
Find out how you can be an industry-ready designer in one year.
On Wednesday, March 29, Vancouver Film School invites you to our Digital Design Program Preview, a special online event where you'll be able to learn about our one-year program and see the latest interactive, motion, & branding projects produced by our Digital Design students.
You'll have the opportunity to:
Learn about our 12-month Digital Design program and get career tips & advice from faculty members.
Discover VFS Pathways – 2-3-year bachelors and masters programs – and Post Graduate Work Permit eligibility for international students.
View student work to see what you could achieve.
Ask questions about what it takes to succeed in the creative industries and how VFS gets you industry-ready faster than any other school.
Want to learn how you can get started at one of the world's Top Global Creative Schools? This special event is for you.
Event details
Date: Wednesday, March 29, 2023
Time: 4 p.m. PST
Location: Online
Cost: Free (registration is required)
About VFS Digital Design
Working as interactive designers, motion designers, project managers, art directors, and studio leads, Vancouver Film School graduates are leading today's global design industry. The demand for digital design professionals continues to grow, with VFS alumni working for massive companies like Meta, Microsoft, Google, EA, & more.
About the organizer
In 1987, Vancouver Film School introduced the world's first true immersion film program. Today, VFS is Canada's premier post-secondary entertainment arts institution, offering an immersive curriculum in film, animation, video game production, VR/AR development, motion and interactive design, programming, art/production foundation, and other related programs. VFS is known for providing high-quality education in accelerated timeframes. VFS alumni are consistently credited on the most successful products in the entertainment economies.