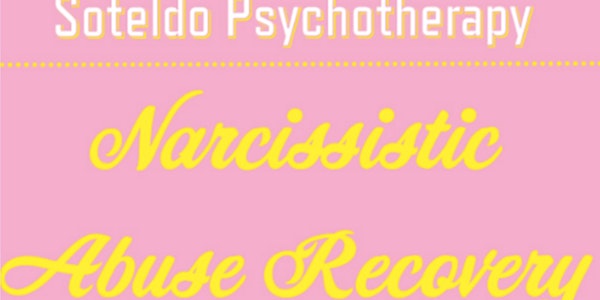 Virtual 5-Week Narcissistic Abuse Recovery By Licensed Therapist RP, CCC
5-week Virtual Narcissistic Abuse Recovery Clinic with Raquel Soteldo RP Workshop and Support Group. 2-hours/Day
When and where
Date and time
Mon, Sep 26, 2022 3:00 PM - 5:00 PM PDT
About this event
WELCOME TO THE NARCISSISTIC ABUSE RECOVERY CLINIC'S WORKSHOP AND SUPPORT ON NARCISSISTIC ABUSE IN DOMESTIC RELATIONSHIPS
Price: $49
Location: Virtual
Facilitator: Raquel Soteldo RP, CCC
Covered by Insurance as a Group Therapy (Please confirm your insurance covers it)
COMPLETELY CONFIDENTIAL - SAFETY IS A PRIORITY - YOUR VIDEO CAN BE TURNED OFF AND YOU DO NOT HAVE TO PARTICIPATE IF YOU DO NOT FEEL IT IS SAFE TO DO SO.
Virtual Narcissistic Workshops and Support Groups
I wanted to commend you for taking this step forward. You are strong and brave and deserve to be treated well. You deserve happiness and to be loved as you wish to be loved. No more head games, no more sadness, no more future faking, NO MORE NARC ABUSE! Say it loudly with me.... NO MORE NARC ABUSE... I AM SETTING MYSELF FREE! ​
As you know, my name is Raquel Soteldo. I am a Registered Psychotherapist. I have been studying Narcissism, Sociopathy and Psychopathy for about 20 years. My undergraduate thesis was Intergenerational Narcissism and this was written in 2010. My first degree was when I was 17 years old at Prince George's Community College in Maryland and was in criminology with a focus on sociopathy and psychopathy. After my undergraduate degree at York University, I studied several things all with a focus on learning more about narcissism. I studied Applied Behavioural Analysis and learned about many correlations between the personality disorder (Narcissism) and Autism and ADHD, as well as Alcohol Fetal Syndrome and Oppositional Defiance Disorder. I then completed a Master's Degree in Counselling Psychology where I learned so much about the practical ways to help individual victims of Narcs and Narcs themselves. I am now starting a Doctorate in Psychology where I will continue to expand my knowledge and practical awareness on the subject even further. I plan on working on a manual or book to help victims rise out of the abuse! ​
I myself have been around narcs my entire life. I have had to grow up with the coldness and violence of individuals who suffer from this personality disorder. I also saw it evolve from generation to generation. I suffered a whole lot later in my life as well as I too became a victim of the romance scam that narcs are so infamous for. I know and understand how one can become stuck in the mental prison that is dating and being the family member of a narc, sociopath and psychopath. This is all to say that I sympathize with you. I believe you. I know how hard it is but I also want to tell you that there is a light at the end of the tunnel and you will come out stronger, better, more self-aware, more evolved and absolutely loving yourself after the abuse. It will take time sure, it took me years upon years to figure this out but I am here, standing strong and I know you can too! I wish you the best recovery and know that you are not alone! ​ ​ ​ ​ ​ ​ ​ ​
SCHEDULE​
Class 1: Monday 6 pm - 7 pm EST.
Support group: Monday 7-8 pm
The Recognition Phase: Narcissistic Personality Disorder, Sociopathy and Psychopathy according to the DSM-V. Discover who is the narcissist in your life, recognize the symptoms, understand the condition and what it can do to you in the long run. Using psychological theories from Freud and Kohut, among others. We will also be looking at how these personalities overlap with one another: what traits does the narc have that a sociopath also has? Among other things.
FICTIONS VERSUS FACTS about narcs.... Example:
Fiction: the roots of narcissism are vanity and self-love
Fiction: being a narc means that you are intelligent, you look amazing, and are successful
Fiction: only men are narcs
Facts: narcissism is a pathological and debilitating personality disorder.
Facts: it is not easy to be a narc, they lack self-esteem, identity, and have a lot of shame
Facts: narcs are ashamed of themselves
Class 2: Monday 6 pm - 7 pm EST.
Support group: Monday 7-8pm
What is narcissistic Abuse? how do you set boundaries and when? How do you know when someone is a narc? Relaxation techniques. Explore your ability to say NO with us!
Class 3: Monday 6 pm - 7 pm EST.
Support group: Monday 7-8pm
Are you trauma bonded? How do you get out of it? how do we heal from trauma? Do You have C-PTSD as a result of this abuse? How do you know if you or if you don't? We are not diagnosing here, we are exploring this. are you Co-Dependent? What is the difference between a Narc and a co-dependent and what do they share in common? How do we become inter-dependent?
Class 4: Monday 6 pm - 7 pm EST.
Support group: Monday 7-8pm
What are some of the narcissistic downers? Living with a narcissist means that you will go through an array of abusive behaviour and you need to know exactly which ones they are in order to recognize the narcissist. We're going to be talking about several ones including:
Isolation
Rage
Projection
Shaming
Gaslighting
Triangulating
Cognitive distortions
Smear campaigns
We are also going to be covering the 10 guidelines to fight a narcissist or sociopath!!!!
​Class 5: Monday 6 pm - 7 pm EST.
Support group: Monday 7-8pm
In this final workshop, we wrap it all up and talk about the steps to recovery. With about 22 of them, we will make sure you leave feeling secure and somewhat better after the abuse. Recovery takes years and I want you to know that there are tools to make it happen, you are not alone in this! We will also discover if you are:
- an Inner Critic/Perfectionist
- an Inner people pleaser
- an Inner denier/dissociator
- an Inner defendant
Let's explore this together!
Some other things that will be included throughout the entire discussion include:
The Exposure Phase: When you know, should you expose the Narcissist? Now that you know they have this condition, what do you do? Recognize the red flags, understand how you are trauma bonded and it is not what social media wants you to think. Flying Monkeys, the exposure rage, Silent Treatment, Retaliation and more.
The Separation Phase: Living with the enemy - After the suffering is done, do you seek therapy? But, breaking lose seems so impossible! Psychotherapeutic Interventions, Crisis Plans, Present Moment Awareness, Safety Plans.​
The END or expecting Hoover? How to stop being the nice person all the time -Learn what the appeal is to these forms of attachment. See what the past has taught you and where your attachment and love language is leading you. Do you need to form new habits or should you continue in the same behavioural patterns that led you to this situation to begin with? What about your parental attachment styles? Discover your boundaries and become more assertive.
Walk Away! It is an Addiction: How to detach - techniques to let go, move on and become whole again. Gain back your identity. Become the person you always wanted to be, or who you were before (but better). Create your support network. Adapting to life after Narc Abuse is filled with paranoia, psychosis, high anxiety, high depression, potential substance abuse and more. Let's do this!
#mentalhealth #mentalhealth #health #help #love #health #trauma #safety #network #socialmedia #language #network #socialmedia #narcissisticabuserecovery
​Also, the general feeling behind these workshops is simple: NON_JUDGEMENTAL, NON_SHAMEFUL, transparent and supportive! So, we are all here to share our own stories and create a community so we don't feel so alone in this journey of trying to escape, recover or live with a narcissist!
​
See you soon and stay safe out there!
Raquel Soteldo RP, MA, ABA, Canadian Certified Counselor, PMP
www.soteldotherapy.com
613-400-0128
Statement of rights for all
* I have the right to:
- not to share thoughts
- to have my own thoughts
- to disagree with people
- to agree with people
- to express yourself
- to choose not to express yourself
- have your own feelings
- to advocate for your needs
- to protect your peace
- to feel safe and secure always
- to advocate for your loved ones' needs
- to be subject to respectful treatment from all