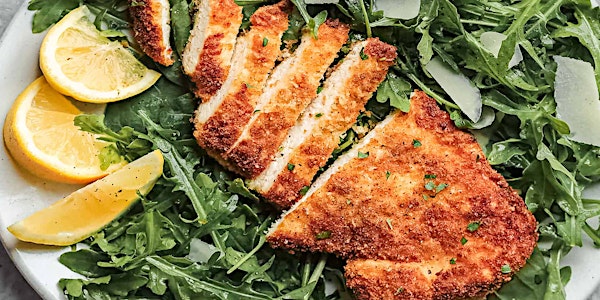 Virtual Cooking Class
Join us for an online cooking class with Chef Rylan Krause.
About this event
We are inviting you to join us for a new cooking experience with Chef Rylan Klause from NAIT. It doesn't matter what cooking experience you have, Chef Krause will explain each step of the cooking process so please sign up and enjoy a fabulous cooking and social experience (Limit 20 people).
We recommend setting out all of your ingredients "mise en place" before the class and then tune in via zoom and follow along with Chef Krause.
For more information about Chef Krause, please check out his Bio.
MENU
Appetizer
Beef Tenderloin Meatballs
marinara | grana padano | focaccia bread crumbs
Entrée
Chicken Milanese
broccolini | arugula salad | lemon butter
After the cooking is done, enjoy your meal and socialize with us.
Ingredients
Upon signing up for this special virtual culinary session, you will be provided with instructions on how to pick-up your ingredients from Ernest's at NAIT (available for pick-up the day before the class). NAIT will prepare everything you need (all cooking ingredients and seasoning) to follow along with Ernest's Executive Chef, Rylan Krause in a 2-hour live cooking session.
This interactive culinary session is sponsored by a grant from the Canadian Red Cross. We want everyone to have an opportunity to try something new with co-op friends. Superstore gift cards, supplies and loaner tablets are available for those who need it.
Please be aware that the Tablets available for loan are limited so we recommend that you register as soon as possible if you need one.
Online Event
This virtual class will be held virtually via Zoom.
You can join the online class via a computer, tablet or mobile device.
You can download the Zoom app from the Zoom Download Centre. We recommend that you download the application before the class.
The Zoom application is very easy to use. However, we have provided you with a few videos below for those of you that are new to the software.