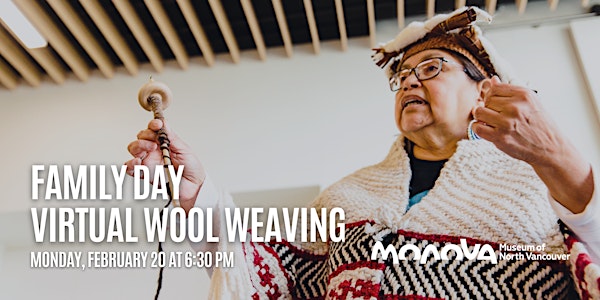 Virtual Family Day Coast Salish Wool Weaving
Your family can learn to weave a wool bracelet in the Coast Salish style with Tsawasiya Spukwus of the Sḵwx̱wú7mesh Nation on Family Day.
About this event
MONOVA's Indigenous Cultural Programmer Tsawasiya Spukwus (Alice Guss) from the Sḵwx̱wú7mesh (Squamish) Nation, will lead participants through an interactive online workshop about Coast Salish wool weaving. Learn to weave a simple yet beautiful wool bracelet while learning about Coast Salish teachings around wool weaving.
As this is a hands-on workshop, supplies will be provided for participants to pick up from the Museum of North Vancouver (115 West Esplanade) or Archives of North Vancouver (3203 Institute Road in Lynn Valley, appointments are required).
Please arrange a time to pick up the supplies when registering for the workshop by contacting programs@monova.ca. If you are not able to pick up materials, they can be posted for a fee.
The workshop is suitable for ages 8+, although with patience and support, younger children can take part.
Coast Salish programming is generously supported by BMO Financial Group.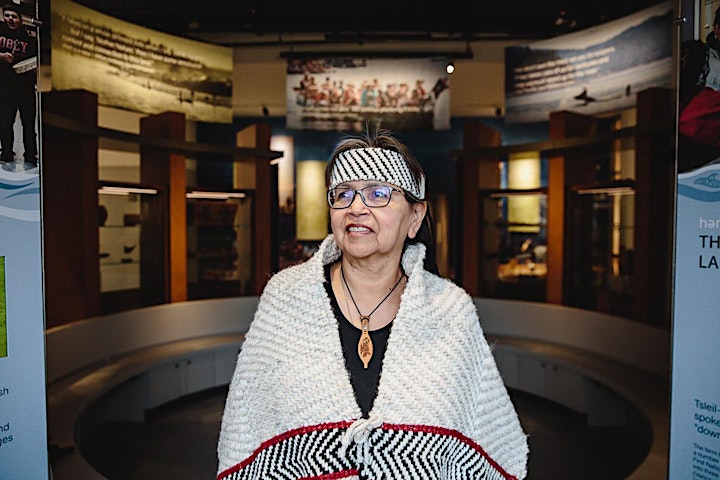 About Tsawasiya Spukwus (Alice Guss)
Tsawaysia Spukwus, whose English name is Alice (nee Harry) Guss, is a Squamish Nation member.
Tsawaysia's late father, 'Ernie Harry', Pekultn was a Hereditary Chief from the Seymour Creek area of the lower mainland of British Columbia. Her family is strong, committed and active in the preservation of our culture and heritage.
Tsawaysia's mother, 'Gwen Harry' and late Father 'Ernie Harry' are Squamish Nation members who has nurtured and guided their family of seven children, including Alice (Harry) Guss to participate in all aspects of First Nations culture, language, community, governance, education, traditional art forms, healing, recreation, singing, drumming, dancing and storytelling.
With over 20 years working with First Nation's communities as a Director of Education and 15 years delivering Sacred Drum making workshops, Tsawaysia is masterful at bringing innovative learning opportunities to all people through workshops, drumming, singing, dancing and storytelling. She is a participant in healing Tribal Journeys and more recently co-produced a number of documentaries including Squamish Nation: Stories from the Heart.
During the 2010 Olympics she coordinated her Family's Sea Going Canoe Pekultn display, in honour of her late father Ernie Harry (Pekultn).
Privacy Consent for Eventbrite
Please be advised that the personal information you disclose to Eventbrite is stored on servers located outside of Canada. Storage of your personal information outside Canada means the information resides in a foreign jurisdiction and will be subject to that jurisdiction's laws. Privacy protection afforded by Canada's privacy laws will not apply. You may wish to review the Eventbrite privacy policy before using the service.
The information you provide to MONOVA via Eventbrite is collected under the authority of the Freedom of Information and Protection of Privacy Act (R.S.B.C. 1996, c165) s. 26(c). It is needed by MONOVA to run this event and is related directly to this event.
By choosing to use this service you consent to the disclosure of your personal information in this manner and for the purposes described above and to its storage outside Canada.