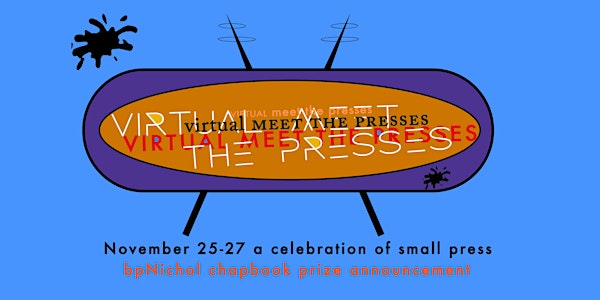 Virtual Meet the Presses 2021
Three days of small press festivities hosted by the Meet the Presses Collective, including the bpNichol Chapbook Award Winner Announcement!
Refund Policy
Contact the organizer to request a refund.
Eventbrite's fee is nonrefundable.
About this event
Please join us over three days for three virtual events at which we announce the winner of the $4,000 bpNichol Chapbook Award, share videos of current small press chapbook producers, and read silently and gratefully together (details further down).
Event details:
Thursday, NOVEMBER 25 and Friday, NOVEMBER 26, 2021, 7 p.m. ET
Saturday, NOVEMBER 27, 2021, 2 p.m. ET
Supporting small press is supporting literature on the cutting edge. Small press is the guardian of literary culture and free speech.
—bpNichol
In lieu of the annual Indie Literary Market, we look forward to seeing you online for three special gatherings. The first event on NOVEMBER 25th will feature the announcement of this year's winner of the bpNichol Chapbook Award, hosted by Aaron Tucker and judge Jennifer LoveGrove. There will be citations by this year's judges, the second of whom is Jordan Abel, readings from both this year's and last year's winners, plus a few surprises.
This year's shortlist includes:
MANIFEST - Gap Riot Press
Terese Mason Pierre is a writer and editor whose work has appeared in The Walrus, The Puritan, Quill & Quire, and Fantasy Magazine, among others. Her work has been nominated for the Ignyte Award, the Rhysling Award, and Best of the Net. She is Coeditor-in-Chief of Augur Magazine, a Canadian speculative literature journal. Terese is the author of chapbooks Surface Area (Anstruther Press, 2019) and Manifest (Gap Riot Press, 2020). Terese lives and works in Toronto, Canada.
A Trip to the ZZOO - Collusion Books
MA|DE is a collaborative writing entity that was co-founded in 2018 by artist-designer-poet Mark Laliberte and writer Jade Wallace. MA|DE's work has appeared in dozens of journals including Vallum, Poetry is Dead and PRISM International, and has been collected in three chapbooks. With the support of the Canada Council for the Arts, MA|DE is currently at work developing their Collusion Books chapbook A Trip to the ZZOO into a full-length poetry manuscript, to be titled ZZOO.
SPRAWL - Collusion Books
Manahil Bandukwala is a visual artist and writer. She is Coordinating Editor for Arc Poetry Magazine, Digital Content Editor for Canthius, and a member of Ottawa writing collective, VII.
Conyer Clayton is a writer, musician, editor, and gymnastics coach living on unceded Algonquin Anishinaabe land. Her debut collection, We Shed Our Skin Like Dynamite (Guernica Editions, 2020), was a finalist for the 2021 Relit Award and Ottawa Book Awards.
It Was Treaty/I Was Me - Vallum Books
Matthew James Weigel is a Dene and Métis poet and artist pursuing a Ph.D. in English at the University of Alberta and holds a Bachelor of Science in Biological Sciences. He is the designer for Moon Jelly House press and his words and art have been published by people like Arc Poetry Magazine, Book*Hug, The Polyglot, and The Mamawi Project. Matthew was the winner of the 2020 Vallum Chapbook Award. His debut full-length collection Whitemud Walking is forthcoming in early 2022 from Coach House Books.
**
The NOVEMBER 26TH event, entitled Press Clips, will feature short videos from publishers in the Canadian small press community. Hosted by MtP collective members Kyle Flemmer and Renée Sarojini Saklikar.
On NOVEMBER 27th we will gather in the afternoon with Vicki Ziegler for a Small Press Silent Reading Book Club. About these events, Vicki says: "We go around the table and everyone briefly describes what they've been reading recently and what they plan to read during the silent reading period. Then we commit to a complete, uninterrupted undistracted hour of reading." Building small press community one quiet word at a time.
Spontaneous donations gratefully received at all three events.
About the bpNichol Chapbook Award:
The annual bpNichol Chapbook Award recognizes excellence in Canadian poetry in English published in chapbook form within Canada. The prize is awarded to a poetry chapbook judged to be the best submitted. The author receives $4,000 from an anonymous donor and the publisher receives $500 from writers Michael Dean and Karl Jirgens. Awarded continuously since 1986, the bpNichol Chapbook Award is currently administered by the Meet the Presses collective. All chapbooks submitted are archived at the Thomas Fisher Rare Book Library at the University of Toronto. 2020's winner of the bpNichol Chapbook Award was Nisa Malli's Remitting (Baseline Press), as determined by judges Canisia Lubrin and Souvankham Thammavongsa.
About bpNichol:
bpNichol (1944–1988) was a preeminent Canadian poet who devoted his career to the expanded possibilities of language, creating visual and sound poetry within and in addition to his numerous books, which included the nine-volume lyric epic The Martyrology.
About Meet the Presses:
Meet the Presses is an all-volunteer collective devoted to promoting micro, small and independent literary presses. The Indie Literary Market gives the public an opportunity to meet local literary presses and directly purchase publications that may not be readily available (or available at all!) in bookstores and other commercial outlets. The collective continues in the spirit of the original Meet the Presses events begun 30 years ago in Toronto by Stuart Ross and Nicholas Power. The collective consists of Gary Barwin, Paul Dutton, Beth Follett, Aaron Tucker, Jacqueline Valencia, Tali Voron, Kyle Flemmer, and Renée Sarojini Saklikar. The Founding Members Emeritus are Maria Erskine, Ally Fleming, Maggie Helwig, Leigh Nash, Nicholas Power, and Stuart Ross.
***
More information about Meet the Presses can be found at www.meetthepresses.wordpress.com.
To connect directly with Meet the Presses, please contact 2meetthepresses@gmail.com.
Please note that the Zoom invitation will be sent one hour before the start of each event.