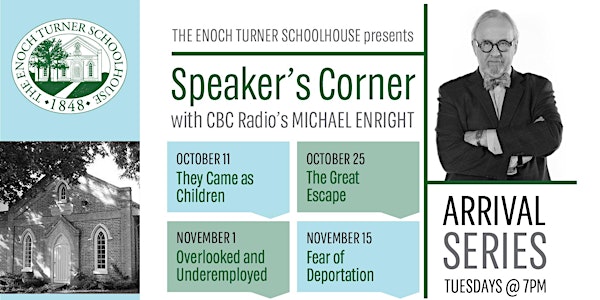 Virtual Speaker's Corner with Michael Enright: ARRIVAL
Join CBC Radio Broadcaster and writer Michael Enright for a provocative new series of Speaker's Corner!
About this event
Speaker's Corner returns this fall with a new host and a provocative new series!
JOIN US VIRTUALLY BY REGISTERING HERE FOR THE LIVESTREAM.
Over four Tuesday evenings in October and November, CBC Radio broadcaster and writer Michael Enright will explore the theme of ARRIVAL.
Each program in the series will examine the challenges of arriving in a foreign land to start a new life. Immigrants and refugees who made Canada their new home will share the hopeful yet often harrowing stories of their journey.
Join us at no cost for these compelling conversations.
October 11th: They Came as Children
October 25th: The Great Escape
November 1st: Overlooked and Underemployed
November 15th: Fear of Deportation
Each program begins at 7PM.
THIS REGISTRATION IS FOR THE VIRTUAL EVENT. To register for the in-person CLICK HERE
*NOTE: A link to the livestream will be emailed to you 24 hours in advance. If you have any questions please email info@enochturnerschoolhouse.ca
This event is put on by the Enoch Turner Schoolhouse Foundation (11927 2862 RR0001). To learn more or donate please visit www.enochturnerschoolhouse.ca
For more information contact info@enochturnerschoolhouse.ca