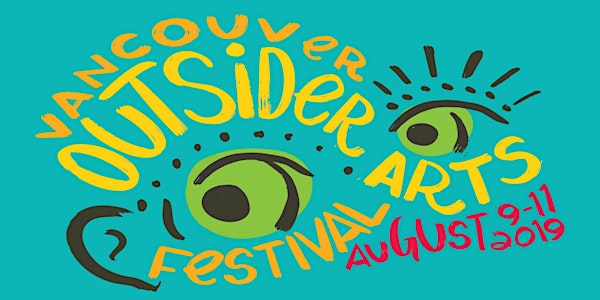 VOAF 2019: WORKSHOP-Home, Grown: Becoming an Artist From the Ground Up(ASL)
When and where
Location
Roundhouse Community Arts & Recreation Centre 181 Roundhouse Mews Room B Vancouver, BC V6Z 2W3 Canada
Description
Vancouver Outsider Arts Festival 2019 presents
Francis Arevalo "Home, Grown: Becoming an artist from the ground up" Workshop

. . .

Sunday August 11
Roundhouse Community Arts & Recreation Centre, Room B
Workshop 12PM - 1:30PM
ASL Interpretation Provided
Pre-registration is required
Max capacity: 15 people
PLEASE READ:
Pre-registration required, but do not be deterred if event says Sold Out! If event reads Sold Out, simply sign up for a spot on the waitlist. If someone cancels their order before the event and a spot opens up for you, you'll be notified by e-mail. If there are no-shows at the time of the event, we'll be opening up all remaining seats to those on the waitlist to ensure they're all filled! We want to ensure this workshop and these tools reacha as many member of our community as possible. If you have any questions, reach out to kelsey.savage@cacv.ca.
. . .
This is a TWO PART event. Registration for this is for Part 2: Workshop only, 12PM - 1:30PM. To register for the Part 1: Artist talk, click here.
. . .

About Part 2: Workshop:
Max capacity: 15 people
In his workshop, Francis will guide participants through their own story and potential project, towards a plan to make their idea a reality. Participants will receive a creative project planning resource to take home.
. . .
About Part 1: Artist Talk:
Francis Arevalo will take his audience along his artistic journey, as a rapper, producer, and mental health advocate with bipolar disorder Type 1. He'll share how his work in spoken word, theatre, and music have been influenced by being raised in hip-hop culture as a Filipino male. And how his work as a wedding planner and cell-phone salesman have also shaped the artist he is now. To register for Part 1: Artist Talk click here.
. . .
About Francis Arevalo:

Francis Arevalo is a Filipino rapper, producer, and mental health advocate, born and raised on the unceded Coast Salish lands of the Musqueam, Squamish and Tsleil-Watuth peoples, in Vancouver, BC. His journey battling bi-polar disorder through music was the subject of a 2017 Vancouver Asian Film Fest award-winning documentary "The Lion". In September 2018, DOMINIONATED describes his music coming from "the feeling that he's found and embraced a truth deep within himself, that he sees the world not through rose-coloured glasses, but in shades of optimism, hope, and beauty". He is working on his debut album to release in 2020.
---
What on earth is VOAF? Where can I learn more?
The Vancouver Outsider Arts Festival (VOAF) is presented by the Community Arts Council of Vancouver, and takes place August 9 - 11 at the Roundhouse Community Arts & Recreation Centre in Yaletown.
All events are free and open to the public, and 100% of the sales go to artists. For a complete list of all workshops, artist talks, hands-on activities, performances, open mics, and installations visit http://bit.ly/VOAF2019