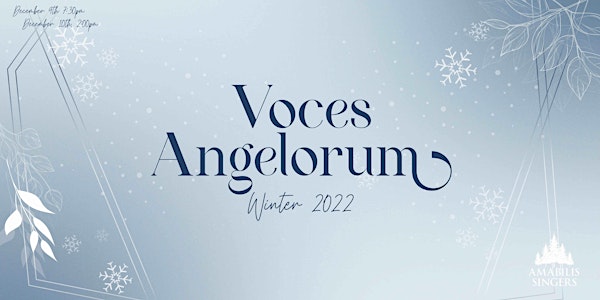 Voces Angelorum
The Amabilis Singers welcome you to a Christmas concert. Choose Dec 9, 7:30 pm or Dec10, 2:00 pm, each with different guest choirs.
When and where
Location
New Westminster Christian Reformed Church 8255 13th Ave. between 1st Street and Newcombe Burnaby, BC V3N 2G6 Canada
About this event
Artistic Director: Frank Lee
Piano: Ingrid Verseveldt
Harp: Dr. Elizabeth Volpé Bligh
Percussion/guitar: Elliot Lo
Amabilis is happy to welcome Frank Lee, our new Artistic Director.
Guest youth choirs:
December 9th only - Burnaby Central Chamber Choir, directed by Carrie Taylor.
December 10th only - St. Thomas More Collegiate Chamber Singers, directed by Johnson Lui.
Come listen to the music of angels, love, and shimmering starlight. Our program will feature the rich harmonies of Brian Schmidt's Lux Aeterna, the gentle sweetness of K. Lee Scott's A Welsh Lullaby, John Rutter's Angels' Carol, Josu Elberdin's Izar Ederrak ("The Beautiful Star") sung in Basque, and the stunning Ubi Caritas by the Norwegian composer Ola Gjeilo. Hear the beauty of our founding director Diane Loomer's arrangements of Yule-Tide Fires and Behold, Emmanuel, then feel the rhythmic joy in the Nigerian carol Betelehemu. Our program will take you from traditional to contemporary, from sing-along carols to Bareilles and Michaelson's Winter Song and Sarah McLachlan's Angel.