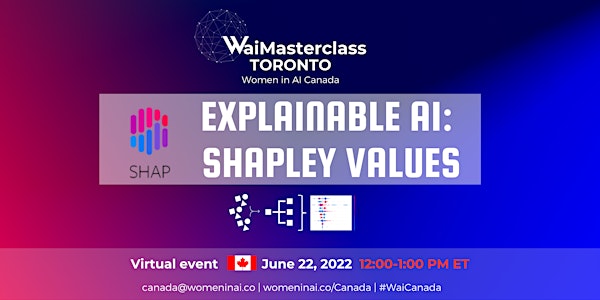 WaiMasterclass Toronto: Explainable AI- Shapley Values
WaiMasterclass Toronto: Explainable AI - Shapley Values
About this event
Waimasterclass aims to empower women with technology skills so that they are equipped with the skills to initiate their careers within an industry!
Introduction:
Are you interested in learning about how to use Shapley values in machine learning models?
This masterclass is designed to help build a basic understanding of how to compute and interpret Shapley values in machine learning models.
What is Explainable AI?
Explainable AI includes AI algorithms that are able to explain their own results as opposed to "Black Box" algorithms. It simplifies the decision making processes and build trust, in which it help us understand how the model made a specific decisions.
What are Shapley Values?
A common concept used in explainable AI for evaluating feature importance is the Shapley (SHapley Additive exPlanation) value, which is based on cooperative game theory ideas developed in 1953 by Lloyd Shapley.
What to expect?
Get an introduction to explainable AI with Shapley Values
Learn few practical hands -on- approach with examples in Python
Register and open few documents before you join the workshop
All workshop materials will be available after the workshop
Is this event only for women?
Everyone who supports and promotes diversity and inclusion is welcome to join, regardless of their gender.
What is the event agenda?
12:00 - 12:45 PM - Workshop
12:45- 13:00 PM - Q & A
Join Zoom Meeting - Link Below
https://us06web.zoom.us/j/82935214847?pwd=WFpXSm5PT0FjOVhVT2x0bUNhR2krQT09
------------------------------------------------------------------------------------
About the trainer:
Cathy Ong Ly is currently a PhD student in Medical Biophysics at the University of Toronto in a machine learning lab. She is working on developing an AI pipeline for interventional cardiovascular risk-stratification. Part of this pipeline also involves the investigation of bias. Her research interests are in deep learning, computer vision techniques, and cardiology. She is also the Marketing Manager for Women in AI Canada. Outside of research she enjoys being active and networking.
Follow Women in AI Canada LinkedIn page for more updates and information