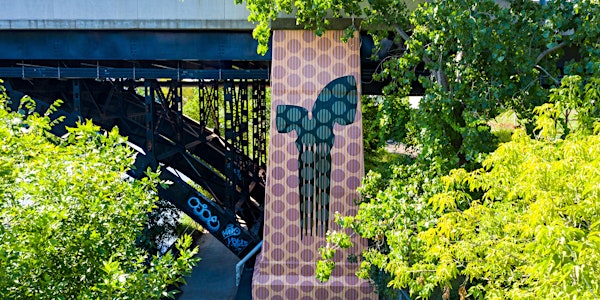 Walk and Talk with Beth Stuart and Jayne Wilkinson
Join us for a walk and talk with artist Beth Stuart in conversation with Jayne Wilkinson
Date and time
Sun, Nov 17, 2019 2:00 PM - 4:00 PM EST
Location
Evergreen Brick Works 550 Bayview Avenue Toronto, ON M4W 3X8 Canada
About this event
Join us for a walk and talk with artist Beth Stuart in conversation with Canadian Art's Editor-in-Chief, Jayne Wilkinson, to celebrate the launch of Stuart's new public mural commission in the Lower Don Valley.
The event will begin with a 30-minute conversation at Evergreen Brick Works, followed by a short shuttle bus ride and walk along the Lower Don Trail to visit Stuart's new large-scale mural, Reube (V. Stepanova and M. Vionnet).
Meet at Evergreen Brick Works, 2nd Floor.
Please come prepared for an outdoor walk along the Lower Don Trail.
About the Artist:
Beth Stuart is a Canadian artist based in Toronto, Ontario. She works in an expanding range of media including writing, painting, ceramic, performance, textiles, and sculptural installation. Notable exhibitions include a solo exhibition at the Power Plant (Toronto 2018), the Esker Foundation (Calgary 2014), The Painting Project UQUAM (Montreal 2013) and An Assembly of Shapes, Oakville Galleries (2018). She is the recipient of numerous residencies, grants, and awards including the RBC Painting Prize, Skowhegan, the Canada Council for the Arts Paris Residency and the Canada Council's Long-Term Grant for Visual Artists. She is represented by Susan Hobbs where she has a solo exhibition in the fall of 2019.
About the Don River Valley Park Art Program:
Co-presented by Evergreen with the City of Toronto and TRCA, the Don River Valley Park Art is a series of temporary, site-specific public art projects sited along the Lower Don River, curated by Kari Cwynar.
Learn more.
About the organizer
The Don River Valley Park is the centrepiece of Toronto's rapidly growing downtown: a 200-hectare park spanning Pottery Road to Corktown Common.
Building connections to and from neighbourhoods, the Park provides an opportunity for Torontonians and visitors to engage in cultural activities, enhancing the environment of an incomparable but undervalued asset—the Don Valley.
Our stunningly beautiful valley system has remained largely overlooked for decades, but not anymore.
As the "backyard" to 250,000 residents (and soon another 60,000), representing some of the greatest cultural and economic diversity in Canada, reclaiming and protecting the Don Valley has never been more important.