Location
MiniWarGaming Bunker
214 King Street
Welland, ON L3B 3J7
Canada
Refund policy
Contact the organizer to request a refund.
Eventbrite's fee is nonrefundable.
The MiniWarGaming team will provide an in-depth adventure for those who wish to embrace immersive escapism hosted at the MWG Bunker.
About this event
Gamesmaster/Host: David Nordquist (MiniWarGamer Dave)
Dates: Monday Feb 17, 2020 - Friday Feb 21, 2020
Players: 4 participants will represent a character in the narrative campaign. They will form a team and will fight cooperatively to battle against the common enemy.
Length: Episodic missions will be filmed by and with Dave over the course of 5 days.
Cost: a deposit of $197 CAD to reserve your spot in the campaign. The Total cost of registration is $1975 CAD per person + accommodation (varied depending on the themed room you book)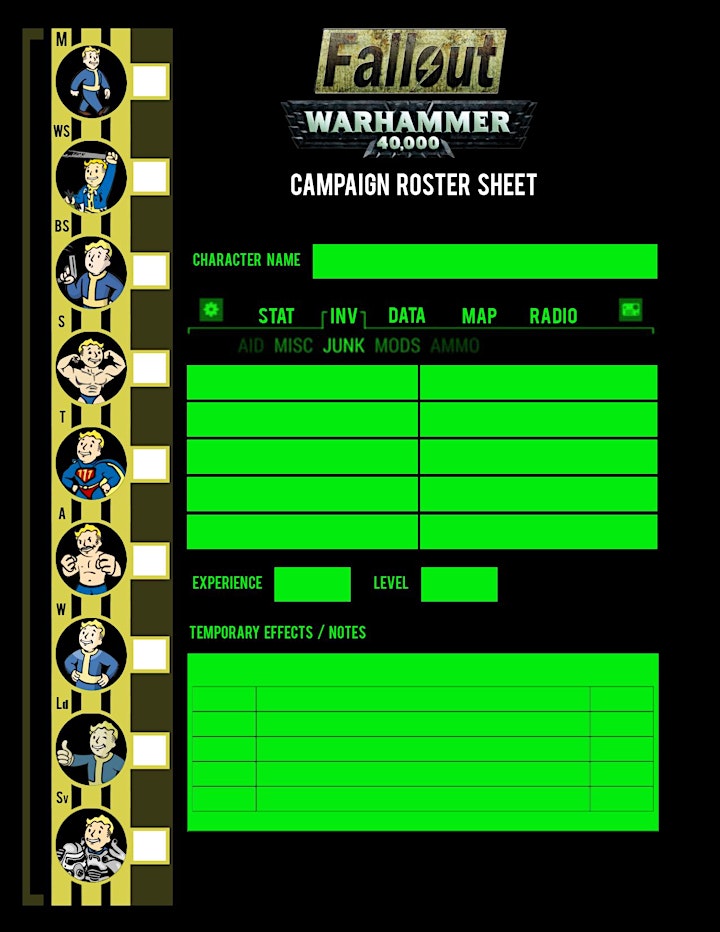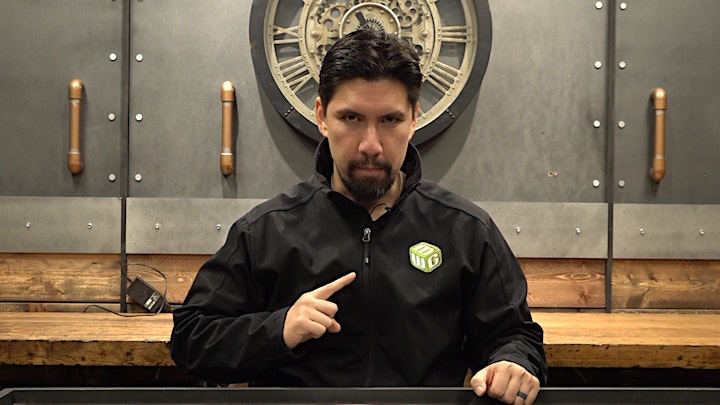 The Campaign Experience: Five days of interactively immersive tabletop war gaming/role-playing with award winning storyteller/filmmaker/gamesmaster David Nordquist (MiniWarGamer Dave), in the mecca of war gaming: the MiniWarGaming Bunker. This is an escape from reality vacation like none you could imagine. It's an exclusive retreat designed for a small group. This experience will douse you with excitement, relaxation, catered gourmet food, and of course, tabletop miniature war gaming with a unique blend of role-playing and thematic storytelling including post-apocalyptic themes and sci-fi. The Warhammer 40000 8th edition rule set will be used as a baseline for the rules of the campaign with some custom rules added for narrative flavouring. One gamesmaster (Dave) will film and guide players through missions. The players will upgrade and level up their characters throughout the campaign. A unique character sheet (sample sheet above) will also be provided.
This is an exclusive and specialized 5-day event with only 4 available player spots. It runs on February 17th-21st, 2020. Anyone at any time could be a character in the campaign which will affect the outcome of your missions and help to upgrade your character.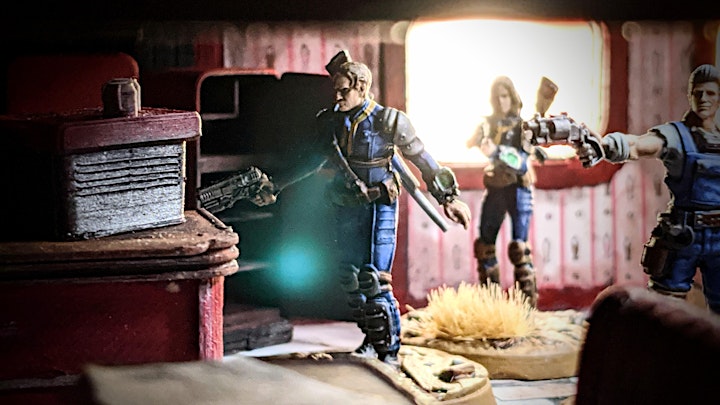 You'll fight cooperatively with your team as you take on the role of a Vault dweller who has just come out of cryosleep. Each day you'll arise and go on a scavenger hunt throughout the Bunker collecting various items and gear which you'll then add to your character's inventory. These are items found in real life that will then be used in the campaign itself. So, should you wake up to a pipe pistol sitting on your nightstand, you'll then have the pipe pistol as a weapon in the game. Likewise, should your character be injured from a previous mission and low on healing items, you can buy a bottle of Nuka-cola to restore yourself back to health.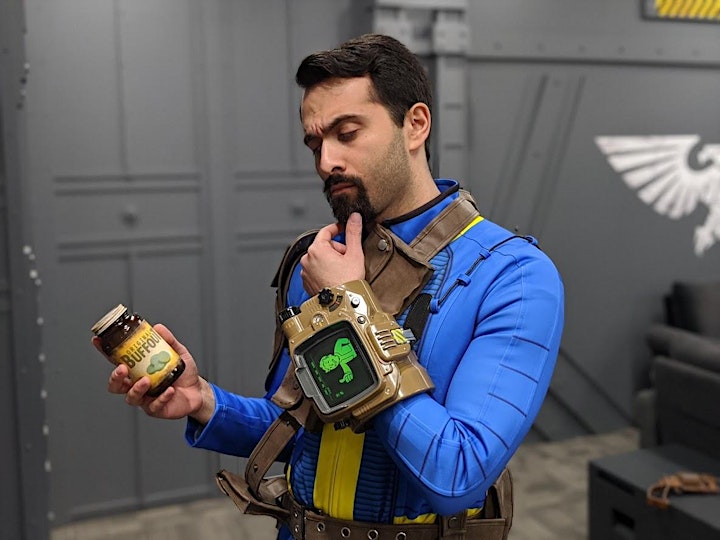 Players of the campaign will stay here at the MWG Bunker in their own living quarters. Not only does this add to the immersion of your overall experience, but it also provides a practical outlet for elements of the campaign. Elements such as Holotapes. These holotapes will be played on smart tv's equipped in each Bunker room. The holotapes will contain crucial information regarding missions and characters as well as provide intel on the whereabouts of hidden stashes of much-needed items and wargear.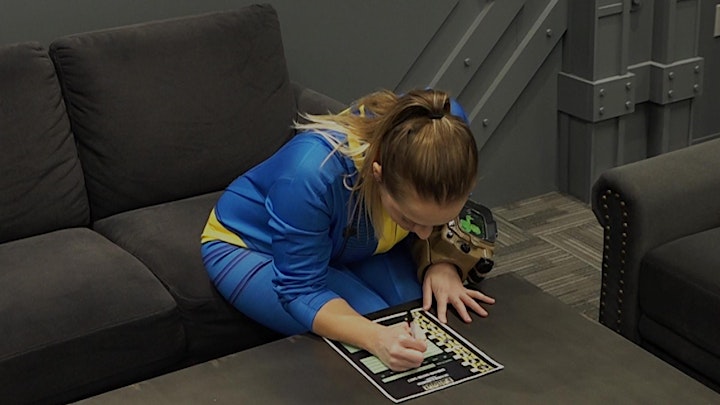 During your time here, your meals will be catered. You won't need to worry about anything except for having a good time. Everything will be provided to ensure you have a comfortable, fun and relaxing stay. That is of course when you're not being pursued by a feral ghoul or a Deathclaw. That being said, all rooms except for the bathrooms, are in play at all times. Any NPC interaction can take place anywhere at any time. So, don't be surprised if a travelling merchant knocks on your door offering you Rad-away for 80 bottle caps. It's all part of the experience.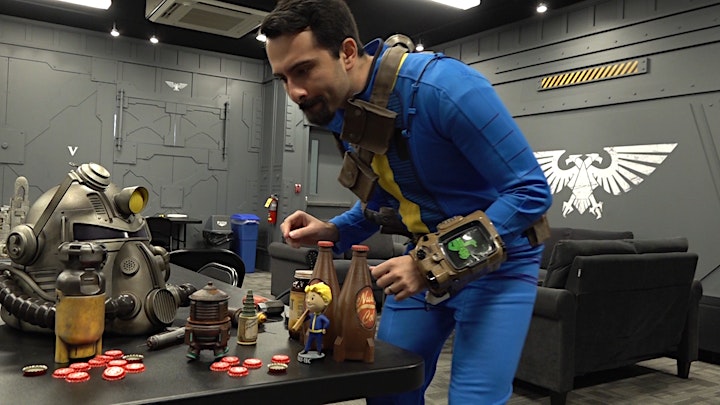 Accommodations: Players will be housed on site in one of the MWG Bunker Suites which will greatly add to the immersive experience. Staying at the Bunker is paramount to the overall experience due to the interactivity of the suite itself. In addition to the practical aspect of actually sleeping, the Bunker Suites will serve as quarters for the characters who will receive special instructions in sealed envelopes as well as have interactive exchanges that will affect the outcome of the campaign. Players will then apply the advantages, perks, additional narrative, etc., in the missions to follow.
DISCLAIMER! With exception to the bathrooms in the Bunker Suites all areas including the sleeping quarters will be part of the immersive experience. An NPC may just come knocking in the wee hours of the morning delivering an urgent message. So fair warning has been given. FOR THE LOVE OF EVERYTHING THAT'S GOOD AND DECENT, DO NOT SLEEP NAKED!
NOTE - the following items are provided in the Bunker Suites: bedding, towels, face cloths, hand towels, toilet paper, and hand soap. Guests will need to supply any personal items not mentioned on the list. New towels can be provided upon request.
Catering: 3 delicious gourmet meals a day will be provided. The specifics of the meals will be sorted out by the participants and Josh (our studio manager) prior to arrival. That way, dietary needs can be addressed beforehand and not take away from the precious time the players have while at the Bunker.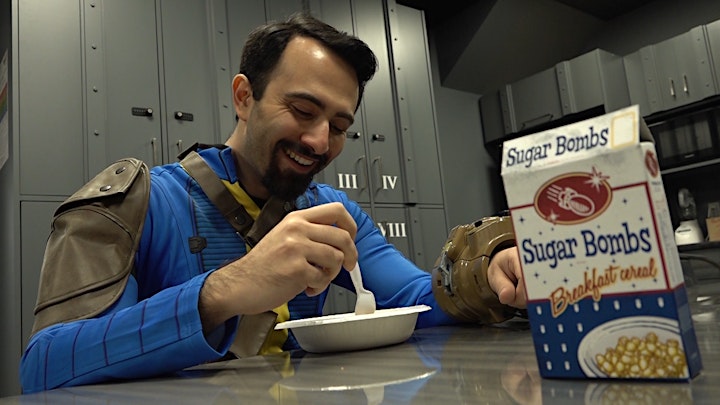 Itinerary: Sunday Feb 16th 2020 - Saturday Feb 22nd 2020
Sunday
Evening arrival at the Bunker - players will need to Uber or taxi from the airport to the Bunker). Josh on site to receive guests.
Monday
8 AM - Breakfast in the cafeteria
9 AM - Campaign Filming
12 PM - Lunch in cafeteria
1 PM - Campaign Filming
5 PM - Dinner in cafeteria
6 PM - Free time
Tuesday
8 AM - Breakfast in the cafeteria
9 AM - Campaign Filming
12 PM - Lunch in cafeteria
1 PM - Campaign Filming
5 PM - Dinner in cafeteria
6 PM to 9 PM - Dinner @ Black Sheep Lounge with Dave & the goddess of Slaanesh (Dave's Wife)
Wednesday
8 AM - Breakfast in the cafeteria
9 AM - Campaign Filming
12 PM - Lunch in cafeteria
1 PM - Campaign Filming
5 PM - Dinner in cafeteria
7 PM - Painting Class with Vito
Thursday
8 AM - Breakfast in the cafeteria
9 AM - Campaign Filming
12 PM - Lunch in cafeteria
1 PM - Campaign Filming
7 PM to 10 PM - Sightseeing in Niagara Falls Hosted by Dave
Friday
8 AM - Breakfast in the cafeteria
9 AM - Campaign Filming
12 PM - Lunch in cafeteria
1 PM - Campaign Filming
5 PM - Dinner in cafeteria
6 PM - Free time
Saturday
Morning departure (Josh on site)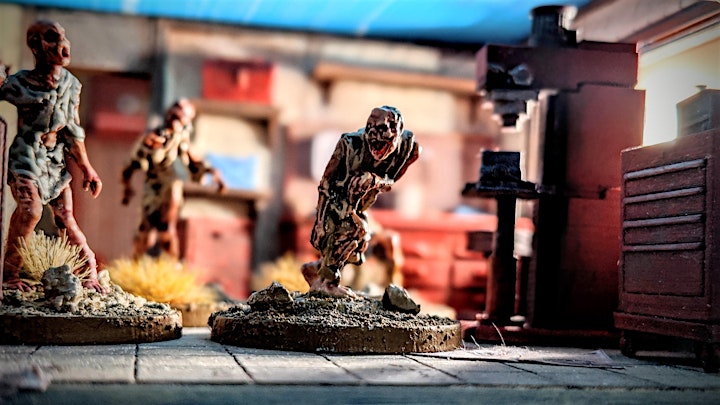 How much does it cost?
You will pay a deposit of $197 CAD to reserve your spot in the campaign. The Total cost of registration is $1975 CAD per person + accommodation which ranges in price from $600 for a bed in a shared barracks to $1800 for exclusive use of the private Imperial Officer's suite with several options in between. Included in this is:
Six nights accommodation
All meals
A five day campaign filmed with your Gamesmaster (Dave)
Additional intimate miniature painting class with Vito
A welcome package
Sightseeing of Niagara Falls hosted by Dave
Applicable taxes
Registration
Reserve your place at the Bunker with a deposit now and we will invoice you for the balance of the registration, which will vary depending on your selections at check-out. Registration itself is $1,975 per person and includes all meals, welcome package, and all gaming materials needed for the campaign. (Note, all dietary requirements can be accommodated.) Accommodation is additional, and you can select from various options on check-out, subject to availability.
Deposits are refundable within 24 hours of registration. The balance of payment is payable 30 days before the event.
Once you register, you will be contacted to select which of the characters you'll be representing throughout the missions. When you arrive at the Bunker, you will receive a customized player package which includes all campaign materials.
Accommodation
Select your accommodation from the options given on check-out. Prices range from a single bed in our shared Barracks Accommodation for $600 per person, to a private Imperial Officer's Suite for $1800, with semi-private options in between. All prices are for all 6 nights (taxes extra)
The Barracks, semi-private rooms, and the luxury suite are all located on site at the MWG Bunker. Rooms are priced according to share capacity and not per guest.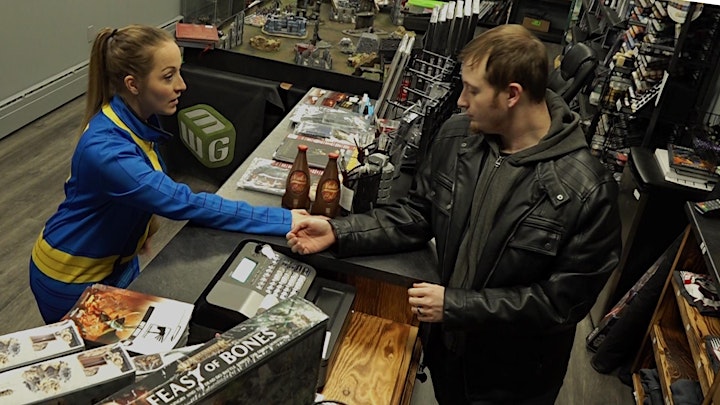 There are only 4 player spots available. Once they're taken they're gone. And 4 is the definite max. Any more than this, the team gets too cumbersome. The reason why I'm doing this campaign is; I've been a huge Fallout fan for many years. I played many of the games, especially my favourite (Fallout 4) which this campaign is based on, and spent hundreds of hours scouring the wasteland. If you're a Fallout fan like me, then you'll appreciate the time and detail put into this one of a kind immersive experience. Click the link below to grab your spot in the campaign and I'll see YOU in the wasteland.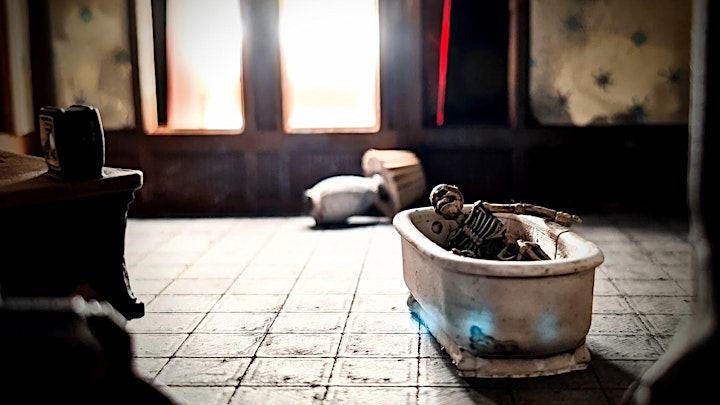 FAQs
What is included in the cost of registration?
Your deposit is included in the cost of registration. The registration ($1,975 + Accommodation Fee + applicable taxes) includes thirty five hours of gaming, and all meals, experienced at the MWG Bunker with your Gamemaster. Since rooms vary in size and luxury, they are booked separately. Leading up to the immersive narrative campaign experience, we will work with you to develop your character and prepare for the game. When you arrive, you will receive a character kit, including swag from our sponsors. There are no hidden fees and no additional costs.
I have allergies/sensitivities or other dietary restrictions. Will there be anything for me to eat?
We can accommodate any and all dietary needs as long as we know about them in advance. Just let us know about them when you register. Options may be limited if we don't know your needs well in advance.
Can I split the cost with friends?
You can share your room with your partner, or with a friend. You will be given an option for that upon checkout, and your invoice will reflect that. Registration itself cannot be split.
Can I stay in a nearby hotel and just come for the day to play?
Only guests that are registered and staying on site are permitted participate in the campaign due to the interactivity of the Bunker Suites.
Can I bring my kids with me?
Children may not attend this event unless they are also scheduled to participate in another event. If they are at least 14 years of age they may participate in our other battle reports as guests or hang out in the tournament hall.
I've never played Warhammer 40k before. Will I still be able to enjoy this?
That's no problem at all. A MiniWarGaming team member will work with you before you arrive (most likely Dave), and hold your hand throughout the retreat. The specific rules of the campaign will be new to everyone, and the GM will be there throughout to guide and assist you. We'll explain everything you need to know and make sure you have a great time even if you've never played before.