We Are All Ocean People: What That Means and Why We Should Care
About this Event
To nationally kick-off Oceans Week HFX 2020, Chúk Odenigbo will be delivering a keynote speech moderated by Larissa Crawford that will explore exactly how, living in what is now known as Canada, we are all oceans people.
Participants should leave with an increased awareness of how they can employ an equity and climate justice lens as they contribute to the protection of oceans from anywhere in Canada in the interest of Earth and future generations.
Veuillez noter que le discours sera uniquement en anglais. Cependant, les diapositives seront bilingues et vous pouvez poser de questions en français ou en anglais selon votre préférence.
Join us June 5 - 14 this year for an all virtual event line up for Oceans Week HFX 2020. You can explore events in topics such as film screenings, art submissions, webinars and panel discussions, DIY workshops, remote clean-ups and more.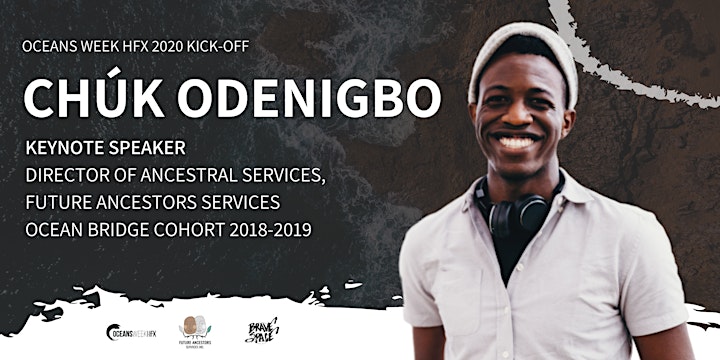 Chúk is a black Franco-Albertan from Calgary. He is passionate about the interactions between health, culture and the environment. This passion inspired him to pursue his PhD in Medical Geography at the University of Ottawa after completing his master's degree in Environmental Health at the School of Public Health at the University of Montréal. Chúk has worked in a variety of industries, including oil and gas, the fashion retail, and academia. He is interested in the multidisciplinary nature of our existence and in exploring new solutions that respond to recurring problems.
Chúk was ranked amongst the top 30 Change-Making Albertans under 30 by the Alberta Council for Global Cooperation, the top 10 young Franco-Albertan leaders by Radio-Canada and the top 25 environmentalists under 25 in Canada by the Starfish for three years. Chúk was MEC's ​​ambassador for the outdoors and is an alumni of the first Ocean Bridge cohort, a group of young Canadians leading ocean health and literacy projects across Canada.
Instagram: @royalchukz / @ancestorsfuture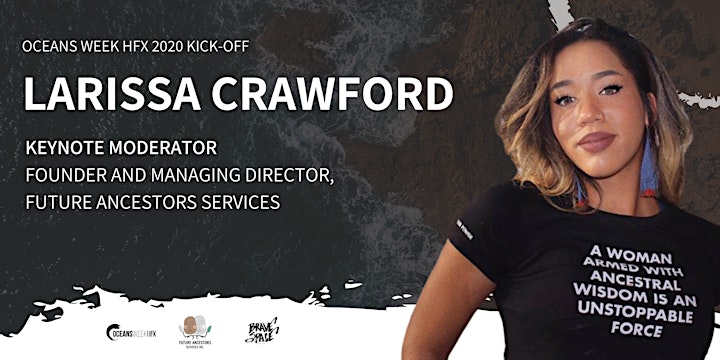 Larissa is a published Indigenous and anti-racism researcher, award-winning ribbon skirt artist, certified mediator, activist, and proudly passes on Métis and Jamaican ancestry to her daughter, Zyra. She is the Founder of Future Ancestors Services, a youth-led professional services social enterprise that centres ancestral accountability, climate justice, and equity. Formerly, she's worked as an Indigenous Policy Advisor for the Ontario Ministry of Energy, Northern Development, and Mines, and for the Ontario Anti-Racism Directorate.
Larissa's experiences have led to her specializations in raced-based data collection, Indigenous and anti-racism research, accessibility, adult literacy and learning, restorative circle keeping, conflict resolution, climate justice, and public policy. Larissa is a 2019-20 Action Canada Fellow; a 2019 GLOBE Very Impactful Person; and a Corporate Knights' 2019 Top 30 Under 30 in Sustainability.
Instagram: @larissa_speaks / @ancestorsfuture
Mo is a queer trans multi-disciplinary artist. They primarily work with drawing, mark making and movement. They imagine and create immersive worlds and portals through relationship building and tending. Finding care, justness and possibility by untangling from convention and habitual patterns. Mo studied fine art at NSCAD University and Naropa University and continued their studies of graphic recording at The Grove in San Francisco.
Mo also studied leadership development, systems change and design thinking through the ALiA Institute, Emergent Strategy Ideation Institute and the Art of Hosting global network. Mo works as a facilitator and graphic recorder and owns Brave Space, a company that offers design, facilitation and graphics.
Instagram: @brave_space
About Oceans Week HFX
We recognize the important role that the ocean has in our lives, and the lives of future generations. We recognize the important role we have on the ocean and its biodiversity. Our mission is to create a platform to promote ocean awareness and direct action by celebrating World Oceans Day every June 8th, here in Nova Scotia.
We work collaboratively with community members, not-for-profit organizations, academia, corporations, rights-holders, government, and the public to celebrate World Oceans Day. For the past five years, Oceans Week HFX has focused on bringing together audiences of all ages and demographics to participate in recreational and educational events and workshops.
As we move into the UN Decade of Ocean Science for Sustainable Development, Oceans Week HFX is committed to continuing our work towards ocean connections, ocean optimism, and climate justice.
Learn more at oceansweek.ca.
About Future Ancestors Services Inc.
Future Ancestors Services is an Indigenous and Black-owned, youth-led professional services social enterprise that advances climate justice and equity with a lens of ancestral accountability.
We build bridges between cultures, ways of knowing, and professional sectors with the goal of addressing the causes of systemic issues that disadvantage groups of people, connection to the land, and the well-being of Earth.
Our services and supports seek to serve people who face disproportionate barriers in all walks of life by uplifting their visions, voices, and contract services; and by building the capacity of non-profit, private, and public organizations to engage with diverse people in meaningful and appropriate ways.
Learn more at futureancestors.ca.
About Brave Space
Brave Space provides creative services tailored to meet these needs including graphic facilitation, live draw murals, videos, research and evaluation, as well as workshops and trainings that apply participatory methods for leading social change.
Brave Space creates live draw murals at conferences, events, and celebrations. Our approach animates the space and builds engagement and momentum in your project, initiatives or organization. We illustrate and engage with what is going on in the room–the atmosphere, presentations, and voices of the attendees. These murals make beautiful and useful artifacts of your event. Participants can use them to support their learning and understanding of the presentations and conversations. They can also be shared in photos and videos through social media to your networks.
Learn more at bravespace.ca