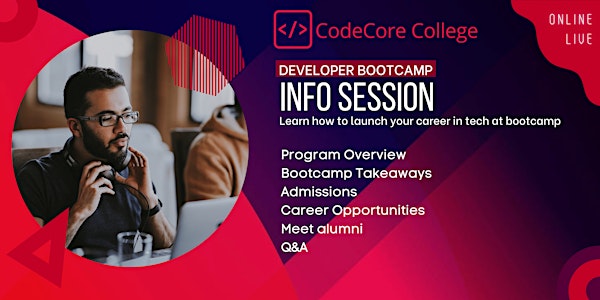 Web Development Bootcamp Info Session
Learn about steps in launching your Web Developer career!
About this event
The CodeCore Web Developer Bootcamp teaches not just the fundamentals of coding and programming languages, but also real-world training in software architecture and development methodologies and processes.
Graduates come away with the tools and understanding to build and deploy solid web applications with Ruby on Rails and JavaScript. Graduates will learn full-stack development and have the option to specialize in back-end or frontend development if they prefer to. Graduates are able to join technology companies or development shops and be effective on day one.
CodeCore is already the leading Web Development program in Vancouver teaching cutting-edge web technologies. We have graduated 600+ full-time students over the last 6+ years, many of them are now leaders in the Vancouver technology industry.
What to expect from the info session?
Program overview and how we teach
Steps to apply and admissions procedures
Bootcamp takeaways
Overview of career opportunities in the field and success stories of graduates
Q&A with the team and alumni
Web Developer Bootcamp 2023 Intakes
Fundametals (5 weeks):
January 16, 2023 - February 17, 2023
May 15, 2023 - June 16, 2023
September 11, 2023 - October 13, 2023
Bootcamp (12 weeks):
March 6, 2023 - June 9, 2023
July 3, 2023 - October 6, 2023
October 30, 2023 - January 26, 2024
***This is a recurring event! If you can't make it to this session, check the upcoming ones every first Wednesday of the month***