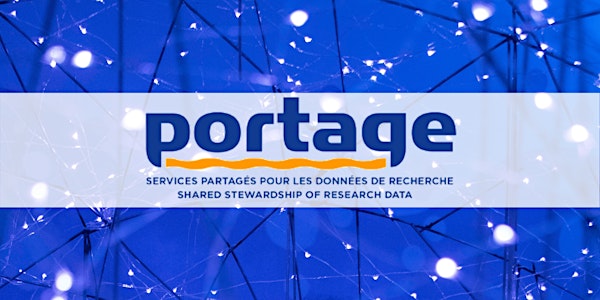 Webinar: Introduction to Geodisy An Open-source Spatial Discovery Platform
About this event
With the increasing demand for geographic components in research, there is an opportunity for research data repositories to provide alternatives to text-based discovery. This webinar introduces Geodisy: an open-source spatial discovery platform for Canadian open research data, developed by a UBC team over the last eighteen months. Initially funded by CANARIE, Geodisy's online interface (https://geo.frdr.ca) provides a map-based search that is available alongside Canada's Federated Research Data Repository (FRDR). Users search for data based on its location and have the ability to preview datasets as overlays on a digital map. Access to comprehensive and standardized metadata is also provided. Data is currently sourced from Scholars Portal Dataverses, which houses open research data from forty Canadian institutions (500 Dataverses, 2,500 datasets). The Geodisy platform benefits all research disciplines that use geospatial location, from anthropology to zoology to climate science. In this presentation, the Geodisy team will share software designs, metadata mapping processes, and a live demonstration.
Eugene Barsky is the Head of Research Commons at UBC. Eugene is chairing the national Portage Data Discovery Expert Group, participates in building the Canadian Federated Research Data Repository service (FRDR), and collaborates with Research Data Canada (RDC) and the European Union (OpenAIRE). Eugene is the lead Principal Investigator for the national Geodisy project, funded by CANARIE. His recent peer-recognition included the American Society for Engineering Education and Special Library Association awards. He published more than 25 peer-reviewed papers and presented at more than 50 conferences. Eugene is an adjunct professor at the iSchool at UBC, teaching courses in science librarianship and research data management, and is one of the founders of the Pacific Northwest data curators group.
As the Metadata Coordinator for the Geodisy project, Mark Goodwin works alongside the FRDR team to provide expertise for the creation, management, and presentation of metadata for geospatial discovery. He is the Co-Chair of Portage's Dataverse North Metadata Working Group, which establishes metadata best practices for Canadian researchers using Dataverse. Mark is passionate about improving access to information and is excited to help enhance discoverability of research data in Canada.
Paul Dante is the primary software developer on the Geodisy project and works as part of the FRDR team. His multidisciplinary background includes both computer science and geology, with degrees and work experience in both. Paul has been working at UBC since early 2019.
_____
Compte tenu de la demande croissante pour des composantes géographiques dans la recherche, il est possible que les dépôts de données de recherche offrent des solutions de rechange à la découverte par texte. Ce webinaire présente Geodisy, une plateforme ouverte de découverte spatiale pour les données de recherche ouvertes canadiennes, mise au point par une équipe de l'Université de la Colombie-Britannique au cours des 18 derniers mois. Initialement financée par CANARIE, l'interface en ligne de Geodisy (https://geo.frdr.ca) permet une recherche cartographique qui est disponible à côté du Dépôt fédéré de données de recherche (DFDR) du Canada. Les utilisateurs recherchent des données en fonction de l'emplacement et peuvent prévisualiser les ensembles de données en superposition sur une carte numérique. L'accès à des métadonnées complètes et normalisées est également offert. Les données proviennent actuellement de Scholars Portal Dataverse, qui contient des données de recherche ouvertes provenant de quarante établissements canadiens (500 fichiers Dataverse, 2 500 ensembles de données). La plateforme Geodisy profite à tous les domaines de recherche qui utilisent l'emplacement géospatial, de l'anthropologie à la zoologie en passant par les sciences du climat. Dans cette présentation, l'équipe de Geodisy présentera des conceptions logicielles, des processus de cartographie des métadonnées et une démonstration en direct.
Eugene Barsky dirige le Research Commons de l'University of British Columbia. Eugene préside le Groupe d'experts national sur la découverte de données de Portage, participe à la mise sur pied du Dépôt fédéré de données de recherche (DFDR) du Canada et collabore avec l'organisation Données de recherche Canada (CDR) et l'Union européenne (OpenAIRE). Eugene est le chercheur principal en chef du projet national Geodisy, financé par le réseau CANARIE. Ses récentes reconnaissances par les pairs ont notamment été récompensées par des prix de l'American Society for Engineering Education et de la Special Library Association. Il a publié plus de 25 articles évalués par des pairs et a présenté des exposés à plus de 50 conférences. Eugene est professeur auxiliaire à la School of Information de l'University of British Columbia, où il enseigne la bibliothéconomie scientifique et la gestion des données de recherche, et il est l'un des fondateurs du groupe de conservateurs de données de la région du nord-ouest du Pacifique.
À titre de coordonnateur des métadonnées pour le projet Geodisy, Mark Goodwin travaille aux côtés de l'équipe du DFDR afin de mettre à profit son expertise pour la création, la gestion et la présentation de métadonnées pour la découverte géospatiale. Il est coprésident du Groupe de travail sur les métadonnées Dataverse Nord de Portage, qui établit les pratiques exemplaires en matière de métadonnées pour les chercheurs canadiens utilisant Dataverse. Mark se passionne pour l'amélioration de l'accès à l'information et se réjouit de contribuer à l'amélioration de la découverte des données de recherche au Canada.
Paul Dante est le principal développeur de logiciels du projet Geodisy et travaille au sein de l'équipe du DFDR. Il possède des antécédents multidisciplinaires à la fois en informatique et en géologie, ayant obtenu des diplômes et cumulé une expérience de travail dans les deux domaines. Paul travaille à l'University of British Columbia depuis le début de 2019.