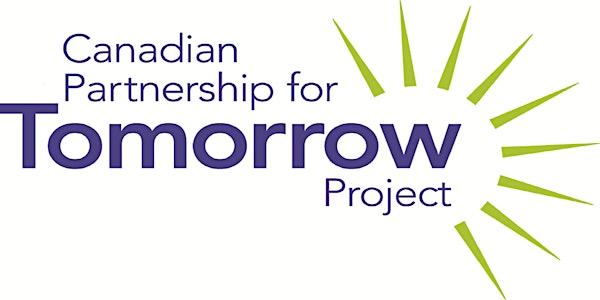 Webinar on The Canadian Partnership for Tomorrow Project: Canada's Largest Population Health Cohort
By Canadian Partnership Against Cancer
When and where
Date and time
Wed, Aug 24, 2016 10:00 AM - 11:00 AM PDT
Description
The Canadian Partnership for Tomorrow Project (CPTP) – Canada's Largest Population Health Cohort for Research
Presented by Dr. Paula J Robson, Scientific Director of Alberta's Tomorrow Project and Ma'n Zawati, CPTP Access Officer.
The Canadian Institutes of Health Research (CIHR) has just launched a funding opportunity to use data and biosamples from existing cohorts and databases to address key questions in cancer research.
Data and biosamples available for request from the Canadian Partnership for Tomorrow Project (CPTP) meet the eligibility requirements of the grant and includes information on lifestyle, health behaviours, history of disease, and several other risk factors that contribute to the development of cancer. The cohort also includes more than 135,000 venous blood samples, 101,379 urine samples, and toenail samples from 30,418 participants. A range of physical measures from 90,954 participants has also been collected, which include height, waist and hip circumference, blood pressure, and resting heart rate. With more than 300,000 Canadians taking part, CPTP is Canada's largest population cohort for health research.
Dr. Robson will discuss the range of CPTP data and biosamples that may be used to support an application to this funding opportunity, and Ma'n will provide an overview of the access process.
Who should attend: Researchers, research staff, trainees and students.