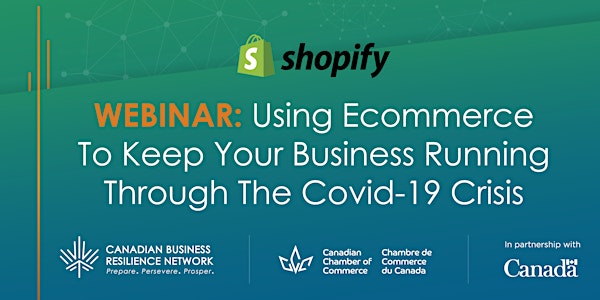 Webinar with Shopify: Using eCommerce to Keep your Business Running
Using ecommerce to keep your business running through the COVID-19 crisis
About this event
Could e-commerce be an option to get your business through the COVID-19 crisis? Join us and Shopify on Wednesday, April 15, as we discuss options for navigating your business through this new environment. We will explore the use of resources and e-commerce tools that you can access through Shopify, as well as answer your questions about their platform and transitioning your business to online operations. 
Guest speakers for the event include: 
Kray Mitchell, Local Community Manager for Kelowna, Shopify
Nikki Thibodeau, Local Community Manager for Victoria, Shopify
Susanna Cluff-Clyburne, Senior Director, Parliamentary Affairs, Canadian Chamber of Commerce
For more information, please contact Lianne Cheng at lcheng@chamber.ca.
Thank you to our partners