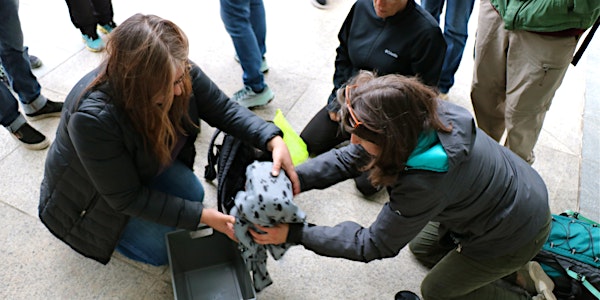 Welcome to the Team! Online Volunteer Orientation (2nd option for timing)
Volunteer Orientation - Online Session for Spring Surveys (in person practice to follow)
By Calgary Urban Species Response Team
Date and time
Wed, Mar 29, 2023 6:00 PM - 7:30 PM PDT
About this event
1 hour 30 minutes

Mobile eTicket
We welcome all who are interested!
Our goal is to have our most robust Spring survey season since we started in 2019. We are in need of greater presence during Spring to conduct rescues where possible and to give us insights into how much birds are affected by window strikes in Calgary during spring migration. Hope you can join us!
Volunteer Orientations are in two parts.
Part 1 - ZOOM Session
Wednesday evening (March 29, 2023)- Online Virtual Orientation:
Introductions of leads and the organization
Values and Corporate Culture
Streets surveys information
Wildlife Permits, data collection and volunteer forms
Birds, bats, migration and survey insights
Live animals; Feather piles; Partials
Q&A
Welcome to the team!
Part 2 - In-Person - Sunday morning (April 2, 2023) - Following the Zoom session, there will be an in-person practice survey at a location TBD downtown Calgary. If the timing doesn't work out for you, not to worry - let us know and we will coordinate another coaching time with you during a later shift. We will bring your rescue kit and lead this practice/coaching as your first shift.
*Attending these sessions does not commit one to registering as a volunteer. (We do really need your help though, so we sure hope you do!)
**There are no minimum # of shifts one must register for. We depend on "many hands make light work". We do encourage each person to register for shifts throughout the survey season (April 1 - June 30) as possible.
Greater individual presence = greater rescues and team success!
Important note for accessibility: surveys can be conducted in a number of creative ways (e.g. driving site to site) or if a person works in one building and is willing to just survey that one such as during coffee or smoke breaks, we would be grateful!
A dynamic group, we often have a variety of projects occurring where your skills will be appreciated. See you there!!