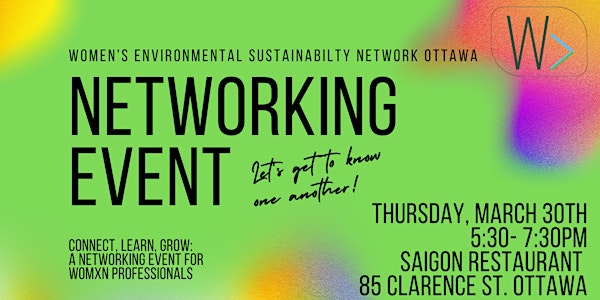 WESNO Networking Event
Join us for our in-person WESNO networking event/ Joignez-vous à nous pour notre événement de réseautage de REFDO en personne!
By Women's Environmental Sustainability Network Ottawa
Date and time
Thu, Mar 30, 2023 5:30 PM - 7:30 PM EDT
Location
Saigon Restaurant 85 Clarence Street Ottawa, ON K1N 7B5 Canada
About this event
We've all heard it: Network, Network Network! If you want to find a job or advance your career networking is the best way. So come join us at our next networking event. Come meet other womxn environmental professionals in Ottawa to build your network and learn about different jobs and organizations. Whether you are advanced in your career or a student just starting out, there is always something to learn and share.
Great food and drink
We will be meeting at Saigon Restaurant located at 85 Clarence St, Ottawa. Saigon is generously providing a special happy hour price for us with $5 beers, wines and select cocktails! 
Bring your own name tag
To reduce waste, bring a name tag you might have from a previous event or function. Talking about the event and how you got your name tag can also be a great ice-breaker!
Virtual business cards
Don't have a business card? Download the LinkedIn app on you phone and turn your profile into a virtual business card. Using your LinkedIn profile will encourage you to keep it updated and make sure people won't loose it. 
We hope to see you there! 
-----------------------------------------------------------------------
Tout le monde le répète : Réseautage, réseautage, réseautage ! Le réseautage est le meilleur moyen de vous aider à trouver un emploi ou de faire progresser votre carrière. Alors venez nous rejoindre à notre prochain événement de réseautage. Venez rencontrer d'autres professionnelles de l'environnement à Ottawa pour construire votre réseau et vous renseigner sur les différents emplois et organisations. Que vous soyez avancée dans votre carrière ou étudiante débutante, il y a toujours quelque chose à apprendre et à partager.
 Excellentes nourriture et boissons
Nous nous réunirons au restaurant Saigon situé au 85, rue Clarence, à Ottawa. Saigon nous offre généreusement un prix spécial happy hour avec des bières, des vins et des cocktails sélectionnés à 5 $ !
 Apportez votre propre badge
Pour réduire les déchets, apportez un porte-nom que vous avez peut-être déjà utilisé lors d'un événement ou d'une fonction. Parler de l'événement et de la façon dont vous avez obtenu votre badge peut également permettre de briser la glace!
 Cartes professionnelles virtuelles
Vous n'avez pas de carte professionnelle? Téléchargez l'application LinkedIn sur votre téléphone et transformez votre profil en carte professionnelle virtuelle. L'utilisation de votre profil LinkedIn vous encouragera à le mettre à jour et à faire en sorte que les gens ne perdent pas votre contact.
 Au plaisir de vous voir bientôt!