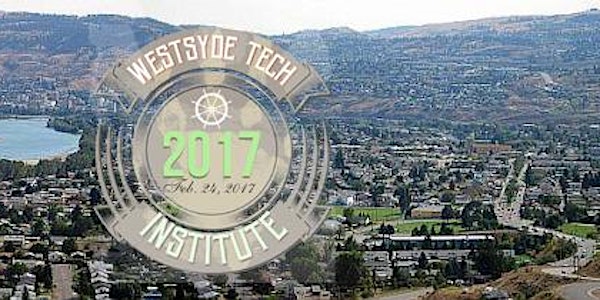 Westsyde Apple Tech Conference
By Westsyde Secondary School
Date and time
Fri, Feb 24, 2017 8:30 AM - 2:40 PM PST
Location
Westsyde Secondary School 855 Bebek Road Kamloops, BC V2B 6P1 Canada
Description
Westsyde Tech Institute 2017
Notes for attendees:
Most sessions require attendees to bring a device, some sessions a laptop or chromebook will be fine, others require specific apps from an iPad or tablet. There will be some WSS iPads available to use during sessions for those who don't have one.
It is recommended that you download apps or eBooks for sessions ahead of time.
Check out and print our flyer here
SESSION DESCRIPTIONS:
Exploring Swift Playground (NOTE: THIS SESSION TAKES ALL MORNING or ALL AFTERNOON)
By Bill Bajwa of Apple Canada
Technology has a language. It's called code. And we at Apple believe coding is an essential skill. Learning to code teaches you how to solve problems and work together in creative ways. And it helps you build apps that bring your ideas to life.
The session will provide ways to introduce code into the Classroom. Apple has designed Swift Playground, a new approach to coding that lets anyone learn, write, and teach it. We will also look at Sphero's and associated apps. Limited number of Sphero's and iPads will be available.
Before the session, explore Swift Playground Resources
Swift Playgrounds app (free iPad only and requires iOS 10)

Swift Playgrounds by Apple

Swift Playground Teachers Guide iBook

iTunes U Course
Cracking The Code (NOTE: THIS SESSION TAKES ALL MORNING or ALL AFTERNOON)
By Shelagh Lim
Interested in getting started with coding? Not really sure how code can work with your students? Join Shelagh for these hands-on experiences that you and your students will love. Start off interacting with block coding and soon you'll be dragging and dropping commands like a pro! Next, SPRK your coding experience using Sphero SPRK! What is a Sphero SPRK? Much like BB-8 from Star Wars, SPRK is a small, programmable robot sphere that uses your iPad's Bluetooth capability to drive, draw and race over obstacles. Learning fun for everyone!
Bio: Shelagh has taught grade 7 in the Surrey School District for more than 20 years. She has recently returned to the classroom after five years of supporting science, numeracy and information media literacy integration as a Curriculum Helping Teacher. Shelagh's passions include hands-on/minds-on inquiry based learning, environmental stewardship and knitting! She is proud to be an Apple Distinguished Educator (2008) and looks forward to working with you all today.
She presently enrols a grade 7 class at Cambridge Elementary where she encourages her students to learn by doing!
Comic Creation Not Just for Joking Around
By Jeremy Reid
Hey we are not joking around here during this session! Turn any assignment into an engaging experience with your students. This session will show you how to get students away from consuming content to be creators of content. Comic creation can engage students at any grade level while enhancing their writing, understanding and critical thinking skills. Learn the basics of these apps and see some amazing student examples. Bring your iPad with the Book Creator app installed and be prepared to be hands on.

Learn how you can use:
Comic Life allows learners to use a graphic novel format to tell their story. Lots of templates make creativity easy!

Toontastic 3D allows you to create amazing 3D comic video's in a few easy steps.
Digital Storytelling Through eBooks
By Jeremy Reid
Publishing digital books today is easier than ever before. Whether you have 1 iPad or 30 iPads in your classroom, you can guide students to create amazing work. Digital story telling can give your students a voice and audience! This session will show you how to get students away from consuming content to be creators of content and then publishing it as a digital book. Digital creation can engage students at any grade level while enhancing their writing, understanding and critical thinking skills.
You will learn start to finish workflow on how to manage a collaborative approach to creating eBooks with multiple apps. Attendees will see many sample eBooks that students have created to give you ideas and inspiration. Class portfolio creation has never been easier!
Bring your iPad with the Book Creator app installed and be prepared to be hands on.

Learn how you can use:
• Explain Everything allows learners to incorporate video, hand drawn images and sound to share their learning.
• Book Creator allows learners to publish and show their learning by combining text, photos, video's and audio to tell a story. Easily import content from other apps.
Inquiry Supported by Technology
by Aleasha Kachel
Are you wondering how to include technology in your class inquiry project? Are you wondering how it can enhance student learning? In this session, we will explore a variety of technology applications and their role in helping students wonder, investigate, explore and construct.
Blind Kahoot
By Jim Beeds
You probably have heard of Kahoot but there is another way to use this great tool you may not be aware of. In addition to using Kahoot to reinforce and review concepts learned it can also be used to introduce new topics. This is a "Blind Kahoot". For this session I will use a class tested Blind Kahoot to teach chemistry without using traditional notes. Please note that no previous Kahoot experience is required and even a beginner can benefit from this session as Kahoot is a user friendly application.
"Kahoot! is designed to encourage everyone to look up. This creates a 'Campfire moment' where everyone gathers round a shared screen to play together." - Kahoot (getkahoot.com)
Limited to 30 attendees.
Hands On GreenScreen
By Leadership Students
Focus on using the paid app Green Screen by DoInk. Green screen enables videos or pictures featuring your learners in a background they can imagine. What you can create is only limited by your creativity. We will be showing some green screen videos created by WSS students for their projects. This is a hands on session where you will create your own video!
Limited to 20 attendees.
Google Classroom
By Michael Chambers
With Google Classroom you can stay organized and easily manage student digital assignments.Google Classroom is your mission control for class. Create classes, distribute assignments, send feedback, and see everything in one place. Instant. Paperless.
In this session you will see class examples, tips and learn how to setup you own classes.
Everything in one place. Join the class in one click and then have all of the materials at your fingertips.
Ask questions to the whole class.

Submit assignments. Attach anything to your assignments -- Google Docs, Drive files or links.
Works great with Chromebooks or iPads.
Introduction to FreshGrade
By Sharon Richards and Laurel Reed
FreshGrade offers an all-in-one tool that allows teachers to employ a variety of instructional, learning and assessment strategies to meet the unique needs of every classroom. While parents are provided ongoing communication that matters, students are given the opportunity to have a voice in their learning. Using apps on Android or iOS phones or tablets, students and teachers can post evidence of learning which can be shared with parents, who have the opportunity to comment and ask questions.
At this session, you'll see how FreshGrade e-portfolios have been used in both English Language Arts and Visual Arts classes. If you bring an electronic device, you'll even be able to work right away on your actual classes, provided you know your Oasis log-in name and password. There will be time for Q&A, as well as a chance to play around with FreshGrade.

iPads in Art
By Sharon Richards
Grab your iPads and smart phones and discover resources, ideas and insights for exciting learning experiences that merge traditional, tactile art-making processes and with innovative content, techniques and ways of thinking. In an art class, technology integration is about taking advantage of what these powerful, digital tools can offer. It's not about getting rid of the hands-on techniques that support teaching and learning…far from it! Learn how to leverage mobile devices such as iPads and smart phones in 'messy making' experiences that merge paint and pixels.


iPad Art iBook Resource:
More iPad Art iBook Resource:

This sessions is aimed at all grade levels.

Breakout
By Jenn Filek
Breakout EDU creates ultra-engaging learning games for people of all ages. Games (Breakouts) teach teamwork, problem solving, critical thinking, and troubleshooting by presenting participants with challenges that ignite their natural drive to problem-solve.
Come experience the fun of figuring out the puzzles with your peer. You might have already done some Breakout sessions but it doesn't hurt to try more. In the morning we can try a game and in the afternoon sessions we can work to building your own puzzles that would work for your students.
Limited to 15 attendees of the morning sessions and 30 for the afternoon.