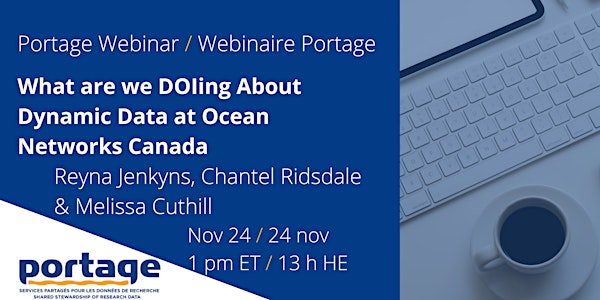 What are we DOIng about Dynamic Data at Ocean Networks Canada?
What are we DOIng about Dynamic Data at Ocean Networks Canada?
About this event
Ocean Networks Canada invites attendees to learn about our approach to citing dynamic and heterogeneous datasets. We leverage advances from the research data management community such as Research Data Alliance Data Citation Working Group's recommendations, the Research Organization Registry (ROR) emergence, ROR integration within the DataCite schema, and revised Earth Sciences Information Partners citation guidelines. Even so, there were conceptual, technical and sustainability barriers to overcome. To allow users to cite the exact dataset subset and version, we refactored our infrastructure and curation processes to handle query details and versioning provenance. Substantial effort went into supporting geospatial extents for fixed-position, mobile and remote-sensing instruments. These improvements are represented in landing pages, web services and documentation. While manual intervention remains for curatorial reasons, the vast majority of our implementation is automated. We hope our experience assists other repositories in plans to meet FAIR and TRUST Principles. This work was funded by CANARIE.
Speakers
Reyna Jenkyns is the Data Stewardship Manager at Ocean Networks Canada. She has been closely involved in metadata management, data acquisition, expedition support and interoperability initiatives at ONC for more than a decade. She is active within the research data management community through working groups and committees, including as a board member for the CoreTrustSeal. She received her Bachelor of Mathematics in Applied Mathematics from the University of Waterloo, and her Master of Science in Ocean Physics at the University of Victoria.
Chantel Ridsdale is a Data Steward at Ocean Networks Canada. She works on data management best practices, processes, procedures, policies, and standards for various projects and programs at ONC. Additionally, she maintains instruments, and expedition metadata and data records for reuse in Oceans 2.0. Chantel has a Masters of Library and Information Studies from Dalhousie University and became interested in data management as it provided an interesting new path for her degree and an opportunity to influence an increasingly important avenue for research. ​
Melissa Cuthill is a Data Steward at Ocean Networks Canada. With an academic background in Psychology and Library & Information Studies, her interests converge in a conviction about the importance of research data management to scientific reproducibility, which she will lecture you about, ad nauseam, at the slightest opportunity. She works to ensure ONC's voluminous data is described well enough for users to find, understand, and be able to reuse it.
This webinar will be presented in English and recorded. Engagement during the webinar in both official languages is welcomed. Previous webinar recordings are available on the CARL YouTube Channel. Links to the recordings and slides can also be found on Portage Training Resources.
//
Ocean Networks Canada invite les participants à en apprendre davantage sur notre approche pour la citation d'ensembles de données dynamiques et hétérogènes. Nous tirons parti des progrès réalisés par la communauté de la gestion des données de recherche, comme les recommandations du Groupe de travail sur les citations de données de la Research Data Alliance, l'émergence du Registre des organismes de recherche (ROR), l'intégration du ROR dans le schéma DataCite et les lignes directrices révisées pour les citations des Earth Sciences Information Partners. Malgré cela, il y avait des obstacles conceptuels, techniques et de durabilité à surmonter. Pour permettre aux utilisateurs de citer le sous-ensemble de données et la version exacts, nous avons repensé notre infrastructure et nos processus de conservation pour traiter les détails des requêtes et la provenance des versions. Un effort considérable a été consacré au soutien des extensions géospatiales pour les instruments fixes, mobiles et de télédétection. Ces améliorations sont présentées dans les pages de renvoi, les services Web et la documentation. Bien que l'intervention manuelle soit nécessaire pour des raisons de conservation, la grande majorité de notre mise en œuvre est automatisée. Nous espérons que notre expérience aidera d'autres dépôts à respecter les principes FAIR et TRUST. Ce travail a été financé par CANARIE.
Présentateurs
Reyna Jenkyns est gestionnaire de l'intendance des données à Ocean Networks Canada. Depuis plus d'une décennie, elle est étroitement impliquée dans la gestion des métadonnées, l'acquisition des données, le soutien aux expéditions et les initiatives d'interopérabilité à ONC. Elle est active au sein de la communauté de la gestion des données de recherche par l'entremise de groupes de travail et de comités, notamment en tant que membre du conseil d'administration de CoreTrustSeal. Elle est titulaire d'un baccalauréat en mathématiques appliquées de la University of Waterloo et d'une maîtrise ès sciences en physique océanique de la University of Victoria.
Chantel Ridsdale est intendante des données à Ocean Networks Canada. Elle travaille sur les pratiques exemplaires, les processus, les procédures, les politiques et les normes de gestion des données pour divers projets et programmes à ONC. De plus, elle tient à jour des instruments, des métadonnées d'expédition et des dossiers de données pour leur réutilisation dans Oceans 2.0. Chantel possède une maîtrise en bibliothéconomie et en études de l'information de la Dalhousie University et s'est intéressée à la gestion des données puisque cela lui ouvrait une nouvelle voie intéressante pour l'obtention de son diplôme et lui donnait l'occasion d'avoir de l'influence sur une avenue de plus en plus importante pour la recherche.
Melissa Cuthill est intendante des données à Ocean Networks Canada. Avec une formation universitaire en psychologie et en bibliothéconomie et en études de l'information, ses intérêts convergent dans une conviction de l'importance de la gestion des données de recherche pour la reproductibilité scientifique, sujet à propos duquel elle vous fera la leçon ad nauseam à la moindre occasion. Elle veille à ce que les données volumineuses d'ONC soient décrites suffisamment en détail pour que les utilisateurs puissent les trouver, les comprendre et les réutiliser.
Ce webinaire sera présenté en anglais et il sera enregistré. Les interventions durant le webinaire dans les deux langues officielles sont les bienvenues. Les enregistrements des webinaires précédents sont disponibles sur la chaîne YouTube de l'ABRC. Les liens des enregistrements et des présentations sont aussi affichés sur la page de ressources de formation par Portage.