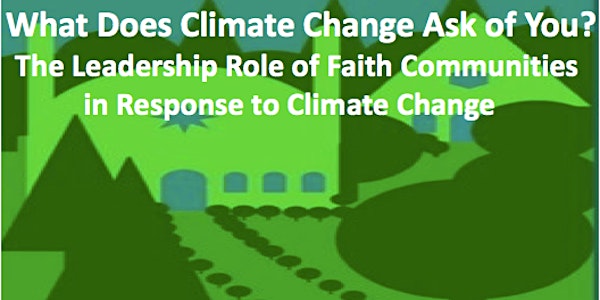 What Does Climate Change Ask of You? The Leadership Role of Faith Communities in Response to Climate Change
When and where
Location
St. Mary's Church St Mary's Church 56 Duke Street West, Kitchener ON, N2H 3W7
Description
What Does Climate Change Ask of You? The Leadership Role of Faith Communities in Response to Climate Change
As the impacts of climate change become more evident and more worrisome, faith communities are uniquely situated to show leadership and galvanize the strength of their members — and beyond. At this event, faith leaders and community members can learn and share on the following topics:
how faith communities can work with various levels of government to help community members prepare for and cope with extreme weather events (such as extreme heat, ice storms, flooding)
how faith communities can use energy and other resources more responsibly in their gatherings and in their buildings — and access funding to help offset costs
the role that faith communities can play in helping individuals, families, businesses, civil servants and elected officials to make the necessary transition to a low-carbon economy
the call for faith communities to advocate for the needs of those most vulnerable to the near-term impacts of climate change
Thursday, September 26, St. Mary's Catholic Church, 56 Duke St West, Kitchener (ION stop: Kitchener City Hall)
2:30 Doors open for registration and refreshments
3-5:30 pm: Workshops by

Sheila Murray, Resilience Project Manager, and Stephen Collette, Building Audit Manager for Faith & the Common Good

6 pm: Dinner
7 pm: Panel discussion: What could climate justice look like with the leadership of Waterloo Region's faith communities?
Offered by Faith & the Common Good, Divest Waterloo, Interfaith Grand River, and St. Mary's Catholic Church
You are welcome to attend any portion of the event. No entrance fees are required, but freewill offerings will be gratefully accepted.