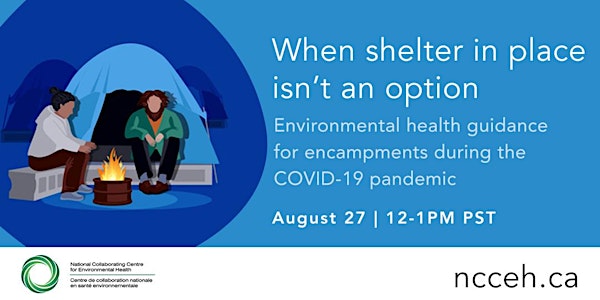 When shelter in place isn't an option during COVID-19
Environmental health guidance for encampments during the COVID-19 pandemic
By National Collaborating Centre for Environmental Health
Date and time
Thu, Aug 27, 2020 12:00 PM - 1:00 PM PDT
About this event

The National Collaborating Centre for Environmental Health invites you to attend the upcoming Environmental Health Seminar. Webinar instructions will be included in the confirmation email. A recording of this webinar will be posted on the NCCEH website.
________________________________________________________________________________________________
When shelter in place isn't an option - environmental health guidance for encampments during the COVID-19 pandemic
Presenter: Jade Yehia (Regional Built Environment Consultant, Island Health)
When other options are not available, encampments may be temporarily necessary to provide shelter for those experiencing homelessness during the COVID-19 pandemic. While linkages to safe, secure, and permanent housing should continue to be a priority, in the interim, residing in an encampment presents specialized considerations requiring attention to minimize disease spread. This presentation synthesizes available evidence on environmental health risks associated with the physical environment in encampments, and best practices to prevent the transmission of SARS-CoV-2, to serve as guidance for environmental health practice as an integral part of a multi-sectoral approach to ensure people stay safe and healthy during their time in an encampment.
Jade Yehia is a specialist with degrees in Environmental Health, Human Geography, and a Master of Science (MSc) in Health Impact Assessment. She is an Environmental Health Officer (EHO) who has been Island Health's Healthy Built Environment Specialist for the past seven years. Her work focuses on bringing a broad public health perspective to land-use planning regarding Housing and Homelessness, Air Quality, Climate Change, Neighbourhood Design and Environmental protection across Island Health portfolios and externally with local governments and community partners. Specific to encampments, she has developed policy, performed and supported site visits ensuring health and safety standards are met. She is passionate about creating healthier communities for all!