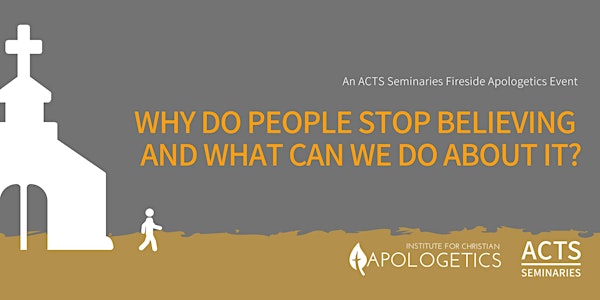 Why People Stop Believing: A Fireside Apologetics Event (TWU Langley)
When and where
Location
ACTS Seminaries of Trinity Western University 7600 Glover Road Fosmark Building, Johnson Hall Langley, BC V2Y1Y1 Canada
Description
Why do people stop believing and what can we do about it?
A Fireside Apologetics event with Dr. Paul Chamberlain
TWU Langley


Date: Thursday, March 21, 2019
Time: 7:00–8:30 PM
Location: ACTS Seminaries of Trinity Western University, 7600 Glover Road, Langley, BC
Fosmark Building, Johnson Hall

Click here for the TWU Richmond Fireside Apologetics.


Topic:
Have you ever wondered if there is anything you can do to prevent people from leaving the faith, or to encourage the faith of people who are questioning? In this event, we will address the recent wave of Christians, including leaders, who are turning away and becoming some of Christianity's most ardent critics. We will ask why some choose to leave and then consider how we can address these causes and engage those who leave.

About the Speaker:
Dr. Paul Chamberlain holds a Master of Divinity from Trinity International University (1981) and a PhD in Philosophy from Marquette University (1990). He has authored five books, including Why People Stop Believing, Why People Don't Believe and Can We Be Good Without God, and published numerous articles in the fields of apologetics, ethics, and philosophy of religion.
Dr. Chamberlain teaches in the areas of Christian Apologetics, Ethics and Philosophy of Religion, and is also the Director of Trinity Western University's Institute of Christian Apologetics. Previously he served as Professor of Philosophy and Religious Studies at Trinity Western University for ten years. During part of that time, he also held the position of Canadian Executive Director of Ravi Zacharias Ministries. He has participated widely in public debates and has made guest appearances on numerous radio and TV programs. He frequently presents papers at professional conferences as well as seminars and lectures in churches, universities and other community forums.
Presented by ACTS Seminaries of Trinity Western University. Learn more at actsseminaries.com