Event Information
Location
Théâtre Cercle Molière
340 Provencher Boulevard
Winnipeg, MB R2H 0G7
A mini networking event for on the MOVE 2022 participants.
About this event
Welcome to your dance career! OTM Launch Party - Winnipeg!!
A mini networking event for on the MOVE 2022 participants.
Strengthen your connections with the dance community
Cultivate networking skills
Build professional contacts
IN PERSON!!! LIMITED CAPACITY!!! SIGN UP NOW!!!
May 12,4:30pm - 6:30pm CDT, Théâtre Cercle Molière Lobby
In partnership with Art Holm and Young Lungs Dance Exchange
Guest Speaker Emily Solstice and Alexandra Elliott, hosted by Jillian Groening
Please email bc_intern@dtrc.ca with any specific requests around your access needs and we will do our very best to provide appropriate services.
By registering for this event you acknowledge that some images/video may be taken and used for promotional purposes by the DTRC to promote their programs subsequently, particularly on the MOVE / danse TRANSIT.
The Dancer Transition Resource Centre (DTRC) requests your permission to use your image on this type of material strictly for the promotional purposes mentioned above. The duration of use of the material for promotional purposes is limited to a period of five (5) years from the date taken.
If you have any questions about this documentation, please reach us out to communications@dtrc.ca
Subject to venue and provincial/regional Covid-19 protocols. Guests may be required to show vaccine passport + piece of ID at the door. Masks may be required at all times. Distancing may be required while eating/drinking.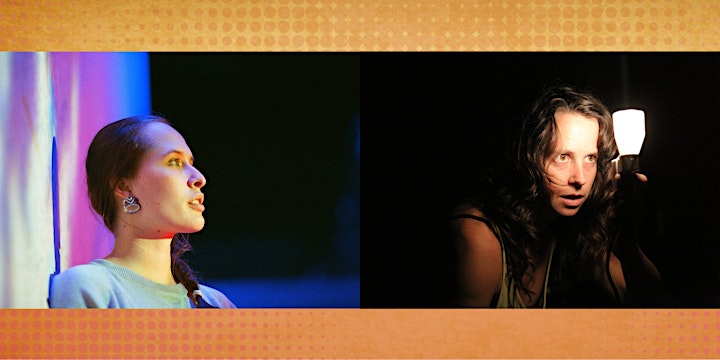 Featuring guest speakers Emily Solstice and Alexandra Elliott, + special guests to be announced.
Emily's practice is rooted in contemporary dance but happily crosses into theatre, stage management and film. She is of mixed settler and Ojibway ancestry (Berens River First Nation). Her dances have been performed at The Manitoba Museum, The Forks National Historic Site, and the shores of Lake Winnipeg. Select performances include The War Being Waged (PTE), Actualize (WCD), moi, suel·e (Théâtre Cercle Molière), Confluence (Raven Spirit Dance) and The___ Place video with CBC Arts.
After performing her own work in New York, Alexandra Elliott and Hurricane Sandy came face to face. Physically demanding and emotionally charged, her work made it back to her hometown of Winnipeg and beyond. Her dances have been produced in New York, Toronto, Vancouver, Edmonton, Winnipeg, and Halifax. Alex thanks Tedd Robinson for his ecstasy charged commission Logarian Rhapsody. She is the Director of Art Holm, a multidisciplinary performance series in Winnipeg that showcases talented performing artists.

Bienvenue dans la profession de la danse! DT soirées de lancement - Winnipeg!!
Un mini événement de réseautage pour les participants de danse TRANSIT 2022.
Renforcer vos liens avec la communauté de la danse
Cultiver vos compétences en réseautage
Établir des contacts professionnels
EN PRÉSENTIEL !!! CAPACITÉ D'ACCUEIL LIMITÉE !!! INSCRIVEZ-VOUS DÈS MAINTENANT !!!
12 mai, 16h30 - 18h30 HAC, Théâtre Cercle Molière Lobby
En partenariat avec Art Holm and Young Lungs Dance Exchange
Avec un·e conférencières Emily Solstice and Alexandra Elliott, hébergé par Jillian Groening
Veuillez envoyer un courriel bc_intern@dtrc.ca avec toute demande concernant vos besoins en matière d'accès et nous ferons de notre mieux pour vous fournir les services appropriés.
En vous inscrivant à cet événement, vous reconnaissez que certaines images/photos/vidéos peuvent être prises, publiées et utilisées à des fins promotionnelles par la CRTD pour ensuite promouvoir ses programmes, notamment danse TRANSIT/on the MOVE. Le Centre de ressources et transition pour danseurs (CRTD) demande votre autorisation de diffuser votre image dans ce type de matériel, uniquement dans le cadre des objectifs promotionnels nommés ci-dessus. La durée de diffusion du matériel à des fins promotionnelles est limitée à une période de cinq (5) ans à compter de la date de la prise du matériel.
Si vous avez des questions sur l'enregistrement, veuillez nous contacter à communications@dtrc.ca
Sous réserve des protocoles de la COVID-19 en vigueur de la salle, la province et la région. Les invités peuvent être entièrement vaccinés et montrer leur passeport vaccinal, ainsi qu'une pièce d'identité. Le port du masque peut être obligatoire en tout temps. La distanciation physique peut être exigée pour manger et/ou boire.
Date and time
Location
Théâtre Cercle Molière
340 Provencher Boulevard
Winnipeg, MB R2H 0G7