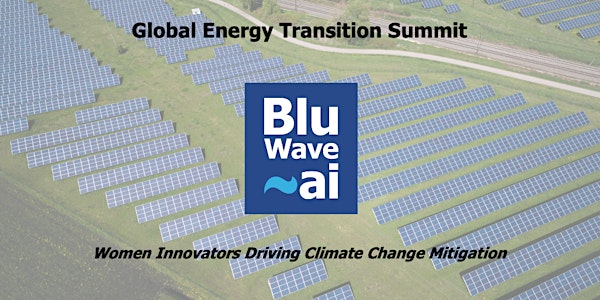 Women Innovators Driving Climate Change Mitigation
The next event in BluWave-ai's Global Energy Transition Summit series features women leading cleantech initiatives.
About this event
The online summit will offer multiple key perspectives on climate change challenges, including business insights from funding bodies and government departments, as well as engineering experts leading the development of key technologies, specifically artificial intelligence (AI), as they apply to climate change mitigation.
Moderator:
Dr. Nasrin Sadeghianpour, Senior Smart Grid and AI Scientist, BluWave-ai
Panelists:
Shirley Speakman, Senior Partner, Cycle Capital
Camilla Kullborg, VP, Global Technology Startup Scouting, Synerleap, ABB
Leah Lawrence, President & CEO, Sustainable Development Technology Canada
April Bolduc, President, S Curve Strategies
Wrenna Robertson, Program Lead for Women in Cleantech Challenge, Natural Resources Canada
Meera Makim, Program Manager, Energy Technology Sector, Natural Resources Canada
Introductions will be provided by Invest Ottawa's Sonya Shorey, Vice President of Strategy, Marketing & Communications and Caroline Croft, Manager, Scale-Up Program.