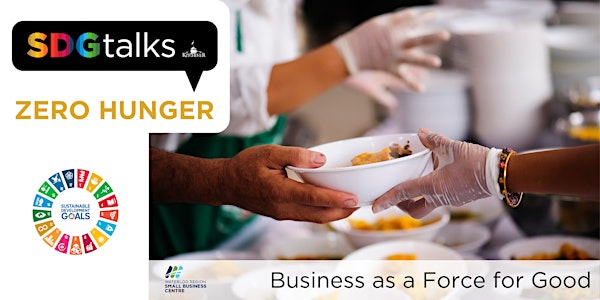 Working Towards ZERO HUNGER
LET'S TALK SUSTAINABLE DEVELOPMENT, SET GOALS, MAKE A CHANGE!
When and where
Location
Kitchener City Hall, 1st Floor, Rotunda 200 King Street West Kitchener, ON N2G 4G7 Canada
About this event
Join the City of Kitchener and the Waterloo Region Small Business Centre for thoughtful and interactive conversations on how businesses and individuals are making a difference locally, nationally and globally by impacting social, environmental and economic change.
This networking event takes place on Tuesday, October 18th, at Kitchener City Hall. We will introduce you to local organizations and entrepreneurs making an impact in our community and the United Nations Sustainable Development Goals (SDGs).
We'll lead a discussion with local organizations and entrepreneurs addressing Goal #2, Zero Hunger; a worldwide effort to end hunger, achieve food security and improved nutrition, and promote sustainable agriculture. We invite you to get involved and learn about the 17 SDGs and how we can solve social, environmental and economic sustainability problems as individuals, businesses and communities.
FACT: There is more than enough food produced in the world to feed the planet right now! Yet hunger is rising. Join us to learn more.
All are welcome and encouraged to attend! We strongly believe the Sustainable Development Goals are inclusive for all community members.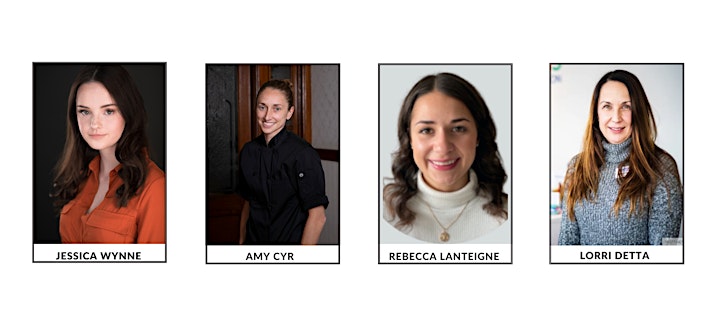 SPEAKER BIOGRAPHIES
Jessica Wynne - Jessica Wynne is the Sustainability Specialist and a Sales Agent at Pfenning's Organic Farm in New Hamburg, and a graduate from Toronto Metropolitan University (formerly Ryerson University) with a Bachelor of Arts (hons.) in Environment and Urban Sustainability, a minor in History, and a certificate in Urban Agriculture. She is passionate about particularly reducing food waste by finding alternative avenues besides the compost for food that doesn't meet retail standards, promoting the benefits of organic and regenerative agriculture, and supporting on-farm ecosystems through enhancing riparian habitats and increasing the presence of greenspace for pollinators and wildlife. In her free time, she can be found playing with her 3 dogs, gardening, or renovating a 1900s home in Tavistock with her boyfriend."
Amy Cyr - Amy is the Head Chef and Kitchen Project Manager at St. Mary's Parish, Tiny Home Takeout. She is a graduate of Lakehead University in Honours Outdoor Recreation, Parks and Tourism, as well as Teachers College. Amy also completed the Recreation Therapy Diploma from Confederation College and the Culinary Management Diploma from Liaison College. She have been afforded the opportunity to utilise these skills throughout her career as a High School Teacher and Guidance Counsellor in remote northern fly in communities of the Northwest Territories and James Bay, as well as working in mental health and addictions centres, working with children with disabilities through recreational programing and finally working at Liaison College of Culinary Arts as the Director of Admissions and Chef Instructor.
Rebecca Lanteigne - Rebecca (she/her) is a fourth generation settler who resides and lives off of the resources found on the Haldimand Tract. She is an organizer and volunteer with the Community Fridge KW, a public repository of food and essential items for anyone to access at any time. She is passionate about mutual aid and community care, reducing food waste and improving environmental well-being. She also works for Friendlier, a local reusable packaging company on a mission to reduce single-use packaging in food service industries. As a volunteer with Community Fridge KW and an Account Manager with Friendlier, she is constantly learning more about how social and environmental justices intersect with one another in complex ways. She continues to learn about resource distribution and sustainable, more circular ways of building community. She is an avid lover of hiking, adventures and cooking.  
Lorri Detta - Lorri Detta, CPA, CHRP is the Executive Director of Food4Kids Waterloo Region. Lorri has extensive experience working and volunteering with progressive grass roots and large non-profit organizations serving children, youth and families. The work of Food4Kids Waterloo Region aligns with Lorri's personal and career goals in advocating and collaborating with our community to reduce childhood hunger and the harmful short and long-term impact it has on children living with chronic hunger. Early intervention through providing basic nutritional needs early in a child's development is paramount, by reducing the many risk factors that surround a child living in extreme poverty, providing the foundation for later success in life. Through work, volunteer and personal experience, Lorri understands how childhood hunger threatens children's development, limits future opportunities, increases the likelihood of mental and physical health problems, and many other factors including criminal involvement, substance abuse, or exploitation or abuse early and/or later in life, which is costly to our society.
Agenda
6:00 p.m. - 6:30 p.m. Registration
6:30 p.m. - 8:00 p.m. Panel
8:00 p.m. - 8:30 p.m. Networking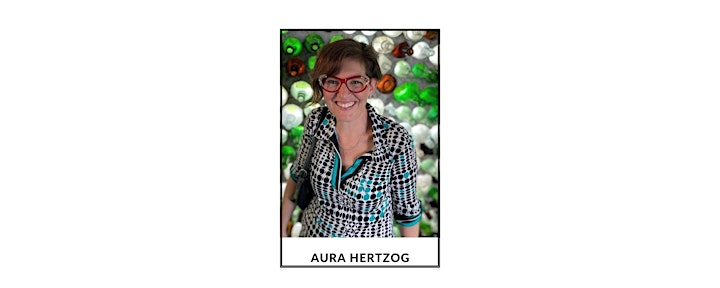 Aura is a passionate small business owner in Waterloo Region who focuses on supporting local producers thorough the pastries they make in house and the provisions that she has personally curated to compliment her baking. Her store is located in the Central Frederick neighbourhood. She is one of a few living wage employers in the region. She is a George Brown Culinary alumni with a strong food background that includes growing up in a downtown Toronto bed and breakfast, working in notable restaurants on Queen West, training in the kitchen of the Windsor Arms Hotel and being an integral part of opening both the Toronto and West Vancouver Whole Foods stores. She moved to Kitchener 17 years ago and opened her first bakery on King East across from the Kitchener Market. She has been involved with FoodLink, the Waterloo Food Roundtable and Baileys Local foods. She is currently helping other small business in the community through My Main Street and the City of Kitchener.
Visit: www.aura-la.ca
ADDITIONAL INFORMATION
Parking: On-street parking: There are more than 300 free, two-hour street parking spaces in downtown Kitchener. You cannot park in an on-street parking space twice within five hours.
Electric vehicle charging: There is an electric vehicle charging station on-street on Francis Street at the corner of Joseph Street.
For more parking information: https://www.kitchener.ca/en/parking/find-a-place-to-park.aspx#City-Hall
Refreshments: will be served. Additionally, situated on the first floor of the City of Kitchener City Hall, Williams Fresh Café offers a selection of snacks plus warm and cold beverages for your convenience. The café is open until 8:00 pm on weekdays.