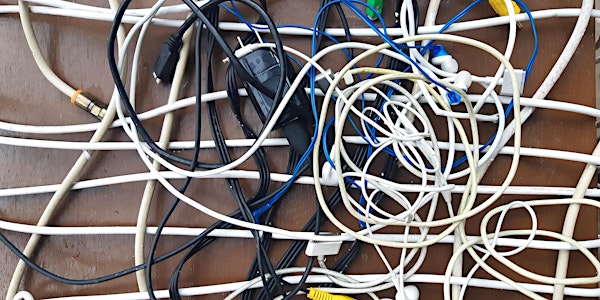 Workshop / Atelier - Ether-Net
Ether-Net Workshop / Atelier Ether-Net
Date and time
Saturday, November 21, 2020 · 8 - 11am PST
About this event
Presented as part of the HTMlles Festival / présenté dans le cadre du festival HTMlles
(le texte français suit)
Zoom workshop: November 21 from 11am to 2pm
Do you have drawers full of broken electronics and mis-matched cords?
In this online video workshop, we will work with e-waste cables to make a collective artwork, addressing the materials and hyper-consumption that define our current relationship to technology.
Workshop participants will learn simple looping and knotting techniques with leftover cables and cords to create a piece of netting. Then, using online tools, we will connect photos of the pieces to form a greater network out of individual nodes. The pieces will be virtually knotted together and displayed as an activist demonstration. Working together, apart, to weave a net, we make visible our technologically networked society.
This workshop will be held on Zoom. Presentations by Alice Jarry, Kelly Thompson, and Sophia Borowska will introduce contemporary upcycling art practices and the longstanding ties between waste, textile production and activism.
Materials and registration:
Materials provided. 25 kits will be available for pick-up at OBORO's New Media Lab (4001 Berri street, 2nd floor) from Nov 17 to 20 (10am to 4pm). We also encourage you to collect your own e-waste cables (chargers, earbuds, audio cords, phone wires, etc.) to supplement the materials provided.
Free Workshop. Registration limited to 25 participants.
Register via Eventbrite by November 19, 2020.
 We would like to thank our sponsors, Ebox, Concordia University's Centre for Creative Reuse, Electro-Shop, and individual donors for their donation of e-waste materials.
Artists:
Sophia Borowska is an artist, writer, and cultural worker based in Montréal/Tiohtià:ke. Through sculpture, installations, research collaborations, and community-engaged projects, her work questions and challenges prevailing systems of power and control in urban environments, online spaces, and in the art world. Her Jacquard-research practice seeks conceptual links between weaving, technology, and digital culture. She holds a BFA, with great distinction, from Concordia University in Montréal. Borowska has presented work in Canada, Denmark, and the United States, and has led workshops with the likes of articule artist-run centre and Milieux Institute of Arts, Culture and Technology's Textiles and Materiality Research Cluster.
www.sophiaborowska.com
www.data-excess.com
Kelly Thompson is an artist, educator, weaver and curator, interested in the circulation of ideas, people and goods in the world, historically and in the global present. She is a professor in the Fibres and Material Practices programs at Concordia University.
www.kellythompson.org
Alice Jarry is an artist and professor in the department of Design and Computation Arts at Concordia University. As an artist-researcher and educator, she specializes in site-specific responsive works, sci-art practices, socio-environmental design, digital arts, and tangible media. Her research brings concerns about sustainability, aesthetics, and politics to bear critically upon materiality, material production, and contemporary matters-of-concern regarding urban infrastructure. She is a member of Kheops; Hexagram; Milieux Institute for Research-Creation, Topological Media Lab and Montreal based Digital Arts Collective Perte-de-Signal. Her works have been presented across Canada, the United States, and Europe.
www.alicejarry.com
//
Atelier Zoom : 21 novembre de 11h à 14h
Vos tiroirs sont-ils remplis d'appareils électroniques cassés et de câbles mal assortis ?
Dans cet atelier en ligne, nous travaillerons avec des câbles de déchets électroniques pour réaliser une œuvre d'art collective, en abordant les matériaux et l'hyperconsommation qui définissent notre relation actuelle avec la technologie.
Les participant.e.s à l'atelier apprendront à faire différents nœuds, ainsi que les techniques de base du crochet, avec des câbles et cordons recyclés ou désuets pour créer un morceau de filet. Ensuite, à l'aide d'outils en ligne, nous connecterons les photos des ouvrages ensemble pour former un plus grand réseau. Les pièces seront virtuellement nouées entre-elles et exposées dans le cadre d'une démonstration militante. En travaillant ensemble, séparément, pour tisser un filet, nous rendons visible notre société technologique qui se déploie en réseau.
Cet atelier aura lieu sur Zoom. Les présentations d'Alice Jarry, Kelly Thompson et Sophia Borowska introduiront les participant.e.s aux pratiques artistiques contemporaines de recyclage et aux liens de longue date entre les déchets, la production textile et l'activisme.
Matériaux et enregistrement :
Matériaux fournis. 25 kits seront disponibles pour la collecte à OBORO, Laboratoire nouveaux médias (4001 rue Berri, 2e étage) de 17 au 20 novembre (de 10h à 16h). Nous vous encourageons également à ramasser vos propres câbles de déchets électroniques (chargeurs, écouteurs, cordons audio, fils de téléphone, etc.) pour compléter le matériel fourni.
Atelier gratuit. Inscription limitée à 25 participant.e.s.
S'inscrire sur Eventbrite avant le 19 novembre 2020.
Nous tenons à remercier nos sponsors, Ebox, Concordia University's Centre for Creative Reuse, Electro-Shop, ainsi que les donateurs spontanés pour leur don de matériel.
Artistes :
Sophia Borowska est une artiste, écrivaine et travailleuse culturelle basée à Montréal / Tiohtià: ke. À travers la sculpture, l'installation, les collaborations de recherche et les projets communautaires, son travail interroge et conteste les systèmes de contrôle en vigueur dans les environnements urbains, les espaces digitaux et le monde de l'art. Sa pratique de recherche Jacquard développe des liens conceptuels entre le tissage, la technologie et la culture numérique. Elle est titulaire d'un baccalauréat avec distinction de l'Université Concordia à Montréal. Borowska a présenté ses travaux au Canada, au Danemark, et aux Etats-Unis. Elle a mené des ateliers à articule et l'institut Milieux, entre-autres.
www.sophiaborowska.com
www.data-excess.com
Kelly Thompson est une artiste, une éducatrice, une tisserande et une commissaire d'exposition, qui s'intéresse à la circulation des idées, des personnes et des marchandises dans le monde, tant sur le plan historique que dans le présent global. Elle est professeure dans le cadre des programmes de fibres et pratiques matérielles à l'Université Concordia.
www.kellythompson.org
Alice Jarry est artiste et professeure dans les départements de design et d'arts numériques de l'Université Concordia. En tant qu'artiste-chercheuse et enseignante, elle se spécialise dans les œuvres adaptées à des sites spécifiques, les pratiques de science-art, le design socio-environnemental, les arts numériques et les médias tangibles. Ses recherches portent un regard critique sur la matérialité, la production matérielle et les préoccupations contemporaines en matière d'infrastructures urbaines, en s'appuyant sur les enjeux de la durabilité, de l'esthétique et de la politique. Elle est membre de Kheops, d'Hexagram, de l'Institut de recherche-création des Milieux, à Topological Media Lab et du collectif d'arts numériques montréalais Perte-de-Signal. Ses travaux ont été présentés au Canada, aux États-Unis et en Europe.
www.alicejarry.com