Description
Part group discussion, part reading salon, part creation lab, Writing While Black engages participants in a discussion on zines written by people of colour and specifically the means in which indie print-culture can galvanize movements for racialized people.
The workshop will be broken into three segments: I) a 30-minute discussion about zinesters of colour and their contribution and impact on the political landscape within Canada and internationally, II) a 30-minute reading station in which zines ranging from topics on migrant workers rights, labour movements, race politics, to queer rights etc. will be made available, and III) a 60-minute creation station where participants can make their own political zines with both materials and guidance provided.
Facilitated by Whitney French, founder of From the Root. A nation-wide zine dedicated to showcasing the voices of women of colour in Canada, From the Root seeks to combat the anti-Black racism that is inherent in Canada's literary scene.
TTC tokens and workshop supplies will be provided.
Co-presented with Our Times Magazine, Shameless Magazine, Nia Centre for the Arts, Tools for Change, The Public, Upping the Anti Journal
Co-sponsored by International Brotherhood of Electrical Workers Local 353
For full program and other announcements, please visit our website:
Mayworks Festival acknowledges the pivotal role public funding bodies play in maintaining a living, thriving culture for everyone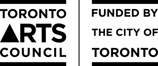 Proud to a Union Shop: CUPE 1281