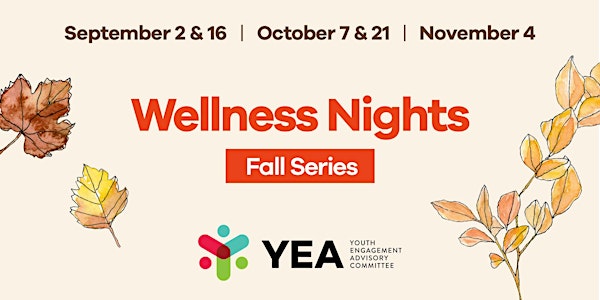 YEA Wellness Night
Thanksgiving BINGO
By Wellkin Child and Youth Mental Wellness
Date and time
Thu, Nov 4, 2021 4:00 PM - 5:00 PM PDT
About this event
This Week's Wellness Activity!
Join us for a night of gratitude with a Thanksgiving themed BINGO night. Bingo cards will be sent virtually through email once registered.
About YEA Wellness Nights
Created by the Youth Engagement Advisory, YEA wellness nights is a space dedicated to youth wellness. It's a place to connect with peers and learn about resources and supports in your community.
What you can expect
A virtual "drop in" space to connect with supportive staff and other youth through Zoom.
A structured wellness activity you can participate in.
Who can access
Youth aged 13 to 25 years living in Oxford and Elgin counties
Where you can access
Once you register, you will receive an email with the details required to join the YEA Wellness Night via the Zoom platform. This email doesn't come right away- but you'll get it as soon as possible. Should you have any questions about the YEA Wellness Night, please contact Jess Ross at jross@wellkin.ca 226 448 7834 or Karla Enns kenns@wellkin.ca 226 228 7597