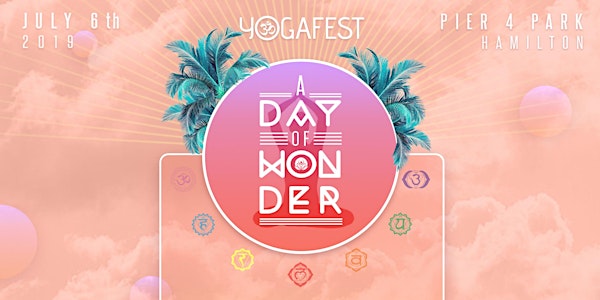 YogaFest : A Day of Wonder II
When and where
Location
Pier 4 Park 64 Leander Drive Hamilton, ON L8L 1N6 Canada
Refund Policy
Contact the organizer to request a refund.
About this event
𝑻𝒉𝒆 𝒕𝒊𝒎𝒆 𝒉𝒂𝒔 𝒄𝒐𝒎𝒆! YogaFest is BACK with a whole new experience & you're invited! ☀️🌴 Join us this summer for a magical day on the Hamilton Waterfront as we celebrate life together & enjoy a day of wondrous activities that connect you with the essence of your inner child!!
𝗙𝗥𝗘𝗘 to all!
Here's what you can anticipate:
𝗬𝗼𝗴𝗮 𝗚𝗮𝗿𝗱𝗲𝗻: 🧘🏻‍♀️
All day yoga classes of all styles catered to beginners and intermediates, hosted by local studios & keynotes inviting you to connect within. Schedule to be posted!
𝗣𝗹𝗮𝗻𝘁-𝗕𝗮𝘀𝗲𝗱 𝗖𝗮𝗳𝗲: 🌱
A marketplace of local restaurants offering plant-based options for you to experiment with mindful & sustainable options!
𝗠𝗮𝗴𝗶𝗰𝗮𝗹 𝗠𝗮𝗿𝗸𝗲𝘁𝗽𝗹𝗮𝗰𝗲: ✨
A massive marketplace of mindful vendors promoting their products supportively vs. competitively. An opportunity for brands to connect with & educate people on their businesses & intentions.
𝗟𝗶𝘃𝗲 𝗠𝘂𝘀𝗶𝗰: 🎶
Local artist performances to keep the vibrations lifted all day at the park & showcasing the gifts of some of our local talent!
𝗖𝗼𝗻𝘀𝗰𝗶𝗼𝘂𝘀 𝗖𝗿𝗲𝗮𝘁𝗶𝗼𝗻𝘀: 🎨
A Pop-up art market with art pieces & canvases to interact with & participate in as well local artists creating live pieces & showcasing their creative pieces.
𝗧𝗵𝗲 𝗦𝘁𝗶𝗹𝗹 𝗣𝗼𝗶𝗻𝘁: 🙏🏻
A gentle space of silent connection providing the opportunity for guests to breathe together & tune in to a space of presence & stillness that is always within us.
𝗔𝗿𝘁 𝗜𝗻𝘀𝘁𝗮𝗹𝗹𝗮𝘁𝗶𝗼𝗻𝘀: 👩🏾‍🎨
Instagram friendly photosets & activations for families & friends to playfully enjoy while inspiring a sense of wonder. All custom curated by local artists.
𝗣𝗲𝗿𝗳𝗼𝗿𝗺𝗮𝗻𝗰𝗲 𝗣𝗹𝗮𝘁𝗳𝗼𝗿𝗺𝘀: 🤸🏻‍♀️
Plotted throughout the park, elevated platforms for movement professionals to perform & showcase their mastered crafts, hand balancing, dance etc.
𝗖𝗵𝗶𝗹𝗹 𝗟𝗼𝘂𝗻𝗴𝗲:🍹
A calming area near the plant-based cafe for guests to cool off, have some food or just sit and enjoy the music & summer breeze.
We're so excited to be back in Hamilton for the 2019 festival & can't wait to share this experience with you all!
The schedule is to be posted soon so stay tuned & help spread the word!
For sponsor & vendor opportunities visit:
www.yogafest.com
#FollowtheFeeling