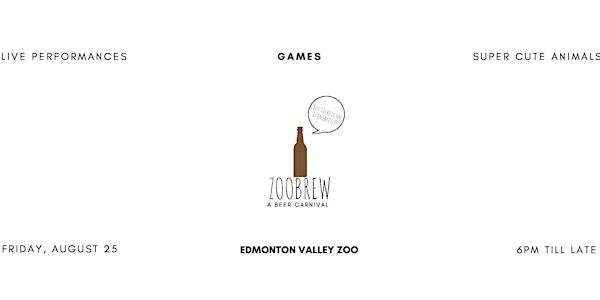 When and where
Location
Edmonton Valley Zoo 13315 Buena Vista Road Edmonton, AB T5R 5R1 Canada
Description
PLEASE BE ADVISED- It has been brought to our attention that there are tickets being sold privately beyond our Eventbrite page . We do not control or monitor the transfer of these kinds of tickets or any money spent acquiring them. We understand there is a high demand for these tickets but we are sold out. Please be cautious of scalpers.
The Ark Project is proud to present ZooBrew, an exclusive 18+ affair! Come to the Edmonton Valley Zoo for an evening full of live performances, craft beer, games and no kids!
Join us on August 25 for ZooBrew and wander the zoo with a drink in hand at this twilight event. The Valley Zoo transforms into a peaceful escape on a summer night, perfect for photographers, a girls' night out, or a romantic date!
This wild night will help raise funds for your local Valley Zoo and gives you the opportunity to experience and evening at the zoo, with a twist. Enjoy a walk around the zoo and learn about the animals, while sipping on a locally brewed beer. Sit in the grass and bask in the talent from numerous Edmonton performers. Play some games with your closest friends, while meeting new people.
Cheers to conservation!