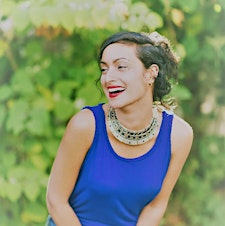 Abneet Sandhar
Abneet Sandhar is a trained Feminine Embodiment Coach, and certified Holistic Nutritionist + Chef. She is OBSESSED with guiding women back to their inner healing capability and reclaiming inner power.  She knows that the healing of the world takes place as the Sacred Feminine is brought back into balance. A former burlesque model, nude art model and life-long sacred arts dancer,  she encourages women in her practise to enter their bodies more fully in order to show up more deeply in every aspect of their lives; in intimate relating, communication, money and sex. After years of studying spiritual self- healing techniques, meditation, classical tantric yoga and dance, she brings you "The Nourished Woman"-- a safe space for women of all walks of life to come together in community to celebrate and express their most honest raw selves. The time for feminine leadership on the Earth is rising, and women can support each other in these times, as we also steadily and gently do our own inner-self work and care. 
Abneet currently offers international healing Nourished Woman retreats, weekend woman's empowerment workshops,  and private, online 1:1 feminine embodiment mentorship spanning 3 months.
Listen to the latest podcast interview here.
Learn more at: www.abneetsandhar.com