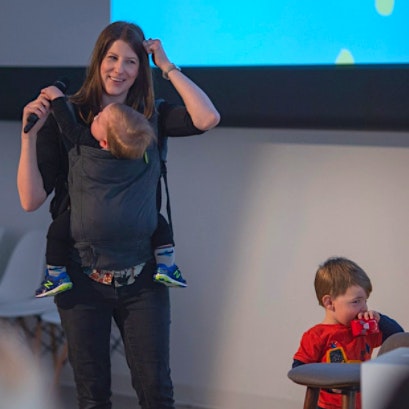 Amy Lynch
Fuel up on fresh business inspiration 
and connect with other like-minded parents.
Hear from inspiring speakers, all of whom
have built and/or worked in successful companies–
while raising their families–and want to discuss how
they did it with a unique combination of ambition,
creativity and resourcefulness.
WHO IS THIS EVENT SERIES FOR? 
Founders, freelancers, remote workers and
potential career changers who are also parents
(moms AND dads, parents-to-be welcome too!)
who want to learn how to mix business and babies.
Whether you're setting out to build a startup,
launch a small business, start freelancing or are
simply looking to invest in yourself alongside your
little ones, we're here to help.
Learn more ---->
http://mixingbabiesandbusiness.com/
ABOUT YOUR HOST: AMY MAUREEN LYNCH 
I produce parent-friendly professional development events,
digital resources and advise others on creating inclusive
and flexible work solutions.
I'm looking forward to seeing you at the event series!
– Amy (+ family)