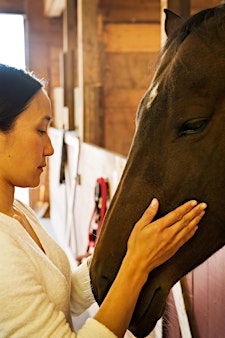 Trillium Healing Path
Mari is a Japanese Canadian living in Vancouver, BC. She works as a Psychic Medium and Reiki Master Teacher and enjoys giving spiritual guidance to help people see positive steps they can take to live the life they need to live. She uses psychic mediumship abilities to connect with her Spirit Guides to get information that is useful and enlightening for you. Mari offers Intuitive Readings and Reiki Sessions for people and animals. To learn more about her services and to view a complete list of workshops she offers, visit Trillium Healing Path.
Mari has always been able to communicate with animals and elements of the earth. Animal Communication and Reiki sessions are available by appointment. She also teaches people how to communicate and give Reiki to creatures of the earth.
All of her spiritual tools have been inspired by her Spirit Guides, Nature Spirits and Plant Medicines. To view a collection of her smudging fans, visit The Secret Woods.
Mari is also a photographer, with her photos and essays published in Nature Photographer Magazine and in calendars. Some of her photos can be viewed here.